1 dead, 3 injured after gunman fired from scooter in apparent random shooting spree: NYPD
Police say one person was killed and three others injured when a gunman fired a semi-automatic pistol from a scooter in an apparently random shooting in New York City.
According to the New York City Police Department, a suspect was arrested two hours after the first victim was shot.
The incidents occurred on the streets of Brooklyn and Queens over a period of nearly 30 minutes on Saturday morning, according to NYPD Det. Joseph Kenny.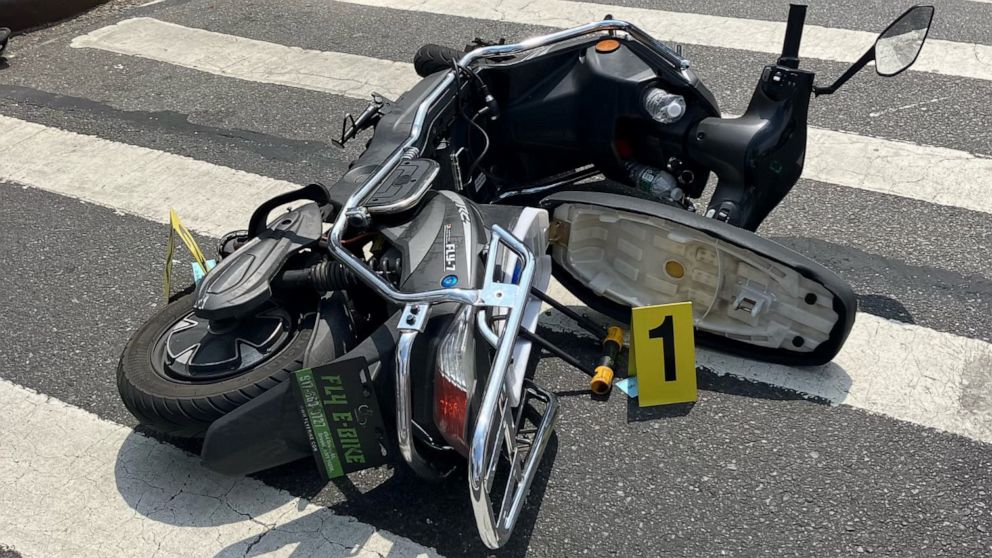 The first incident occurred at 11:10 a.m. in Brooklyn, when a 21-year-old was shot in the left shoulder, Kenny said. Video from the scene shows a man on a scooter approaching the victim from behind, raising his hand and firing one shot, Kenny said. He said the victim was transported to a local hospital with non-life-threatening injuries.
Kenny said 17 minutes later, at around 11:27 a.m., a second victim was shot in the back in Queens. Mr. Kenny said the 87-year-old man was taken to a local hospital and died.
Kenny told reporters at a press conference: "The perpetrator is described as a man on a scooter who opened fire on a nail salon on Jamaica Avenue.
Responding officers were made aware of another shooting nearby that did not cause any injuries.
"Many witnesses described the man on a scooter randomly shooting at a group of people standing at the corner of 108th Street and Jamaica Avenue," Kenny said.
Then, at about 11:35 a.m., a fourth person was shot on a street corner in Queens, Kenny said. Mr Kenny said the victim – a 44-year-old man – was hit in the cheek by a bullet and was taken to hospital in critical condition.
About two minutes later, at 11:37 a.m., the fourth victim was shot; Kenny said a 63-year-old man suffered a gunshot wound to his right shoulder and was taken to hospital in a stable condition.
"Witnesses again described a man riding a scooter," Kenny said.
Kenny said the suspected gunman was arrested in Queens at 1:10 p.m. and a scooter and a 9mm semi-automatic pistol were recovered, Kenny said. Officers identified the alleged gunman – described as a 25-year-old man with a previous arrest in NYC – from photos of the shooting suspect that were sent to a smartphone of every NYPD officer, the department said.
Kenny said police had no motive at this point and the shooting was thought to be random.
"If you look at the demographics and genealogies of the victims, they're all different," he said, noting that they include Hispanic and Asian-Pacific Islander men. . "The video shows that he's not targeting anyone, he's not tracking anyone. While riding the scooter, he randomly shoots people."
No victim's name has been released pending notification to the family.
Kenny said detectives have yet to find the serial number on the recovered gun and are working to determine if it has been erased or could be a ghost gun.
Acting Police Commissioner Edward Caban said the shooting was carried out with an illegal scooter without a license plate.