1 dead after plane crashes at Pearson Field in Vancouver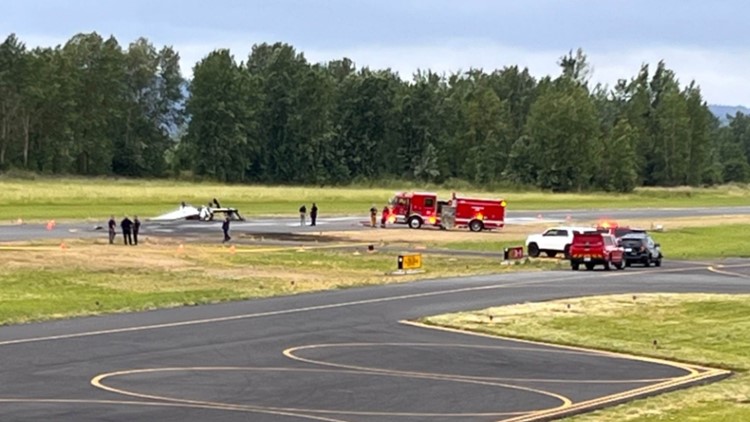 Vancouver police confirmed the death.
VANCOUVER, Wash. — One person died when a small plane crashed at Pearson Field in Vancouver Tuesday morning, according to Vancouver Police Department, the Washington State Patrol (WSP) and Clark County firefighters.
The airfield is located at 101 East Reserve Street in Vancouver. Police responded to reports of a plane crash around 7:39 a.m. and found a plane on fire on the runway, according to a press release from the Vancouver Police Department.
Vancouver Fire Department workers extinguished the fire and confirmed one person had died on the plane. The Vancouver Police Department is conducting a death investigation, and the Federal Aviation Administration and National Transportation Safety Board will conduct an investigation into the crash.
The identity and cause of death of the deceased will be released by the Clark County Medical Examiner's Office after notifying the family, police said.
According to the city's website, Vancouver operates the airfield and owns just under half of the 134-acre site. The remainder is owned by the National Park Service as part of the Vancouver National Historic Reserve and leased to the city for use of the airfield under a long-term agreement.
Pearson is one of the oldest continuously operating airfields in the United States. Its first use as an airfield was in 1905 when it was used as a landing pad for an airship, and the first plane landed at the site in 1911, according to the city.
The current site also houses the Pearson Air Museum, the Jack Murdock Aviation Center, and the Pearson Field Education Center for elementary school students. The airport sees about 52,560 aircraft operations a year, or about 144 a day, according to the city.
The airport was named after Lt. Alexander Pearson, a prominent US Army Air Service pilot who attended high school in Vancouver. The Air Service operated the field from 1923 to 1941, but after World War II it was declared surplus land and sold to the city.
This is an evolving story and will be updated.
RELATED: A small plane crashes while trying to take off from Hillsboro Airport
RELATED: Small plane crashes into backyard in Oregon City
RELATED: 'You're ripping off the treetops': Plane crash survivor describes falling into Gifford Pinchot National Forest
https://www.king5.com/article/news/local/small-plane-crash-pearson-field-vancouver-washington/283-0a495efa-8956-4d00-ae39-2545db2d77ae 1 dead after plane crashes at Pearson Field in Vancouver