10-year-old makes 'miraculous recovery' after heart transplant at Seattle Children's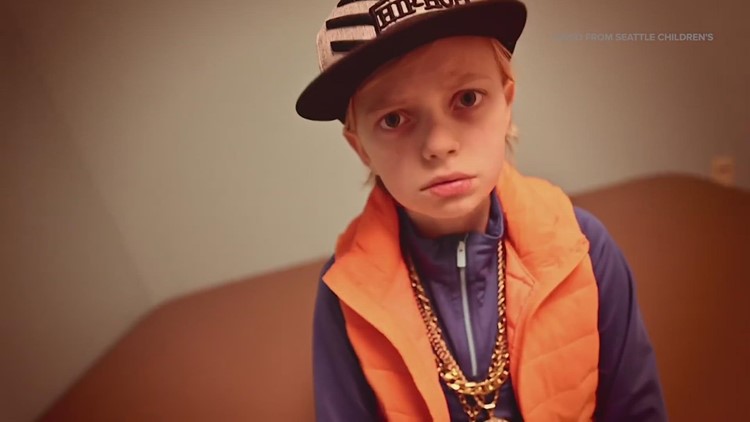 Hudson Lewis composed a song to thank the doctors and community for supporting him through his health challenges.
SEATTLE — Hudson Lewis may not be the biggest name in rap music, but he's built an undeniably fan base.
Hudson composed a rap song called "This is my Team" to pay tribute to the doctors and community who supported him during his difficult diagnosis.
Hudson was at the center of what has been called a "miracle recovery" from a heart transplant at Seattle Children's Hospital. In 2020, Hudson was diagnosed with a rare form of muscular dystrophy that can affect heart function.
When he was 9 years old, once he went to Seattle Children's Heart Center, he discovered heart failure and began 100 days of treatment for Hudson at this facility.
Doctors determined Hudson was not healthy enough for a heart transplant and initially surgically implanted a mechanical pump to help him get through the interim.
Hudson's mother, KaLinda Lewis, said just three weeks later, they received a call telling them they had found a match for Hudson's heart transplant.
KaLinda Lewis said: "It was all so overwhelming and it happened so fast. Mixing up medical issues only adds to the complexity of the situation.
"It's incredibly complicated," said Dr. Yuk Law, medical director of Heart Transplant/Heart Failure Services at Seattle Children's Hospital. "It's a combination of something unrelated to the heart mixed in with the heart condition."
Law said a multidisciplinary team worked together on Hudson's transplant, with help from the neurology, muscular dystrophy and pulmonology teams at the hospital.
Hudson underwent a successful heart transplant and was discharged just 14 days later.
"When I was in the hospital, all I thought about was my dog," Hudson said.
This 10-year-old is also an aspiring video game expert and aspiring YouTuber. "I have 17 subscribers," Hudson said.
He's hoping to hit 100 subscribers and just released a new video to drive traffic. His rap video "This is my Team" features Seattle Children's staff and doctors.
His hometown of Eatonville is also part of the video. Hudson said he's really grateful to his team.
"My family and I always say that the ICU makes you feel like family," he said.
To learn more about Hudson's incredible heart transplant story, check out the Seattle Children's Blog here. To watch Hudson's rap videos, you can visit his new YouTube channel.
Clock: Chris Cashman's playlist on KING 5's YouTube channel
https://www.king5.com/article/news/local/10-year-old-heart-transplant-seattle-childrens-miraculous-recovery/281-a8b2ec0e-b3b6-4650-9010-e841dc371991 10-year-old makes 'miraculous recovery' after heart transplant at Seattle Children's