$25 million #StandUpToJewishHate campaign launches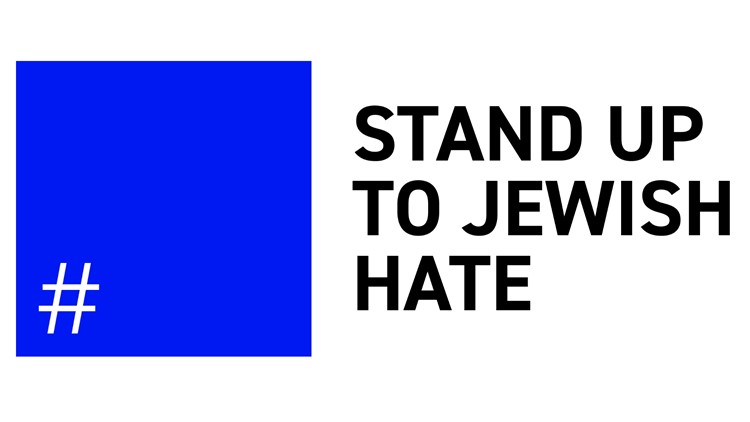 Is a blue square popping up on your social media feed? Here's what it means.
WASHINGTON – A nonprofit is launching a major campaign against anti-Semitism, joining hundreds of social media influencers and celebrities in an effort to fight crime. hatred is growing towards the Jews.
Anti-Semitism's new campaign, which uses the hashtag #StandUpToJewishHate, revolves around a simple concept: a blue square. All aimed at mobilizing Americans, especially non-Jews, to stand up against anti-Semitism.
The hope is that the blue square, one of the emojis built into every smartphone's keyboard, will be a recognizable symbol to combat Jewish hatred.
Advocates also wanted something simple that could be shared across social media platforms.
Matt Berger, director of FCAS, explained in an interview: "It's easy to access and something that can be a subtle yet powerful way for people to show support and solidarity. their.
The blue square campaign, which began Monday, is being funded by a $25 million investment from New England Patriots owner Robert Kraft, who is Jewish.
A portion of that money will go to TV ad time in popular time slots, including "The Voice" and "Watch What Happens Live with Andy Cohen."
The campaign's branding has been compared to the #Blackout movement in 2020, where Instagram users posted black squares to protest against racism and police brutality.
Berger said anti-Semitism should be viewed with the same severity as discrimination against other groups, who have seen support against hate growing. increased in recent years.
"If you're someone who is thinking about working towards addressing racism, gender inequality, LGBTQ rights… Asian and Latino rights, what we're talking about is the Jewish community. and the fight against anti-Semitism is also part of that conversation," he said.
The blue square campaign aims to raise awareness about the fact that anti-Semitism is on the rise in the US
Although Jews make up only 2.4% of the US population, FCAS estimates they are victims of 55% of all hate crimes based on religion.
An ad for the campaign lays out this fact using a blue square, which takes up 2.4% of the screen before growing to 55% to represent the relatively small amount of hate the Jewish community has.
A report released by the Anti-Defamation League on Thursday listed 3,697 anti-Semitism cases in 2022. That number is the highest number reported by ADL since it began tracking anti-Semitism. Thailand in 1979.
But even with those overwhelming numbers, many Americans may not see anti-Semitism as a big deal.
Wunderman Thompson, an international research firm, found that more than half of Americans don't think anti-Semitism is a big problem in the country. About 45% believe that Jews are "overqualified to deal with issues of anti-Semitism on their own".
For Berger and FCAS, that's a big deal.
"Most people don't realize that anti-Semitism is a growing problem in this country," says Berger. "It's not that they choose to ignore it, it's that they don't realize it's something that needs to be on their radar screens."
Two of the ads produced as part of the campaign show direct action being taken against blatant anti-Semitism.
On one occasion, the neighbors of a Jewish mother and her daughter saw a swastika painted on their garage as they left the house. By the time they returned at the end of the day, someone had painted the swastika, and the mother quietly noticed the paint on the man's boots.
In another case, a Jewish teenager's Bar Mitzvah singing a Jewish prayer attracted anonymous hate messages online, until he received a message from a choir group. said they were inspired by his prayer and wanted to sing it too.
"Above all, we want people to see and condemn anti-Semitism when it happens in their communities, not bystanders but bystanders," Berger said. The same way they would speak up, or we hope they would speak up, if they see racism… or they see a woman being harassed, (or) any form of harassment or No other motivated discrimination, we want them to tackle anti-Semitism in the same way."
The ad with online hate is a particularly topical ad for the campaign. According to FCAS, more than 70% of Jewish Americans have dealt with online hate in the past year. According to Berger, that metric, coupled with the widespread popularity of apps like TikTok and Twitter — where posters can stay anonymous behind their display names — means that FCAS is looking to "reach (everyone)" people) where they are".
"The place where they will access the media, interact with their friends, is also a hotbed for (anti-Semitism)," he said. "We want to make sure that they see that this dangerous problem exists in the platforms they are using every day, and that they have an opportunity and a role to play in solving the problem."
Although anti-Semitism is on the rise in the United States, there is no single cause behind this increase — no neo-Nazi group or white nationalists are catalysts. sole agent behind the attack. Instead, anti-Semitism is on the rise in part because of belief in unreliable information and stereotypes, the ADL said.
According to another ADL report, 20% of Americans believe there are six or more anti-Semitic statements.
"Although the link between anti-Semitism and anti-Semitism has not been proven, it wouldn't be surprising if some anti-Semitists became bolder to act on their hatred in the current environment," ADL report on anti-Semitism in US states.
With campaign green squares, Berger hopes to cut the threat of violence at the root, prompting people to guess at their own anti-Semitic thoughts before acting, and to police those who don't. around to prevent hostile ideologies from spreading.
"When hate goes unchecked, it can lead to violence. It can lead to real problems for our society and for individuals," says Berger. "We hope that we will really make an impact in reducing the number of anti-Semitism cases in our country by raising awareness and engaging people we know will do the right thing. when they have the knowledge and the opportunity to do so."
https://www.king5.com/article/news/nation-world/antisemitism-campaign-blue-square/507-f867838b-3464-464a-9126-670831df0f4a $25 million #StandUpToJewishHate campaign launches