4-day workweek trial in UK saw no loss of productivity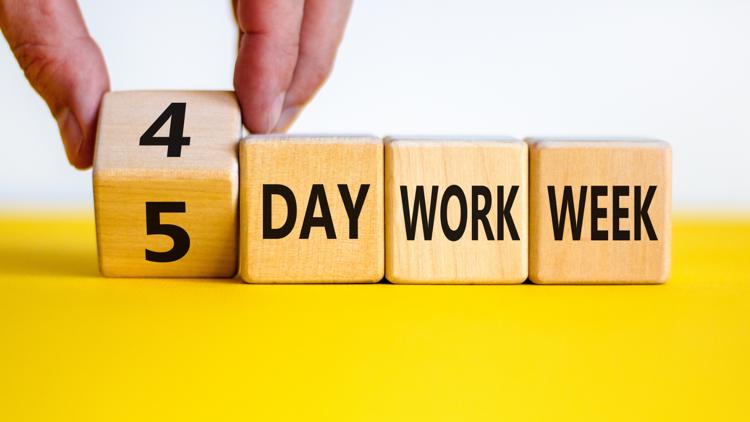 About halfway through the trial, UK companies said they had seen no productivity loss from changing the 4-day working week.
WASHINGTON – More than 70 UK companies began a six-month trial with a four-day work week in early June. Now, about halfway through the pilot program, many said there had been no loss of productivity, according to the survey released Wednesday.
The study, led by non-profit organization 4 Day Week Global, has resulted in more than 3,300 UK employees being given a paid day off each week.
Interim results of the study were reported by 41 of the participating companies, showing that, according to the press release, 88% claimed that the four-day work week model worked "well" for them.
The results also showed that many companies were likely to continue the four-day workweek beyond the pilot program, with 35 of the 41 companies responding "likely" or "very likely."
"The four-day test week has been extremely successful for us so far. Productivity has remained high, with an increase in wellbeing for the team, along with a 44% better financial performance for our company," Trio Media CEO Claire Daniels said in the statement.
One metric showed that 39 of the 41 companies said their productivity remained the same or improved as they implemented the change. 15 percent of the companies had reported a significant increase in productivity.
The study is being conducted with the help of Autonomy, an independent think tank, and researchers from Cambridge University, Boston College and Oxford University.
"The organizations in the UK pilot are contributing real-time data and knowledge that is invaluable," said Joe O'Connor, CEO of 4 Day Week Global, in the press release. "Essentially, they are laying the foundation for the future of work by putting the four-day workweek into practice in companies of all sizes and in almost every industry, while telling us exactly what they find."
4 Day Week Global isn't the only one concerned with the proposed workweek shift, as California introduced a bill in April aimed at reducing workweeks to 32 hours for large companies with more than 500 employees.
According to the press release, the organization also launched pilot programs in New Zealand, Iceland, Canada and the United States.
While most findings midway through the study were positive, O'Connor also recognized that the shift "might have some understandable hurdles — particularly among those who have comparatively fixed or inflexible practices, systems, or cultures that date back well into the last century ."
RELATED: The 4-day workweek is gaining traction — and workers would go to get it.
RELATED: California bill aims to shorten workweek to 32 hours for large companies
https://www.king5.com/article/news/nation-world/uk-companies-4-day-workweek-trial-mid-results/507-926a14a1-5ac4-4294-9124-0e5a2af3b787 4-day workweek trial in UK saw no loss of productivity