49ers expect Deebo Samuel (MCL, ankle sprain) back in regular season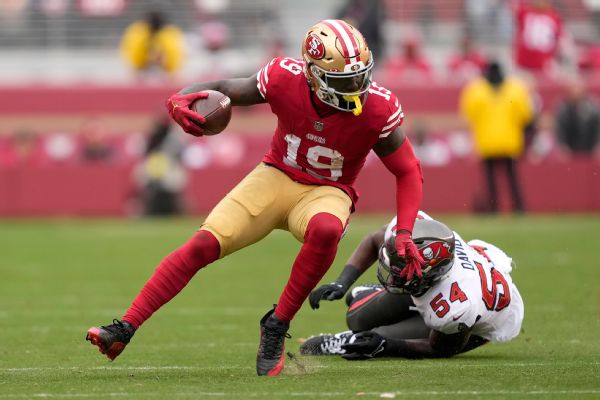 SANTA CLARA, Calif. — Speaking to reporters Monday morning, San Francisco 49ers coach Kyle Shanahan didn't have much to say about injuries to key players like receiver Deebo Samuel and quarterback Brock Purdy.
That's because Samuel and Purdy were among a handful of Niners who had further tests done to determine the severity of their injuries. After a choppy few hours at the 49ers' headquarters, they received nothing but positive news after a devastating Sunday on the injury front.
According to the team, Samuel suffered a medial collateral ligament sprain in his left knee and a sprained left ankle. He will be out for some time but there were no fractures and he is expected to return sometime during the regular season.
As for Purdy, he's considered a tag-tag with what the team calls a rib and oblique injury. While the Niners didn't practice Monday, they had to release an estimated injury report as they play Thursday night.
It lists Purdy as a limited entrant, which is a positive sign that he'll be playing the Seattle Seahawks on Thursday Night Football. Purdy suffered the injury while ducking with a first down in a game recalled for a holding penalty by San Francisco against the Tampa Bay Buccaneers on Sunday's second drive.
"I think that's where he felt it," Shanahan said. "Then it got worse and worse as the game progressed."
Purdy played through the injury but was eliminated late in the game, leaving the Niners with a big lead and trying to run out the clock.
Samuel's situation seemed more difficult when he carted off in the second quarter and never returned to the game. But the Niners had hope the injury wasn't as bad as feared when X-rays showed no broken bones.
Kevin Givens, who started defensive tackle, was another notable injury for the Niners after injuring his left knee and going down on a cart in the first half. The team said he also suffered an MCL sprain and will be "out for a couple of weeks."
Not all Niners injury news was good Monday as defenseman Dontae Johnson suffered a cruciate ligament rupture ending his season. Cornerback Samuel Womack III is battling a concussion and also won't play this week as he goes through protocol.
https://www.espn.com/nfl/story/_/id/35240730/san-francisco-49ers-injury-updates-deebo-samuel-brock-purdy 49ers expect Deebo Samuel (MCL, ankle sprain) back in regular season