49ers' Jimmy Garoppolo might be OK for playoffs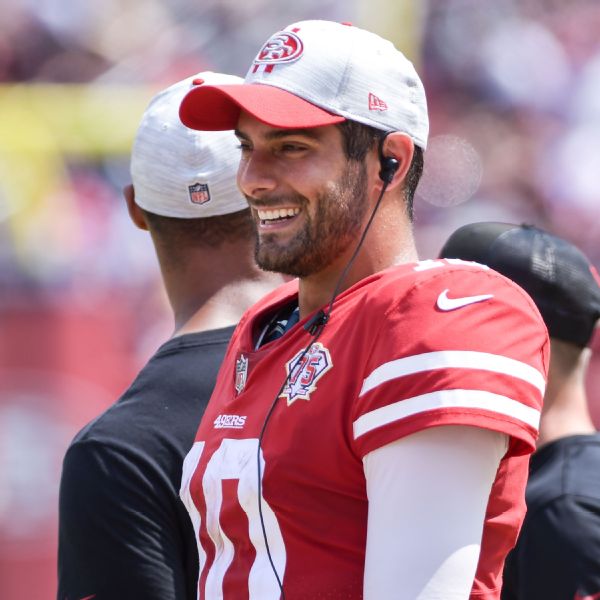 SANTA CLARA, Calif. — San Francisco 49ers quarterback Jimmy Garoppolo's season may not be over after all.
Sources told ESPN's Adam Schefter on Tuesday that doctors concluded Garoppolo did not suffer a Lisfranc injury to his broken left foot and does not require surgery. If his rehabilitation goes well, he has a chance to return in seven to eight weeks, the sources said.
A potential Garoppolo return would depend on the Niners progressing far enough in the postseason. A seven-week schedule would mean a potential return for the NFC divisional round, and eight weeks would be the NFC championship game. The Super Bowl is in ten weeks.
Niners coach Kyle Shanahan said Monday the news of Garoppolo's injury appeared to be better than initially feared, but he didn't want to make an official diagnosis until Garoppolo had sought out and received one of several doctors.
"So they're still trying to work it through," Shanahan said Monday. "Some specialists need to finish it, so we don't want to give you wrong information. They're discussing all these things, but we have a feeling it's starting to get better, so we'll see when we get the official information."
Of course, Garoppolo would still have to prove he can recover from injury in this period to play his part. According to ESPN injury analyst Stephania Bell, the fact that Garoppolo does not require surgery suggests he has a "stable" injury, meaning the fractured bones in his foot are well aligned and will not need repositioning, and There was no significant ligament damage that would require surgery.
In order for Garoppolo to return, he needs to check a number of boxes. The foot must go through a period of immobilization to allow the fractures to heal. In order to play again, he would have to have enough foot mobility to run and do all the things a quarterback has to do after this immobilization period.
In addition, the 49ers would need to reserve a roster slot for Garoppolo. They could just add him to the roster as their third quarterback behind starter Brock Purdy and veteran Josh Johnson, or they could put him on injured reserve and bring him back if he's deemed playable.
The latter option could be difficult as the Niners have already used six of their eight injured reserve returns this year and hope to activate Javon Kinlaw and running back Elijah Mitchell once they recover from their knee injuries.
"You get eight, that's the biggest thing, and I think we have to use them to the end [end of the season] because the playoffs aren't four weeks long," Shanahan said last week.
Of course, the quarterback spot could take precedence, and there's no guarantee that either Kinlaw or Mitchell will be activated. The Niners have also said repeatedly that quarterback Trey Lance, who is recovering from a right ankle injury, is not a candidate to return from injured reserve, but he has also made progress from the surgery that put him in the brought injured reserves.
Garoppolo suffered the injury eight games after Sunday's win over the Miami Dolphins. Purdy replaced Garoppolo and went 25 of 37 for 210 yards with two touchdowns and an interception for an 88.8 passer rating against the Dolphins.
The Niners plan to move forward with Purdy as a starter and Johnson as a backup. As Shanahan indicated Monday, the Niners have not filed a waiver claim for released quarterback Baker Mayfield, sources said. The Los Angeles Rams requested Mayfield from waivers on Tuesday.
San Francisco hosts the Tampa Bay Buccaneers on Sunday.
https://www.espn.com/nfl/story/_/id/35198068/sources-49ers-jimmy-garoppolo-ok-playoffs 49ers' Jimmy Garoppolo might be OK for playoffs