5 NWSL players have been with the same team all 11 seasons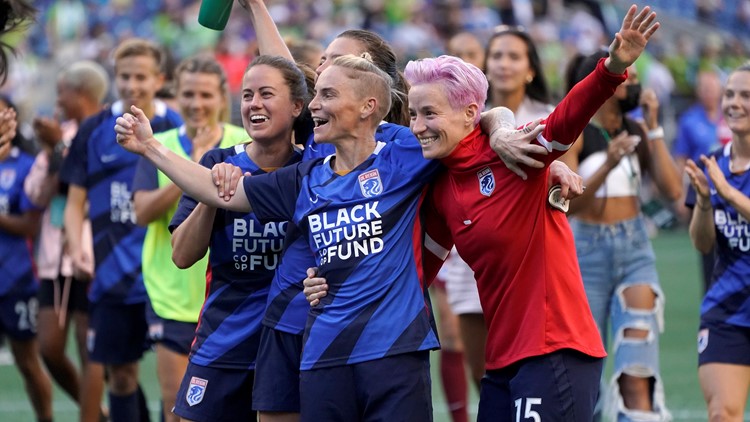 Three OL Reign players are part of The Originals who helped start the league and are still on the same teams. The list contains
Portland was the only place Christine Sinclair ever wanted to play.
When the National Women's Soccer League was formed in 2013, it was natural that Sinclair would be drawn to the Portland Thorns; She won two NCAA titles at the University of Portland and had a home in Rose City.
Eleven seasons later, Sinclair is still rooted in Oregon.
"I was very lucky. When the NWSL was formed, I made it clear to those in power that Portland was the only city I would play in," she said. "It's my home and it will always be my home. Being part of this organization through the ups and downs has been one of the greatest honors of my career."
Sinclair is one of The Originals, the players who helped start the league and are still on the same teams. The list also includes Washington Spirit's Tori Huster and three players from OL Reign: Megan Rapinoe, Jess Fishlock and Lauren Barnes.
Longevity with a single team is itself unusual in pro sports and now for collegiate players due to the active transfer portal. But what makes it even more unique is that the pay was meager, at least in the early days,
Salaries in the league's inaugural season ranged from as little as $6,000 per season to $30,000 for the elite players. Megan Rapinoe was paid by US Soccer and Canada Soccer's Christine Sinclair in the early days, in an arrangement that allowed the league to add national team players to NWSL rosters without the cost of those salaries.
Today, the average NWSL salary is $54,000 and players have a union and a collective bargaining agreement that was passed last year. The league became independent from US Soccer in 2020.
"If I thought 11 years ago that I would still be here, I would probably say no," Barnes said. "The way the league started has improved tremendously. There is definitely a life and opportunity to make this a lifestyle and a job – last probably three to five years or so. So that's really promising for the next generations. It's been really fun to be a part of that and build that up."
In the United States, there were two other attempts in the women's pro leagues. The first, Women's United Soccer Association (WUSA), was formed after US women won the 1999 World Cup and lasted only three seasons, from 2001 to 2003. The second, Women's Professional Soccer, retired in 2012 after two seasons .
Barnes, who played at UCLA, also played in the WPS. In 2016 she was named Defender of the Year by the NWSL.
Fishlock, who also plays for the Wales national team, scored in Reign's second game in 2013. During her tenure at Seattle, she also played on loan to clubs around the world, including Frankfurt in Germany and French powerhouse Lyon, parent club of Reign.
"I'm not surprised that the league is not only still here, but I think it's just about to thrive. "It doesn't surprise me because there were such big steps in the beginning to really make sure this league didn't fail. 'Oh my god, I can't believe we were here.' But we are where we are now because we started out so cautiously and so cautiously because of the history of all the other leagues that have been here."
While the league has grown steadily over its 11 seasons, there have been periods of turbulence. In 2021, the NWSL was rocked by abuse and misconduct scandals that rocked women's football. Both US Soccer and the NWSL have commissioned investigations and protective measures are now being implemented across the league.
Looking ahead, the NWSL and its 12 teams have big seasons ahead of them and this summer's Women's World Cup in Australia and New Zealand should spark renewed interest in the league and its many international players.
"I think from the start, remember the first year, you could see the potential. They started small, they started realistically and they evolved slowly," she said. "Then I think after year two and three there is no doubt about it and this league will go on forever now. It will only grow."
https://www.king5.com/article/sports/soccer/5-nwsl-players-have-been-with-the-same-team-all-11-seasons/281-a6ee57cb-4ae6-4234-be51-fbb1250d700d 5 NWSL players have been with the same team all 11 seasons