5 teens arrested at The Commons at Federal Way after strongarm robbery, driving stolen car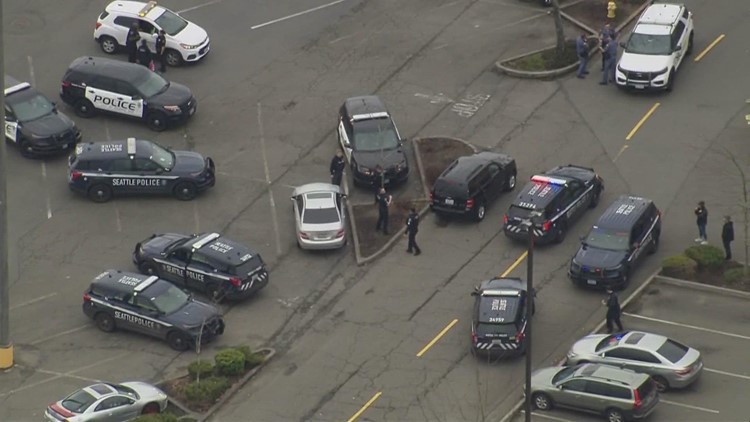 The vehicle in which the teens were discovered was identified as being involved in a robbery in Ballard and was later seen driving south down I-5.
FEDERAL WAY, Wash. – Five young men were arrested at The Commons in Federal Way on Thursday afternoon after they were found driving a stolen vehicle in connection with a robbery.
According to the Seattle Police Department (SPD), the vehicle was reported stolen in the 2200 block of Franklin Avenue, Northeast in the Eastlake neighborhood of Seattle earlier in the day.
Police learned the vehicle was also involved in an arms robbery on the 6500 block of 15th Avenue in Ballard. According to SPD Officer Judinna Gulpan, the SPD could not say how many teenagers were suspected of participating in the robbery, but a cell phone and several other items were stolen.
Officers from the northern area later spotted the vehicle heading south on Interstate 5. A helicopter from the King County Sheriff's Office, the Washington State Patrol and the Department Federal Road Police were able to help track the vehicle to The Commons at Interstate Road, Gulpan said.
The driver parked and then all five teenagers ran into The Commons. Gulpan said police followed the boys into the mall and conducted a brief chase on foot.
All five teenagers were arrested after they left the mall a short time later.
Gulpan said the SPD was able to recover the stolen vehicle and stolen items from the arms robbery.
The SPD did not provide the specific age of the teens.
Watch: KING 5 Top Stories Playlist
https://www.king5.com/article/news/local/federal-way/5-teen-boys-arrested-robbery-driving-stolen-car-federal-way-commons/281-3fd25ac9-9818-42fc-ac12-ca19df67744d 5 teens arrested at The Commons at Federal Way after strongarm robbery, driving stolen car