5 things to know this Friday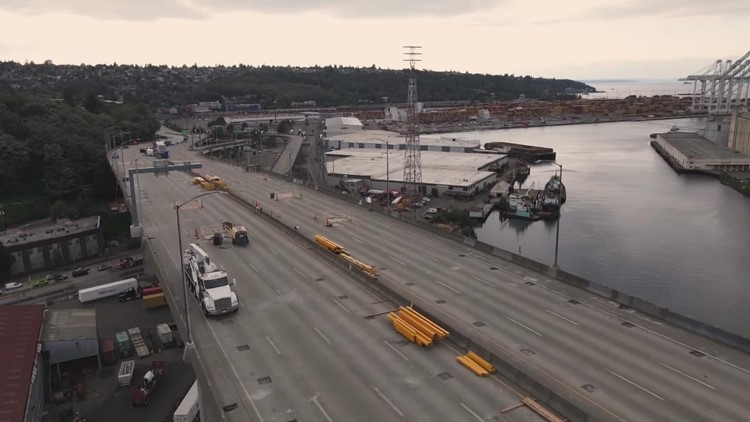 reopening of the West Seattle Bridge; Harborview Overcrowding; cold case arrests; retail theft busted; Edmond's entrepreneur.
The West Seattle Bridge is expected to reopen on September 18th
Following recently completed milestone construction, the Seattle Department of Transportation announced Thursday morning that the West Seattle Bridge is expected to reopen to traffic on September 18.
The department said all traffic restrictions on the Spokane Street Swing Bridge, also known as the West Seattle Low Bridge, will also end on September 18.
The planned reopening is dependent on crews completing the remaining work on the bridge, including completing the epoxy grouting, carbon fiber sheathing, paving and installing the safety inspection platform. The department said crews will also conduct "robust safety tests" of the bridge before reopening to traffic. Continue reading
Harborview will reroute patients with non-urgent needs as overcrowding puts a strain on the system
Harborview Medical Center will no longer accept patients who do not require urgent care to address the overcrowding issue, hospital officials said Thursday.
Patients not requiring urgent care are being diverted to other hospitals in the area, at least temporarily, CEO Sommer Kleweno Walley said. This is to ensure that Harborview maintains capacity as the only trauma center in Washington State to provide Level 1 care.
It was an "incredibly difficult decision," she added.
As of Thursday, there were more than 560 inpatients, bringing the hospital to more than 130% of its admitted capacity of 413. Continue reading
3 men arrested more than 16 years after woman's decapitated body was found in Puget Sound
More than 16 years after the body of a 33-year-old woman was found beheaded, three people have been arrested in connection with the death of Shanan Lynn Read.
The Kitsap County Sheriff's Office said they worked with law enforcement agencies across the country this week to bring the three men into custody. A fourth suspect in the case has since died.
A 39-year-old man was arrested in Philadelphia on Monday. On Tuesday, a 42-year-old man was taken into custody in Sarasota, Fla., and a 34-year-old man was arrested in Riverside, California. Continue reading
3 major retail theft rings accused of stealing over $100,000 in Bellevue
The Bellevue Police Department said Thursday its officers arrested three major organized retail robbery rings accused of stealing over $100,000 worth of merchandise.
In one of the cases, police said Bill Chambers, Memory Yearby and Earnetra Turner were charged after they stole over $93,000 worth of handbags from Louis Vuitton in Bellevue. Investigators said the group targeted the same store twice in June.
The trio have been charged with two counts of organized retail larceny, according to the King County Attorney's Office. Continue reading
How a retired Edmonds entrepreneur is using technology to help pets in Ukraine
Having spent his career in technology, Dan Fine continues to put his skills to good use in retirement to address a crisis around the world.
Fine spends his retirement finding ways to use technology to help abandoned animals in Ukraine's war-torn regions.
"I was just thinking, how can we apply technology, good old Seattle technology and know-how, to help with this bigger problem," he said.
Fine has just returned from his second trip to Europe to rescue Ukraine's lost animals. Continue reading
RELATED: Western Washington forecast
Get the "5 things you need to know" delivered to your inbox. Sign up for the daily morning email here.
https://www.king5.com/article/news/local/seattle/5-things-to-know-friday-august-2022/281-13085fb3-7d35-4afc-ad0d-59111257a607 5 things to know this Friday