5 things to know this Tuesday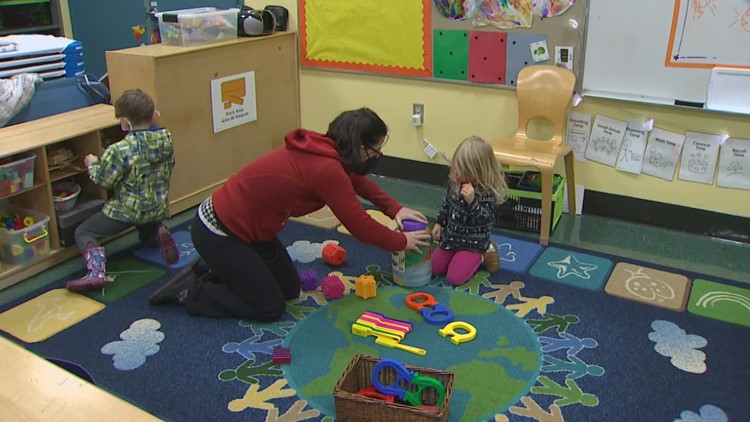 King County Child Caregiver Bonus; arrests of Coeur d'Alene; Prepare for climate change in waste facilities; Protest against SPU student graduation; Whale sightings are increasing.
King County childcare workers are eligible for a one-time bonus
King County childcare workers are now eligible for a one-time retention bonus for their efforts during the COVID-19 pandemic.
King County Executive Dow Constantine and Seattle Mayor Bruce Harrell announced the bonus at a news conference Monday.
Constantine said eligible childcare providers could submit claims for more than $7 million in awards provided by King County and the City of Seattle. Each educator receives the same amount, with the total depending on how many eligible employees apply. Continue reading
Court documents detail a plan by a white nationalist group to riot at the North Idaho Pride event
Newly filed Kootenai County court documents show how much planning and coordination went into an attempt by a white nationalist group to riot at the North Idaho Pride Alliance event in Coeur d'Alene over the weekend.
Thirty-one suspected members of a white nationalist group called the Patriot Front were crammed into the back of a U-Haul in Coeur d'Alene over the weekend. All men were eventually arrested and charged with conspiracy to riot.
According to court documents, Thomas Rousseau, the founder of the Patriot Front, told officers he "traveled to Coeur d'Alene to peacefully exercise his First Amendment rights." Another suspect told police he had traveled widely for the cause, saying, "We go where we are needed." Continue reading
Seattle wastewater treatment plant prepares for climate change, stronger storms
Millions of gallons of wastewater from homes and businesses from Seattle to parts of southern Snohomish County are treated daily at King County's West Point Wastewater Treatment Plant, which also feeds into the city's combined stormwater/sewer system.
Around two dozen major construction projects are currently underway, part of a series of modernizations totaling more than $600 million over the next 10 years. The projects will strengthen the wastewater treatment plant against more frequent and severe storms forecast with climate change.
The projects will replace pumps and pipelines, ensure seismic safety and improve the electricity supply to the sewage treatment plant. Continue reading
Seattle Pacific University students present President Pride Flags instead of shaking hands at graduation
Some graduates from Seattle Pacific University's (SPU) inauguration ceremony opted to present the school's president with Pride flags on Sunday rather than shake hands with him.
The demonstration was in response to a policy that the SPU board of trustees recently voted to uphold, preventing the school from hiring LGBTQ+ staff. The school's behavioral expectations of staff require that they refrain from same-sex sexual activity, sex outside of marriage, and cohabitation before marriage.
SPU students have been protesting the board's decision for weeks, including a sit-in outside the university president's office that has been going on since May 24. Some graduates decided they wanted to make a final statement about the policy as they walked the stage. Continue reading
Whale sightings are increasing in Washington waters
It's a sight that draws a crowd and silences onlookers. Their distinctive black and white patterns are part of the culture and history of the Pacific Northwest. But in recent years encounters between boaters and whales have worried those who know the species best.
From a dock in Edmonds, Brian McGinn, Captain of the Puget Sound Express, is on a mission and has limited time to complete it.
"We love [whales] so much. Most of us on board are so excited about it all the time now," McGinn said. "It doesn't matter how many times you see it, it's still amazing." Continue reading
RELATED: Western Washington forecast
Get the "5 things you need to know" delivered to your inbox. Sign up for the daily morning email here.
Download KING 5's Roku and Amazon Fire apps for live news broadcasts and video-on-demand.
https://www.king5.com/article/news/local/5-things-to-know-tuesday-june-2022/281-33d7deed-8c4c-443f-9169-6e271592e0ea 5 things to know this Tuesday