5 things to know this Wednesday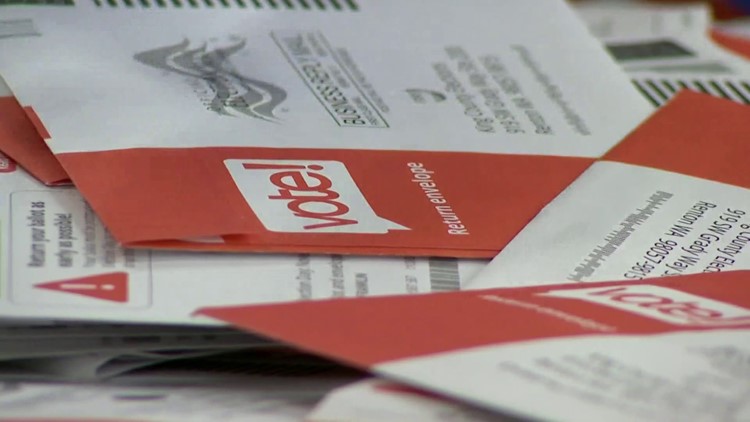 Midterm election results; Shooting at Ingraham High School; One year after the Whatcom flood; Racism in football game; Art competition about invasive species
Preliminary results for the top 2022 general election races in Washington state
A return to the first general election was announced shortly after 8pm on Tuesday.
The top-level race in the state revolves around the US Senate seat held by incumbent Patty Murray, who will serve her sixth term after defeating GOP challenger Tiffany Smiley.
Murray got 57% of the vote after the initial count on November 8.
Rep. Kim Schrier led the election for Washington state's 8th Congressional District with 53% of the vote after the first round of ballots on Nov. 8 Republican challenger Matt Larkin led with 47%.
In Washington's 7th Congressional District, Representative Pramila Jayapal led Republican challenger Cliff Moon with 85% of the vote.
Incumbent Steve Hobbs is being challenged by Julie Anderson for the position of secretary of state. The candidate who wins the general election will serve the remaining two years of Wyman's four-year term.
Hobbs is leading with 55% of the vote after an initial vote count on Nov. Read more
Parents, students recount moments after the shooting at Ingraham High School
One person has died and one is in custody following a shooting at Ingraham High School on Tuesday morning.
An emergency call came in at 9:55 a.m. Tuesday. It drew every available staff member to the school – parents followed up soon after. The families then stayed in the parking lot for hours to reunite with their children.
Many parents have credited their children for providing information to them via text message.
"It's horrifying when you hear and you can't do anything, you just hear all the news from all over the place, but you don't know what exactly. So the good thing is that she was able to get in touch with her. me and text me, text me and keep updating me so I know she's okay. But it's good to have her," one mother said.
Students recall the moment after the shot was fired inside the school.
"Everything happened so fast. No student or teacher had time to react to what happened. We've all been through it in real life. No cameras, no phones or anything. nothing," said Dreiven Hiquiana, senior at Ingraham High School. Read more
More than 50 families still displaced a year after Whatcom County's historic flood
A year after the historic flooding in Whatcom County, dozens of people whose homes were severely damaged are still displaced. Many are unlikely to return before 2023.
A cold November wind blew through the walls of Cristian and Emily Colacillo's house, which still had no windows. The couple's house had dilapidated rivets. Holes and cracks break the floorboards.
The house was 3 meters deep inside when last year's historic flood hit, and little has changed.
"I suppose we'll go home now, that we'll be back to normal and not in the same position as before," Emily Colacillo said. "A year later, I'm not coming home closer than the day I left. It's frustrating and difficult." Read more
Open investigation into racist slurs directed at Lakes High School football players
The Stanwood-Camano School District has opened an investigation into allegations of racist comments made during the football game between Lakes High School and Stanwood High School on Nov.
According to witnesses in attendance, the players and cheerleaders from Lakes High School were mocked and ridiculed by Stanwood students and Stanwood players.
A mother posted on her Facebook page that her daughter, a Lakes High School student who was on the cheer team, was harassed by Stanwood High School students and called a slur about Race in the schoolgirl bathroom.
A Lakes High School coach also wrote on Facebook that his players had told him about the many racist remarks they had heard from Stanwood players. The coach said the coaching staff told the umpires what was happening several times, but did nothing to stop it. Read more
Washington state organizations hold art contest to highlight invasive species, how to stop them
The Washington Invasive Species Council (WISC) and the Washington Fish and Wildlife Service (WDFW) are asking high school-age artists to participate in an art competition that will help spread the word about non-spreading. invasive species.
The winning work from this competition will be featured on a new WDFW trailer that travels around Washington State and the Northwest to bring attention to invasive species.
They are looking for someone to create educational designs that highlight some of the top priority invasive species in Washington. There is also a need for clear actions that the public can take to reduce the spread of these species.
The number one species that WISC and WDFW are trying to prevent are freshwater mussels Quagga and Zebra mussels. They cling to boats and pipes so they can travel and spread quickly. Read more
RELATED: Western Washington Forecast
There are "5 things you need to know" delivered to your inbox. Sign up for the daily morning email here.
https://www.king5.com/article/news/local/5-things-to-know-wednesday-november-2022/281-e09d883b-22eb-41f1-af07-2c43e2b87e2c 5 things to know this Wednesday