5 things to know this weekend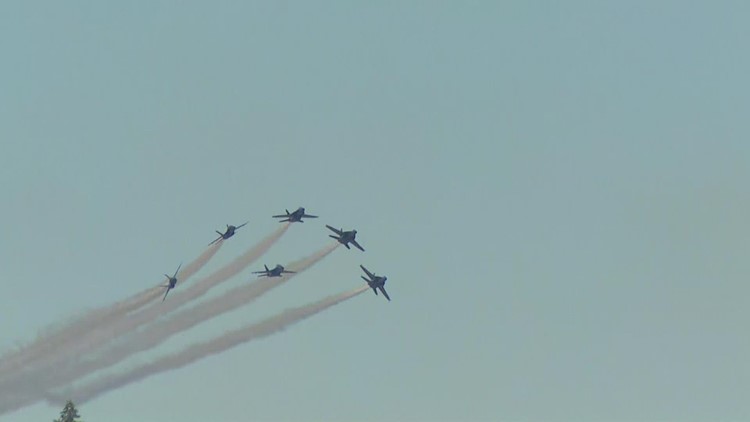 Seafair: What you should know; Monkeypox Vaccination Clinic in Seattle; Shoalwater Bay Indian Tribe Tsunami Tower; Providence's nurse asks for hazard pay; Get to know the Blue Angels team.
What you need to know before you go: Seafair Weekend Festival
Seafair Weekend Festival 2022 is officially underway. From sea to air, expect to hear and see the roar of engines over Puget Sound.
The Seafair Weekend Festival takes place on Fridays, Saturdays and Sundays from 9am to 5pm. Held on 1.5 miles of shoreline on Lake Washington in Genesee Park, the legendary Pacific Northwest Festival is the world's largest boat and air show in one. Continue reading
Free event in Seattle to administer monkeypox vaccine to eligible individuals
There is a limited supply of monkeypox vaccine in Washington state.
Public Health — Seattle & King County says some doses will be available Saturday at Seattle Central College, but there are restrictions on who can get the vaccine.
According to Public Health, only those at highest risk of exposure can get the vaccine during Saturday's free event. Continue reading
Shoalwater Bay Indian Tribe, Partners Unveil New Tsunami Evacuation Tower
A new, unique free-standing vertical evacuation tower in Tokeland is designed to save hundreds of lives in the event of a tsunami.
The Shoalwater Bay Indian Tribe unveiled the tower Friday along with partners from the Washington State Emergency Management Hazard Mitigation Team, advisers from the University of Washington, FEMA and other agencies.
Decades ago, the tribe's concerns about the threat of a tsunami prompted them to identify nearby high ground — but they wanted to do more. By 2017, the tribe decided they wanted a tower similar to that used in Japan. Continue reading
ER nurse condemns staffing shortages in Providence Everett
Heidi said the pain and suffering at the Providence Everett ER is not exclusive to patients.
The nursing staff feel it too.
"It's devastating to show up every day and know that these people need us and that we can only do what we can," she said. "We felt pretty abandoned there."
Heidi is a nurse at Providence Everett's emergency room. Continue reading
Meet the team that brings the Blue Angel show to the Seattle sky
The Blue Angels return to Seafair this weekend and have brought some new birds with them.
The new Boeing F/A-18 Super Hornet jets are bigger, faster and louder than the previous jets that have flown them for more than 30 years.
For the first time since 2019, the US Navy Blue Angels squadron will perform over Seattle, and No. 6 Blue Angel pilot Julius Bratton says they want to impress. Continue reading
RELATED: Western Washington forecast
Get the "5 things you need to know" delivered to your inbox. Sign up for the daily morning email here.
https://www.king5.com/article/news/local/5-things-to-know-this-weekend/281-ce1f8652-ddd6-43e2-9980-2833774764aa 5 things to know this weekend