500 new U.S. citizens sworn in at Seattle Center on Fourth of July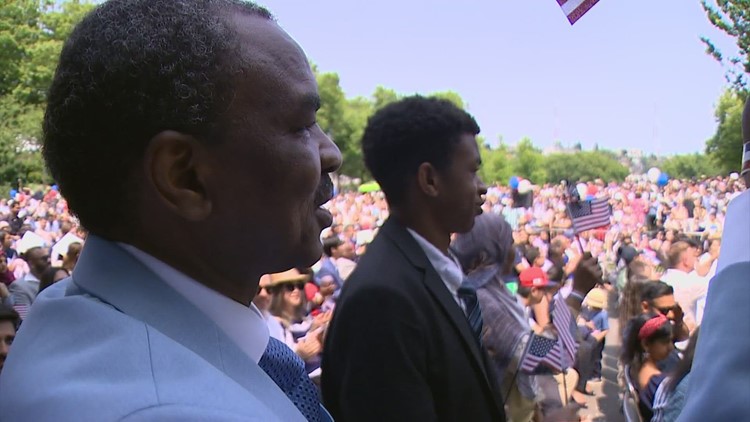 New citizens participated in the 38th Annual Naturalization Ceremony in Seattle.
SEATTLE — On Independence Day, Washington state welcomes 500 new citizens.
They were sworn in during the 38th Annual Naturalization Ceremony at the Seattle Center.
Just before the ceremony started, Claire Han, a native of Korea, expressed her excitement for the long-awaited ceremony.
"It was a very unforgettable moment for me, especially on July 4th," Han said. "I am very excited and very honored to be a US Citizen."
It's been years of Independence Day celebrations for Adam Maxmoud.
"I counted the days on my fingers, counting the days to get to this very special day," says Maxmoud.
Originally from Sudan, Maxmoud now lives with his family in Kent. He said the COVID-19 pandemic had halted his path to becoming a US citizen until now.
"July 4, Independence and Nationality Day. It's a very unique day. It's very special to all of us here," he said.
Amit Makharia was present at the ceremony to show her support.
"I just became a citizen a few weeks ago and my wife is getting citizenship today. It's a great country to be a citizen of. United States of America, you have the freedom of your life," Makharia said. me."
In the crowd of new citizens, 79 countries were represented. David Estudillo, the chief justice of the United States district of western Washington, was present to take the oath in front of 500 people.
"We just brought in 500 new people and as your Mayor, I'm excited about it," said Seattle Mayor Bruce Harrell.
Maxmoud says: "As long as you work hard, the opportunities are limitless. I am very proud, very happy."