9-year-old injured in Renton shooting released from hospital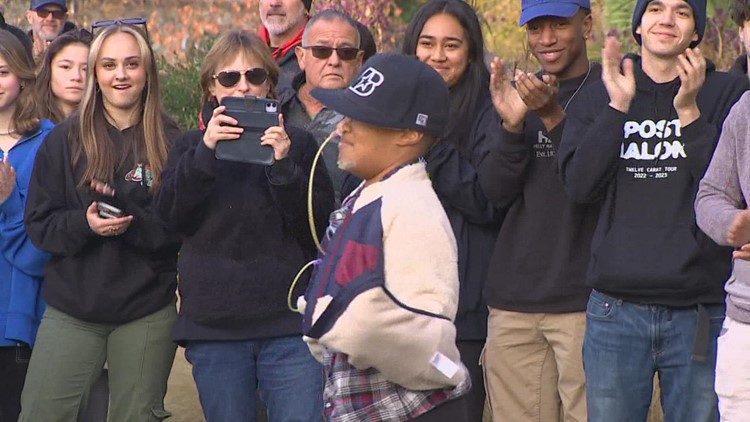 On Sunday afternoon, dozens of friends, teammates and family picked up the boy from the hospital.
BURIEN, Wash. — On Sunday, Isaiah Johns' teammates and family celebrated the 9-year-old's return home from the hospital. He was shot in Renton in an apparent road rage incident nine days ago.
For the Johns family, every moment of the past week has been a test of strength.
Isaiah's grandfather, Michael Snyder, said: "It was an emotional tornado and we were stuck in it for a week.
>> Download KING 5+, our new Roku and Amazon Fire apps, to watch live news 24/7
In Burien on Sunday afternoon, dozens of friends, teammates and family welcomed Isaiah home from the hospital.
Snyder said: "Isaiah's team wanted to get together and it exploded from there.
The child has a long recovery ahead of him. His family said he was shot in the face and chest. Snyder said he will need surgery and additional treatment. Isaiah is currently using a feeding tube. Snyder said the family hopes the tube will be removed in the next few days. The 9-year-old will then be allowed to eat soft foods.
"It was a miracle. A week ago we didn't know he was going to live and today he's pitching with his friends," Snyder said. "He's Isaiah. He's back. He's back." He's a strong kid."
The vehicle involved in the shooting was found Sunday in Tukwila.
The Washington State Patrol said the Ford Mustang was being processed as evidence and no suspects were in custody. The State Patrol said the vehicle was reported stolen days before the shooting.
Download our free KING 5 app for updated news stories from across western Washington.
https://www.king5.com/article/news/local/9-year-old-renton-road-rage-shooting-released-hospital/281-7b817ede-bdd2-4d5f-890e-61e4a386264c 9-year-old injured in Renton shooting released from hospital