A final vigil at Farmer John for pigs that never came
Ellen Dent approached a microphone outside Farmer John's meatpacking plant in Vernon on Thursday night with a stunned expression on her face.
It was the last official week of business for the legendary facility. Farmer John's parent company, Smithfield Foods, claimed the closure was necessary because of allegedly escalating business costs in California. Crowds had gathered to celebrate since Sunday. They had raised protest signs as double-decker livestock trailers loaded with pigs rumbled into the plant. Notoriously vegan musician Moby spoke one night. So does San Jose-area Assemblyman Ash Kalra, the only vegan in the California legislature.
That evening, the factory's last, about 130 people gathered around Dent, executive director of the nonprofit Animal Alliance Network, which has helped hold twice-weekly "pig vigils" almost continuously for the past seven years. White rose petals adorned the asphalt. Graphic slaughterhouse scenes were projected onto a wall above her. Red hazard lights flashed next to the curbs.
Since that afternoon, dozens had protested in front of Farmer John. Dent expected to stay until 3 a.m., or whenever the last 18 wheel delivered its load. Everyone assumed they would get one last chance to see pigs being led to their deaths. But no truck had driven by all day. Well, Dent told those present, she knew why.
"Last night was the last night for the delivery of pigs," Dent said in a calm voice and wide-open eyes. A worker at the house had just called her with the news. "This is the closing event. You are part of this story. Let's close this place in style."
A faint cheer went up. Friends and strangers showered her with hugs. Independent journalists took photos and streamed live.
"It's bittersweet because that factory is being replaced by another one in the Midwest," she told me. "And we won't be able to get a lot out there. They do. They run."
It was an unexpected end to an unlikely relationship between a pork empire and animal rights activists.
For years, Smithfield Foods — the world's largest pork producer — allowed people to give pigs water while truckers waited for the factory gates to open. This act of compassion garnered international coverage. Celebrities like Joaquin Phoenix, Rooney Mara and No Doubt bassist Tony Kanal stopped by. Some of the Vernon police officers on duty even became vegans.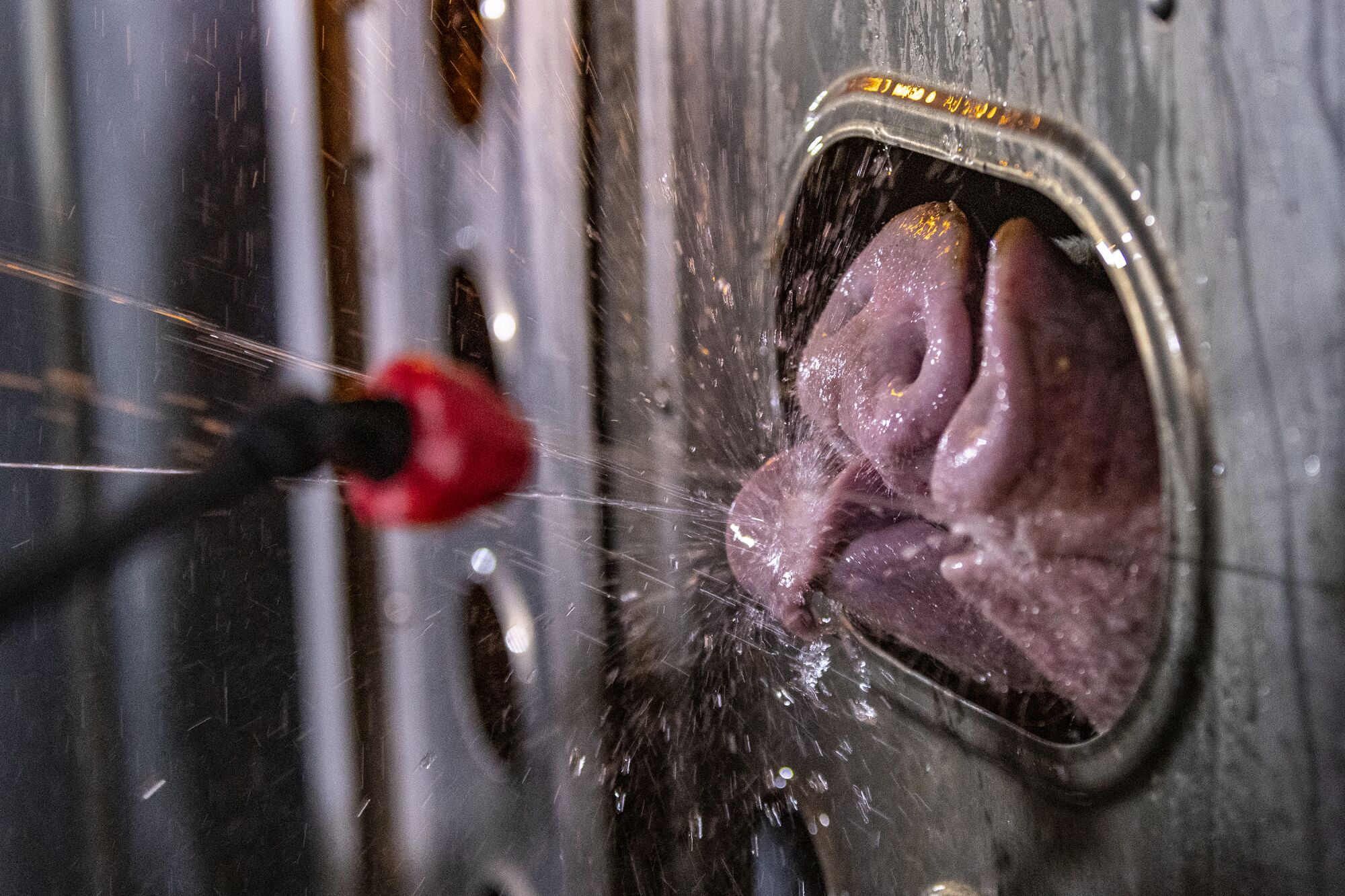 As with most other détente between opposing groups in recent years, the goodwill did not last.
In 2020, 20 protesters were arrested for blocking trucks, while seven others were summoned for entering the plant and trying to get away with a pig. Smithfield declared a total ban on going anywhere near the pendants, which have been worn to this day. Jim Monroe, Smithfield's vice president of corporate affairs, said that "any interaction such as [letting strangers give pigs water] would be considered a breach of sound food safety and animal health practices."
The vigils continued. Participants believe their continued presence led to the facility eventually being closed.
Before Dent's speech, Kassidy King and Shailee Prince, both from Sun Valley, sat in front of one of Farmer John's massive gates. King was a newcomer, Prince a regular.
"We made noise. We made them uncomfortable," Prince said as she gave a peace sign to a honking van.
A block away, Jonathan Ohayon and other chefs were serving up free food—vegan, of course. Plant-based jerky. Cajun fries. Chili. Chocolate bar.
Ohayon, a French immigrant living in Redondo Beach, regularly attended the vigils before the pandemic.
"We promised that one day this factory would close," he said as he scraped a griddle to make strawberry crepes. "And today is the day."
If there was disappointment that no pigs came, nobody showed it.
The dealers offered hoodies and t-shirts. A volunteer wearing a neon green vest and holding a flashlight slowed approaching cars. Police drove around, sometimes parked to chat with the guides but otherwise let people do their thing.
A farmer John worker occasionally banged his head over a wall. Above him, a huge spinning graphic reading "Stop Killing Go Vegan" was projected onto a warehouse next to a painted American flag.
Cesar Acebedo, the evening's presenter, walked around with a bundle of burning sage "for the smell but also for the negative energy". He told the crowd, some of whom were carrying pumps and water bottles, that the permanent shutdown "hasn't really arrived yet… It's really surreal. I hear someone yell "Truck!" and twitch and then get ready to run to them. But that won't happen again."
With traffic and the roar of Farmer John's air filtration system, there was little to be heard. A number of speakers – old, young, black, white, Latino – nonetheless recited poetry, spoken word plays, written and improvised speeches. They hailed veganism, condemned factory farming and called for tolerance for meat eaters.
"I avoided coming to these vigils out of selfishness, not wanting to make eye contact with a pig and knowing there was nothing I could do at the moment," said actress Justina Adorno, who flew in from New York that day .
Melissa Olivos and her daughter Jayleen also showed up for the first time. She had brought vegan carne asada tacos from her Inland Empire chain, Viva Vegan.
"Everyone in my family hated that I came to Christmas parties because I was such an annoying vegan," Melissa said to a knowing laugh. "So I thought, 'If I showed them that food is bomb, they would listen to me.'"
Her efforts were so successful that her mother, a former TaqueraShe no longer eats meat. "Now she's more vegan than me. And I'm like, what?!"
"We could go partying. We could watch Netflix," concluded Olivos. "But we're out here making a difference."
The conversations went on for so long that the red hazard lights went dead and the dozens of candles that were distributed to participants around hour 2 had melted into nubs by hour 3. But few had left, and by the time Acebedo arrived, others asked for a moment of silence while a smartphone played a Sanskrit mantra. It was 11:15 and getting colder by the minute.
The vigil ended with a march to the corner of Vernon Avenue and Soto Street for a group photo in front of Farmer John's infamous murals – the ones depicting hundreds of happy pigs wallowing in the mud or relaxing on grass next to their supposed owner. Afterwards, the participants met to exchange ideas and spend a little more time together. That's it.
Minna Eisenhauer waved a green and blue flag with a white V. She had offered her orange shelter as a home for the last pig delivered to Farmer John.
Monroe, Smithfield's vice president of corporate affairs, denied the request, stating, "It would be a disservice to these farmers and the time and resources they have invested in raising these forage animals to consider such a request."
"They had a chance to show kindness and compassion — just that little thing," Eisenhower said. "And they didn't."
Christin To and Sara Cruz stood next to anti-Farmer John slogans chalked on the sidewalk.
"I was emotionally afraid to come, but this community is amazing," said To, who is from Thousand Oaks.
"Wow, you really drove a long way to get here!" Cruz remarked. Then she thought about the future.
"I hope this slaughterhouse can be transformed into something compassionate," said the Glendale resident. "A museum, a gallery. Put in life and love, not a place of death."
https://www.latimes.com/california/story/2023-02-04/farmer-john-closing-pig-vigils A final vigil at Farmer John for pigs that never came