Activists take fight to save 80-foot tree to Seattle city council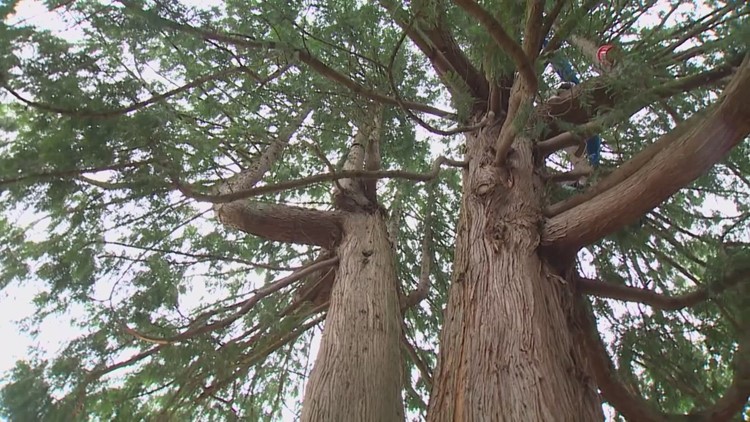 Advocates say they want to stop the cutdown of a culturally modified tree to make way for housing construction- though they say the fight goes beyond that tree.
SEATTLE — Tuesday, dozens of tree advocates stood silently inside of Seattle City Council chambers to draw attention to a tree set for removal in Seattle's Wedgwood neighborhood — and their desire for stricter tree protection measures.
In a letter, the Snoqualmie Tribe said the tree — slated for cutdown in advance of housing construction – is a "culturally modified tree" that was used for navigation within an Indigenous trail system. Supporters have been holding awareness events and activists have been sitting inside the tree. 
Organizers of Tuesday's action within city hall say a permit has already been issued for removal and because the tree was not on the council's agenda, they could not speak during public comment. One neighbor still did so, but other people stood in the back silently. 
"Climate justice is not on the agenda, in Seattle," Sandy Shettler said. "There's a lot of greenwashing and statements about what we're doing for our oncoming climate emergency, but tree canopy is really one of the most essential and easy pieces to keep communities healthy as we have more and more urban heat and we need to stand up for these trees and save them as a critical part of our climate agenda."
Protestors say they'd like to see stricter tree protections — some taking issue with the terms of a recently passed tree ordinance set to take effect July 30. 
In response to a previous request for comment, a lender on the project, Legacy Group Capital, released this statement:
"Thank you for your inquiry. One of Legacy's core principles is to facilitate the development of affordable housing, which is in high demand and desperately needed in this region and market. We understand the importance of striking a balance between addressing the housing crisis and being responsible stewards of our natural surroundings. 
"While we are not the owner of this project, we are the lender and assisted the builder in their permitting. We understand the sensitive nature of the tree canopy, we all live in this area and share a collective commitment to the preservation and enhancement of our local environment. Legacy is in the practice of removing trees only when absolutely necessary after careful consideration of the site's constraints and approval by the Seattle Department of Construction and Inspections."