Acuna becomes 1st with 20 HRs, 40 SBs, 50 RBIs before break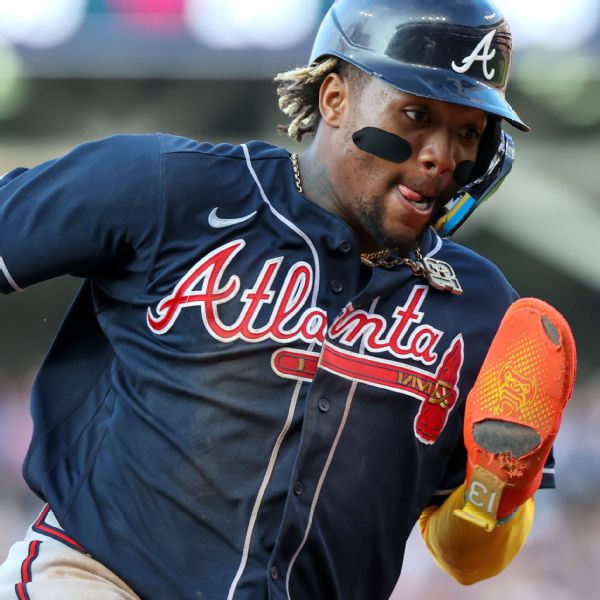 CLEVELAND — Nobody had a better first half of the season than Ronald Acuna Jr.
Atlanta's four-time All-Star outfielder made history Monday night by becoming the first player to hit 20 home runs, 40 stolen bases and 50 RBIs before the All-Star break.
"Special player," said Braves coach Brian Snitker after Atlanta extended its winning streak to nine straight games and went 30 games over .500 with a 4-2 win over the Cleveland Guardians.
The 25-year-old Acuna is also only the third player, along with Rickey Henderson (1990) and Eric Davis (1986), to have hit 20 homers and stole 40 bases in his first 84 games.
Before the game, Acuna was named June's NL Player of the Month for the second time this season.
In the third inning, Acuna extended his hitting streak to 14 games before capturing his 40th base, the most he had in a season. In 2019 he stole 37.
Acuna appeared to injure his right shoulder when he slipped upside down. He stayed on the ground for a few moments before a Braves coach helped him stand up and examined him. Acuna stayed in the game and scored moments later.
Snitker said Acuna "got a little bit stung" but feels good.
There seems to be nothing the speedy Acuna can't do.
"If you go out and have a drink or go to the bathroom, you might be missing out on something that you've never seen before," Snitker said. "I'm just happy to have him on our team and to be able to watch him every day."