Adam Abelson, the suspect in the Seattle subway crash, pleaded not guilty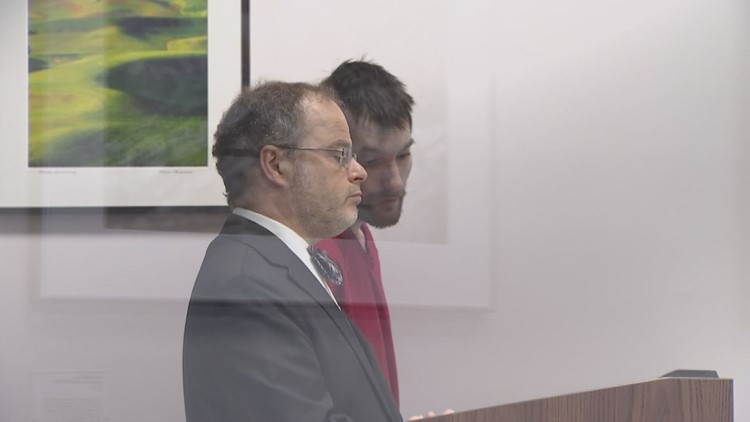 Adam Abelson is facing three counts of vehicular homicide, reckless driving and unlicensed operation of a vehicle in the Nov. 4 crash.
SEATTLE — The suspect accused of causing a crash that killed a woman in Seattle's Belltown neighborhood on Nov. 4 pleaded not guilty Monday to all three charges.
Adam Abelson, 31, faces charges of vehicular homicide, reckless driving and operating a vehicle without a license. His bail was set at $500,000.
According to court documents, Abelson was traveling at "highway speeds" in a 25 mph zone. He ran a red light and crashed into the front bumper of a Prius and crashed into a Metro bus.
Amanda Schnieder, 28 years old, was standing on the sidewalk about to cross the street when she was hit by a bus and thrown into a building. She suffered "catastrophic injuries" and died at the scene.
The driver of the Prius was not injured. The bus driver and eight passengers were taken to Harborview Medical Center. The bus driver was released from the hospital about a week after the accident.
The suspect was found unconscious and was taken to Harborview Medical Center and discharged on November 17, the hospital said. He was then booked into the King County Jail after being examined.
At the time of the crash, drug paraphernalia was found on the passenger seat of Abelson's vehicle and his blood was being tested for drugs. According to court documents, the Washington State Toxicology Laboratory is studying those results.
According to the Washington State Patrol Criminal Records Bureau, Abelson's criminal history includes four felonies and 17 misdemeanors, involving theft, driving under the influence, hit-and-run and theft. organized retail. He has issued more than 50 arrest warrants in cities including Issaquah, Bellevue, Tacoma and Seattle.
His trial is set for January 2024 but could change.