Advocates call to shut down state-run institutions, Washington legislators say it's not that easy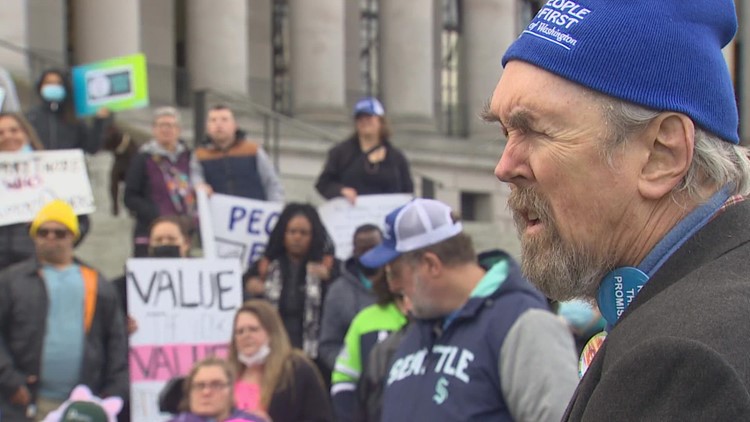 Mike Raymond, now 76, said he still remembers feeling like he was treated like an animal years ago at Rainier School in Buckley.
OLYMPIA, Wash. – Mike Raymond arrives at Olympia with a simple message for legislators.
"Get rid of them," says Raymond, who spent the first 20 years of his life at Rainier School, a state-run facility for people with intellectual and developmental disabilities.
Raymond, 76, said he still remembers being treated like a dog.
Representative Darya Farivar, D-Seattle, said shutting down the state's four remaining institutions is not as easy as it seems. She is in favor of shutting down institutions that she says have improved, but she still considers them "dangerous".
However, Farivar said she will not be funding legislation calling for the closure of institutions this year. She said the state is not ready to accommodate the more than 500 people still living in the facilities.
"We want to make sure everyone has somewhere to go. We want to make sure they have strong support in the community so they can succeed. This is the year to start that plan."
Farivar said she doesn't have a timeline for when the state might close institutions.
Raymond was one of more than 100 people with intellectual and developmental disabilities who showed up in front of the state Capitol Wednesday afternoon to call for the closures of facilities. The group said it should focus more on smaller group homes or providing support to individuals living with their families.
Raymond said he is happy that more and more people are talking about closing institutions and will continue to go to Olympia until they do.
Download our free KING 5 app for updated news stories from across western Washington.
https://www.king5.com/article/news/local/olympia/shut-down-state-run-institutions-washington/281-aba8e6bb-c5e8-4316-b5dc-a888597cf6e5 Advocates call to shut down state-run institutions, Washington legislators say it's not that easy