Afghan judge who put Taliban members behind bars 'overjoyed' to be given sanctuary in UK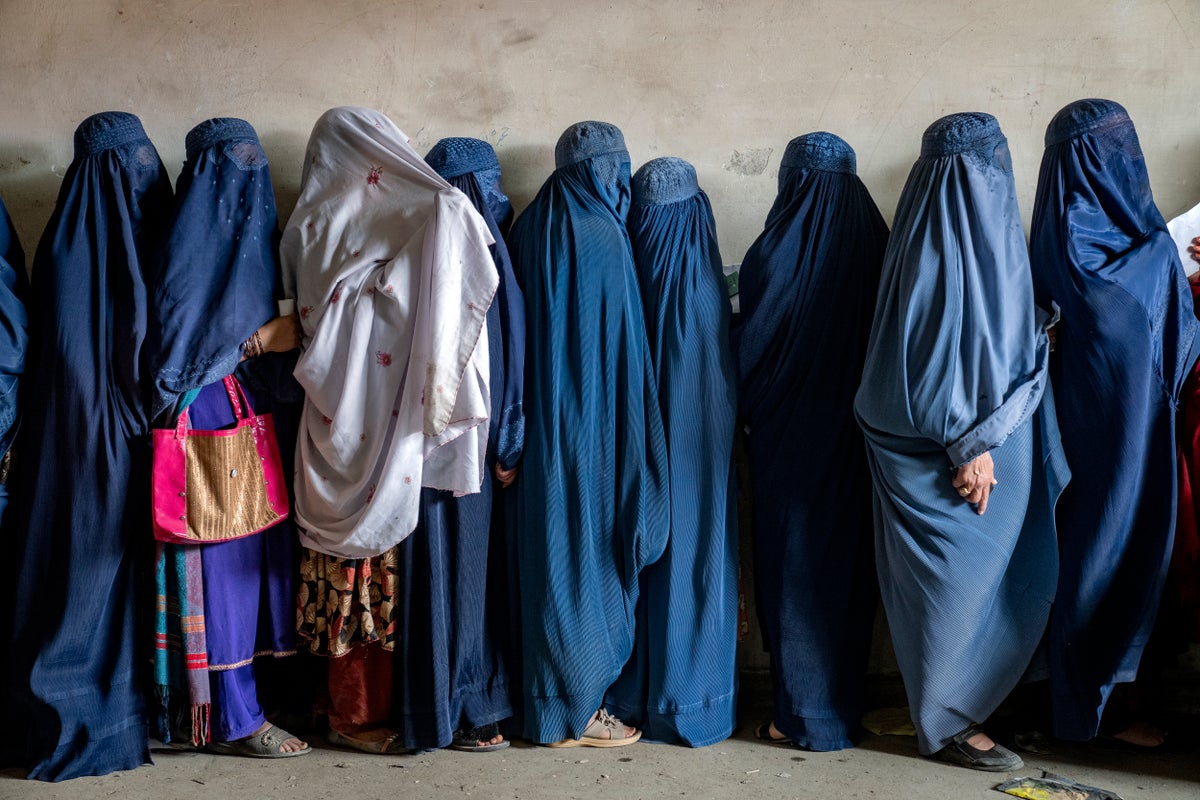 An Afghan judge is "overjoyed" to be allowed to enter the UK with her son after two years in hiding from the Taliban.
Yosra, a judge and women's rights defender, fled Afghanistan in fear for her life in September 2021, a month after the Taliban seized power in Kabul.
She lived in hiding in Pakistan for two years after being told she could not come to Britain as part of a program to resettle those who had aided Britain during the war.
But now, after almost two years of fighting for refuge, the 53-year-old has arrived in London, where she has been reunited with family members already living in the UK.
Yosra's family and legal team expressed their thanks The Independent for raising awareness of her plight as she described her arrival in the UK as a "dream". The Independent is committed to ensuring that Afghans who have worked alongside British forces are given a safe haven in the UK.
"We still can't believe that the dream we dared not even dream for so long has finally come true," said Yosra, whose name has been changed for security reasons.
"The last almost two years have been the most trying time we have ever been through."
Speak withThe Independent In February, Yosra said she was at particular risk because of her work overseeing the trials of Taliban members who had plotted terrorist attacks against the government and international forces.
She said she and her adult son learned to "fight for our lives every day" as they fought their way out of Afghanistan.
The former judge, who as a criminal court judge oversaw murder, kidnapping, rape and violence against women cases, added: "We eventually managed to escape to Pakistan, but we had to remain in hiding as the police regularly detained Afghan refugees ." detained or deported back to Afghanistan."
She said they were thrilled "to finally be safe in Britain" and that "a huge burden on our shoulders and in our minds has finally been lifted".
"We are enjoying so much now being able to walk around safely and freely, sitting in our family's garden and feeling the peace all around us, sleeping soundly and comfortably and knowing that we will wake up the next day in our safe new home will," added Yosra.
Yosra explained that the "continued fear for our lives and the resulting restrictions" placed a "tremendous burden" on her and her son "mentally and emotionally" while they were in hiding in Pakistan.
"We only left the small flat our family rented in the UK to go grocery shopping or to see the doctor," she recalls. "Two days before we flew to the UK, our block of flats was searched by police to arrest Afghan refugees – luckily we were at the doctor's at the time."
The Home Office granted the judge and her son entry to the UK in June 2023 under the government's flagship resettlement scheme for Afghans, known as the Afghan Citizens' Resettlement Scheme (ACRS).
The two have been granted permanent entry permits and can apply for British citizenship after half a decade.
ACRS, which opened in January last year, aimed to relocate 5,000 Afghans in its first year and up to 20,000 in five years. It was intended to help those who have "supported the UK's efforts in Afghanistan and championed UK values", as well as vulnerable people such as women and girls.
Route One granted visas to people already in the UK after being evacuated by British forces following the fall of Kabul, while Route Two was open to Afghan families who had fled Afghanistan to neighboring countries and were identified by UNHCR as needing resettlement .
However, activists have criticized the program for not helping enough people. Some admitted under the scheme are also stuck in a bottleneck in safe third countries, waiting to get into the UK.
Yosra and her son had also requested to come to Britain under the Afghan Relocation Assistance Policy (ARAP) to help get those working with British forces out of Afghanistan, but their request was denied.
Female judges from Afghanistan may be eligible to apply for ARAP, but approval depends on the nature of their work and whether they have worked closely with UK authorities.
It comes afterThe Independent announced in September 2021 that more than 200 female judges were hiding in Afghanistan for fear they would be killed by the Taliban for their work.
The Taliban have released thousands of prisoners, including terrorists and senior al-Qaeda operatives, and experts have warned that the judges responsible for detaining many of them feared for their safety after their release.
The hard-line Islamist group that previously ruled the country has barred women from the workplace, education and public places, and from participating in all sports, since seizing power after the withdrawal of US and British forces.
Lucy Blake, special counsel at Jenner & Block in London, a law firm involved in Yorsa's case, recounted The Independent She was "absolutely delighted and relieved" to learn that Yosra had been granted entry into the UK.
She said they were "grateful" for the work of British journalists, including The Independentto shed light on the plight of Yosra and other Afghan judges.
"This media coverage reinforced our arguments that it is in the public interest to welcome Yosra and her son to this country," Ms. Blake added.
"This was a two-year ordeal, not only for Yosra and her son who was in hiding in Pakistan, but also for her family in the UK who feared for their safety."
Yosra's relatives, who live in the UK, are close family members including her sister and nephew, she added.
Oliver Oldman of Kingsley Napley, who was also involved in the case, said: "We are delighted that they are finally reunited but remain concerned for the other vulnerable Afghans, including the judges, who remain in hiding."
A Home Office spokesman said: "While we do not comment on individual cases, we remain committed to providing protection to vulnerable and vulnerable people fleeing Afghanistan – including women judges – and have so far brought around 24,500 people to the UK. "
"We continue to work with like-minded partners and countries neighboring Afghanistan on resettlement issues and support the safe transit of eligible people."