Airport taxi drivers want union rights, public oversight from Port Commission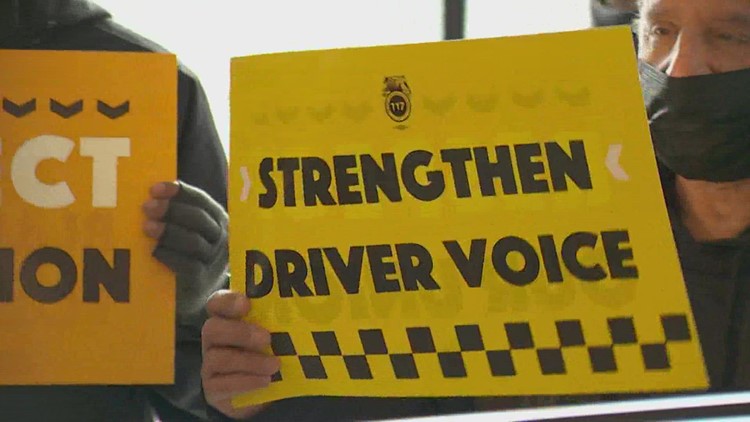 The taxi drivers, represented by Teamsters Local 117, appeared at Tuesday's Port Commission meeting.
SEATTLE — During the Seattle Ports Commission meeting Tuesday, dozens of taxi drivers appeared to urge the public to monitor the on-demand ground transportation system at Seattle-Tacoma International Airport.
Samson Hailegiorgis, who has been a taxi driver for 17 years, says their voice is something taxi drivers must listen to.
"They are deciding our future," Hailegiorgis said.

Joshua Welter with Teamsters Local 117 said: "Airport taxi drivers are holding a port committee meeting to demand public scrutiny and union rights for taxi drivers.
Welter says it goes back to 2019 when an on-demand pilot program started at the airport.
"Three years ago, drivers were very optimistic about starting a new chapter of cooperation with the port. Unfortunately, since that time, the driver's voice at work has largely been dismissed and I regret to speak with disdain," Welter told the Trustees.
During the afternoon meeting, drivers' concerns were expressed, in everything from short trips and changing surcharges to the implementation of new technology.
"Virtual on-demand suggestion is another issue they've raised," said Port Commissioner Hamdi Mohamed. "It takes an outreach and education process to introduce something new. A lot of them are worried about that change."
"We are committed to listening to them. We are committed to amplifying their voices and ensuring that we get the right solution for them," added Mohamed.
According to the Port of Seattle, in the coming months there will be more outreach and opportunities for the public to comment on the on-demand ground transportation service at the airport.
https://www.king5.com/article/news/local/seattle/seattle-tacoma-airport-taxi-drivers-union-rights-public-oversight-port-commission/281-6c946608-c565-40b8-9666-974298cc782d Airport taxi drivers want union rights, public oversight from Port Commission