Alabama star Brandon Miller delivered gun used in shooting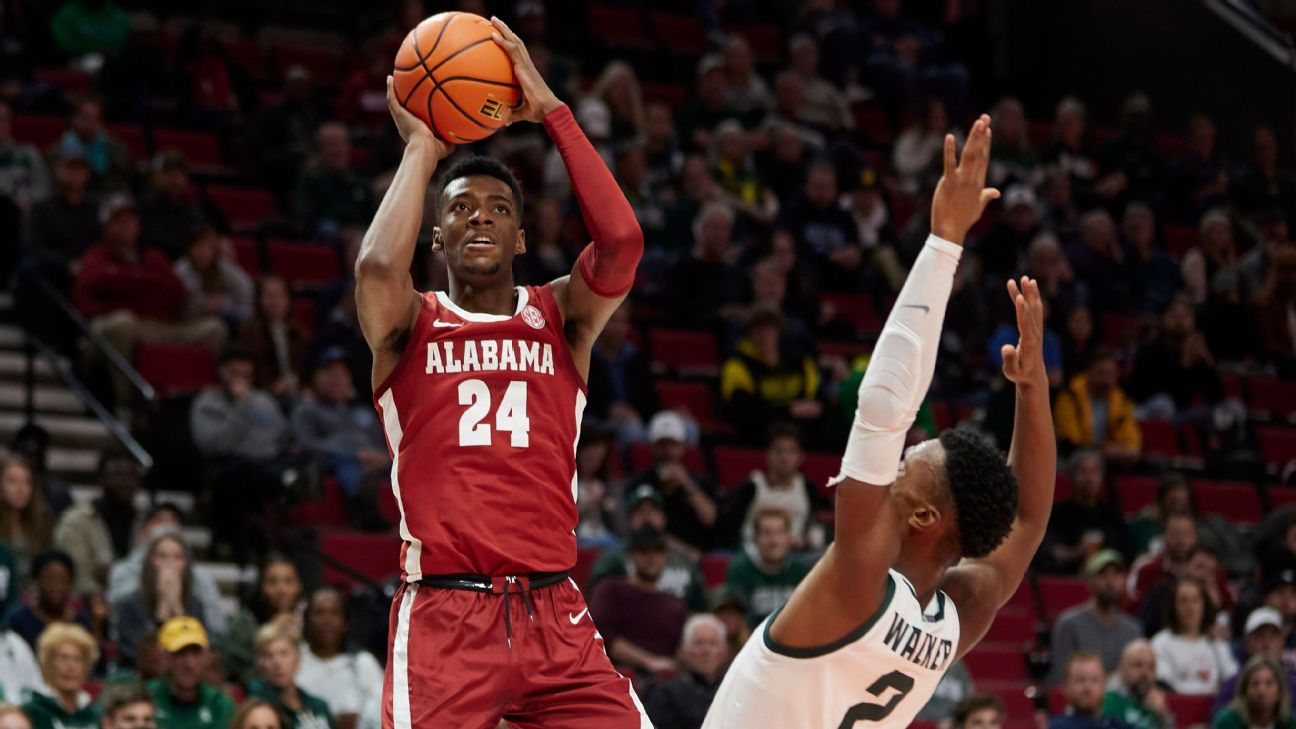 Alabama basketball freshman Brandon Miller brought a teammate the handgun that killed a woman last month, according to Tuscaloosa, Alabama, police.
Tuscaloosa detective Branden Culpepper testified Tuesday that Miller brought him Darius Miles' gun the night of the fatal shooting of 23-year-old Jamea Jonae Harris after Miles texted him asking for it.
Culpepper's testimony came during a preliminary hearing for Miles and Michael Lynn Davis, who are charged with the murder of Harris, who was shot January 15 near the University of Alabama campus.
Investigators wrote in a court document that Miles, who has since been removed from the Crimson Tide program, admitted to providing the gun used in the fatal shooting, but Davis fired the gun.
Culpepper said Tuesday Miles told Davis where his gun was in Miller's car.
Miller was not charged with a crime, and Crimson Tide trainer Nate Oats said in a news conference later Tuesday that the program was aware of Miller's alleged connection to the case. Tuscaloosa Assistant District Attorney Paula Whitley told AL.com on Tuesday that "there is nothing we can charge [Miller] with."
Both Davis and Miles wiped away tears as their mothers took the stand to testify that they would make sure their sons would follow the rules if they were granted bail, but that request was later overturned by the District Judge Tuscaloosa County, Joanne E. Jannik.
The case is sent to a grand jury.
The shooting took place on the Strip, a business district with bars and restaurants that serves college students near the Tuscaloosa campus. Harris was in the passenger seat of a car when she was hit by a bullet, police said.
Oats said Tuesday that the program has "cooperated fully with law enforcement at all times" and that the "entire situation is sad."
"We knew about it," Oats said when asked if Miller allegedly brought the gun to Miles. "Can't control everything anybody does outside of training. Nobody knew that would happen. … Brandon wasn't in any kind of trouble, nor is he in any kind of trouble in this case. Wrong place at the wrong time."
Oats later tried to clarify what he called his "unfortunate remarks" after receiving criticism on social media.
In a statement released Tuesday night, Oats acknowledged his comments "came badly".
"We have been notified by law enforcement that other student athletes were in the vicinity, and law enforcement has repeatedly informed us that no other student athletes are suspects," Oats said. "They were only witnesses. Our understanding is that they were all completely honest and cooperative.
"It was in no way my intention to downplay the seriousness of this situation or the tragedy of that night. My prayers continue to go out to Jamea Harris' family."
Miller is the top scorer for second-place Crimson Tide, averaging 18.7 points and 8.0 rebounds per game. He is a likely top 5 pick in this summer's NBA draft.
Prosecutors and defense attorneys presented different accounts of the shooting. Whitley told the judge there was enough evidence to proceed with the case against Miles and Davis.
A defense attorney indicated during Tuesday's hearing that Miles reacted defensively when telling Davis where the gun was located.
"The reason the gun was made available to Michael Davis was for protection," argued Mary Turner.
The Associated Press contributed to this report.
https://www.espn.com/mens-college-basketball/story/_/id/35707831/police-alabama-star-brandon-miller-provided-gun-used-shooting Alabama star Brandon Miller delivered gun used in shooting