Alexander Volkanovski beats Max Holloway by unanimous decision to retain featherweight title at UFC 276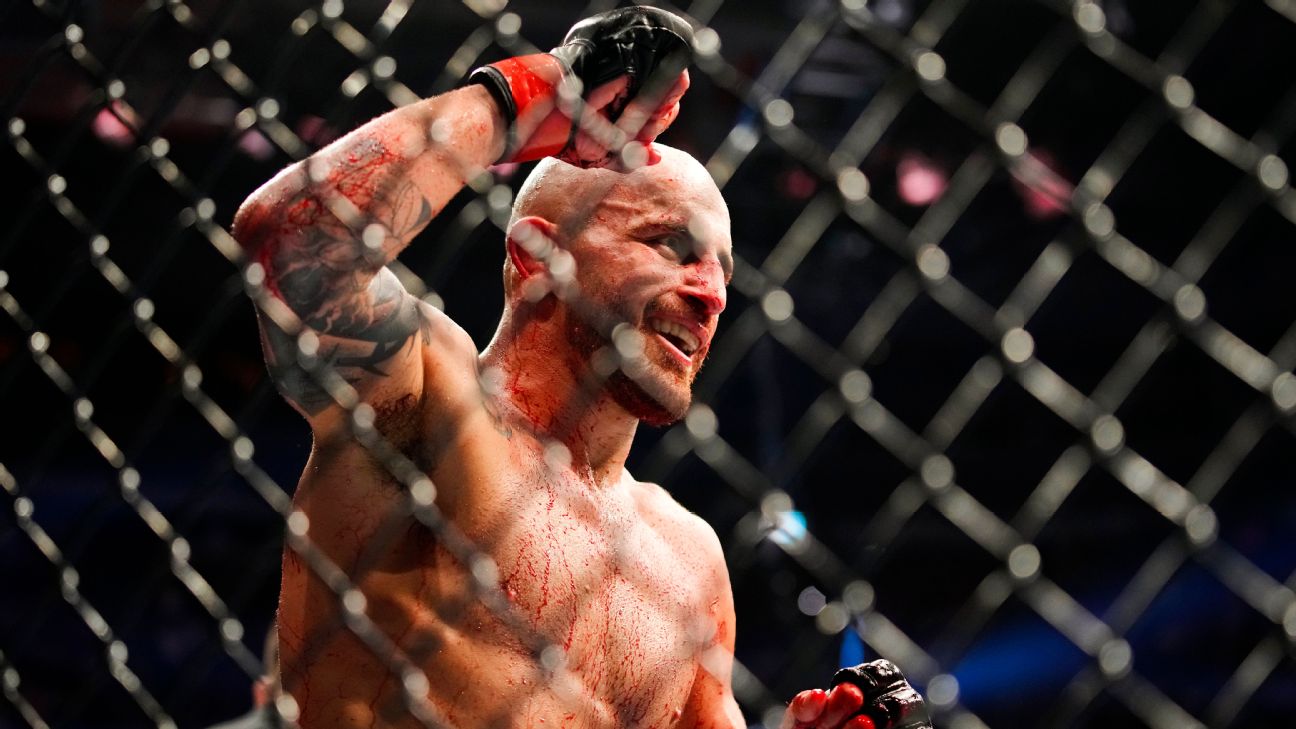 LAS VEGAS – It's safe to say that Alexander Volkanovski has finally buried his rivalry with Max Holloway this time.
Volkanovski (25-1) defended his featherweight championship for the fourth time Saturday night, defeating Holloway (23-7) via unanimous decision in their highly anticipated trilogy bout. All three judges scored the 145-pound title fight that co-refered UFC 276 at T-Mobile Arena, a clean 50-45 victory for the defending champion.
Saturday's five-round competition was by far the most definitive result of the trilogy. The two first met in December 2019 at UFC 245 and again in July 2020 at UFC 251. Volkanovski won both by decision, but the fights were extremely close — particularly the rematch. Immediately after the rematch, some in the sport still considered Holloway the true featherweight champion, but that feeling is long gone after UFC 276.
"Look, Max Holloway is an absolute beast," Volkanovski said. "I needed that intensity that he brought, that we both had in the last few days. I really needed it. I had to get him out of here. I knew I was the best. I had to remember that."
The fight was played entirely on the feet, with neither featherweight attempting a takedown until the final round. Holloway, from Waianae, Hawaii, moved forward throughout the fight but struggled to consistently attack the defensively solid Volkanovski. Volkanovski, meanwhile, consistently punished Holloway. He opened up a deep cut on Holloway's left eyebrow in the second round and damaged his nose with gunfire in the fourth.
According to UFC stats, Volkanovski overtook Holloway by a total of 204-161 shots — and the difference felt more pronounced than that for those watching the fight. Volkanovski's defense was just superb, and he regularly landed heavy right-hand counterattacks when Holloway rushed in with punches. It was Holloway who unsuccessfully attempted a takedown on the last lap – his face was covered in blood.
Volkanovski of Australia has emerged as arguably the best pound-for-pound fighter in the world since taking the belt from Holloway in his first fight. He has now defended the title twice against Holloway, as well as against Brian Ortega and Chan Sung Jung. He is currently targeting a move up to lightweight to fight for a second belt, a proposal UFC President Dana White has already expressed support for.
"I want to be in this octagon as much as possible," Volkanovski said. "I want to be busy. I don't think this department can keep me busy on my own. I want to move up."
Aside from a possible move to lightweight, Volkanovski's next featherweight title defense could involve a key matchup between Ortega and Yair Rodriguez on July 16.
Volkanovski has now won 22 fights in a row, 12 of them in the UFC. He is the fourth fighter in UFC history to win his first 12 fights in the promotion, along with Anderson Silva, Kamaru Usman and Khabib Nurmagomedov. He is also the third fighter in UFC history to win three fights against a single opponent, alongside Frankie Edgar (vs BJ Penn) and Tito Ortiz (vs Ken Shamrock).
Holloway sees a one-on-one winning streak broken. His only featherweight losses came against Volkanovski in 2014.
https://www.espn.com/mma/story/_/id/34186922/alexander-volkanovski-beats-max-holloway-unanimous-decision-retain-featherweight-title-ufc-276 Alexander Volkanovski beats Max Holloway by unanimous decision to retain featherweight title at UFC 276