Allies show up to support Renton taproom's monthly Drag Queen Story Hour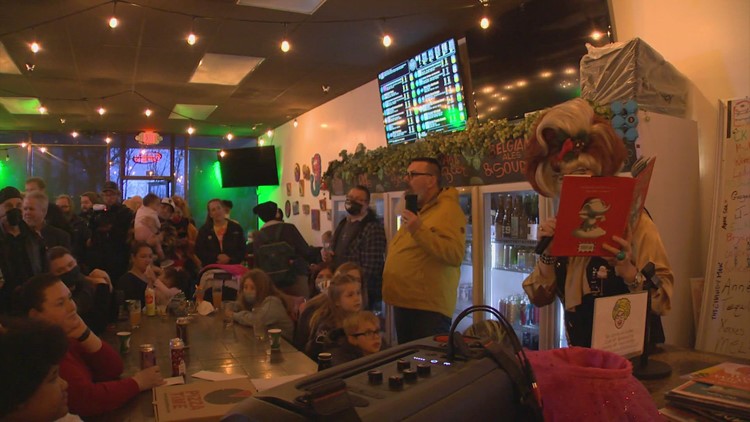 Supporters rallied around Brewmaster's Taproom in Renton after its owners reported harassment, intimidation and vandalism.
RENTON, Wash. – The show went on Saturday for The Queen's Storytime Hour at a Renton dining room, following protests and vandalism that had been planned earlier in the week.
Allies have rallied around Brewmaster's Taproom to support the hour and a half of the monthly drag queen story it's been holding for a year and a half. This time, it was a packed house.
Sylvia O'Stayformer told the crowd: "This week, we've been out across the country as everyone is upset about it.
The bathroom's owner, Marley Rall, said social media posts started going viral about a planned protest earlier this week, sparking a wave of threats and insults. On Wednesday, Renton Police said someone shot what appeared to be a BB or a bullet through a window.
Despite overwhelming support and a warm welcome to new faces, Rall says that shouldn't even be an issue.
"They don't have to worry about someone coming to read to them," says Rall.
Dozens of children came to hear Syvlia read Christmas classics, many coming here for the first time.
"She is amazing. I just want to be a part of it. Doug Hedley said, even if no one is here, I will still show up.
Sylvia O'stayformer said: "All we're doing is trying to teach young children that it's completely normal to reach out and spread love and acceptance to everyone. I think that's the best message people need.
This comes a week after the Department of Homeland Security warned of domestic terrorist threats to the LGBTQ community and other groups. Although they always have safety in mind, supporters say now is the time to be strong.
"To me, this shows that there is a bright future for the LGBTQ community to be themselves here in Washington state. When we come together, our powers come together and create a great force for our cause, said Andrew Ashiofu, co-chair of the Seattle LGBTQ Committee and Gay City Council member. good thing.
https://www.king5.com/article/news/local/renton/allies-support-renton-taprooms-monthly-drag-queen-story-hour/281-9c5a57e9-acf8-4202-b62a-d1a9039f110d Allies show up to support Renton taproom's monthly Drag Queen Story Hour