Andy Farrell hails Ireland's resilience in thrilling win over South Africa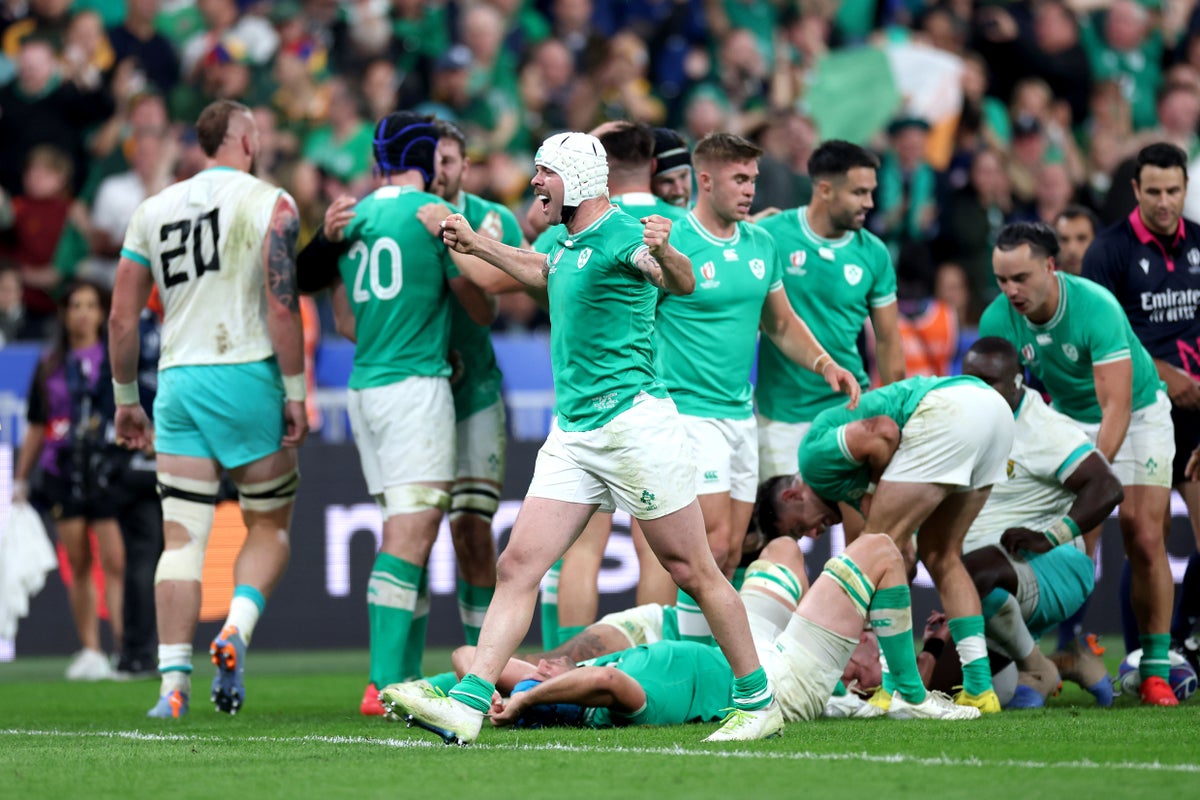 Andy Farrell praised his players' mental toughness after Ireland catapulted themselves to the brink of the Rugby World Cup quarter-finals with a 13-8 win over South Africa.
The world's best team took control of Pool B by winning an epic battle on a raucous evening in Paris thanks to Mack Hansen's try, five points from Johnny Sexton and a late penalty from Jack Crowley.
Reigning champions South Africa dominated the second half at the Stade de France but Ireland persevered to extend their winning streak to 16 games and move closer to the knockout stages.
When asked what pleased him most about the performance, head coach Farrell said: "Our resilience, which has been really good lately anyway.
"It was a real game, a traditional game, it had absolutely everything, there were ups and downs, ups and downs and the way we stayed mentally on point was fantastic."
"The game would never be perfect.
"In the first half I thought we had the edge as far as field position and probably didn't take advantage of that. Certainly the roles were reversed in the second half.
"But we kept our heads. Getting those few penalties at the end when it really mattered is the big positive of our performance."
Cheslin Kolbe's second-half try and a Manie Libbok penalty kept the Springboks in contention before they fell agonizingly short in a thrilling finale.
Jacques Nienaber's side ultimately paid the price for a series of erratic shots on goal, with Faf de Klerk missing two penalties and Libbok missing another attempt in addition to the conversion attempt after Kolbe's goal.
Ireland, who were loudly supported by an estimated 30,000 fans in the French capital, also survived a series of frustrating line-out defeats.
"I think we need to get better as the competition goes on because, as you know, there are a few inaccuracies," Farrell continued.
"But something like that will always happen in games like this, especially given the pressure South Africa puts on you.
"We were able to find a way again and when you say it was an emotional game and how to contain that, we did a very good job of not getting too emotional and making sure we stayed on task. "
"So it's great for us to get a game like this in the group stage."
Ireland have two weeks off before their group finish against Scotland and emerged from a painful encounter relatively unscathed in terms of injuries.
South Africa head coach Nienaber admitted his side are the second best team but insists they can still retain the World Cup title.
The Springboks, who bounced back from defeat to New Zealand in the opening game of the 2019 tournament to win the title, face Tonga next weekend.
Nienaber said: "Yes, we can still win the tournament." Of course you have to (believe). We are entering this competition to win it.
"Teams that lose a game in the group stage have to work hard to get out of the group, so we can definitely still win it.
"We played against the number one in the world, lost by five points and had the opportunity to get a result in the 79th minute.
"Hats off to Ireland, they were better than us that night and that's the bottom line
"But this is the number one team in the world and the lead is very small.
"We have to work harder on the things we weren't good at. If we can do that and have a bit of luck, we can win the World Cup.
"We missed a few points off the tee. I'm not saying that was the only reason we didn't cross the finish line."