Anthony Blinken arrives in Beijing for first China visit by US's top diplomat in five years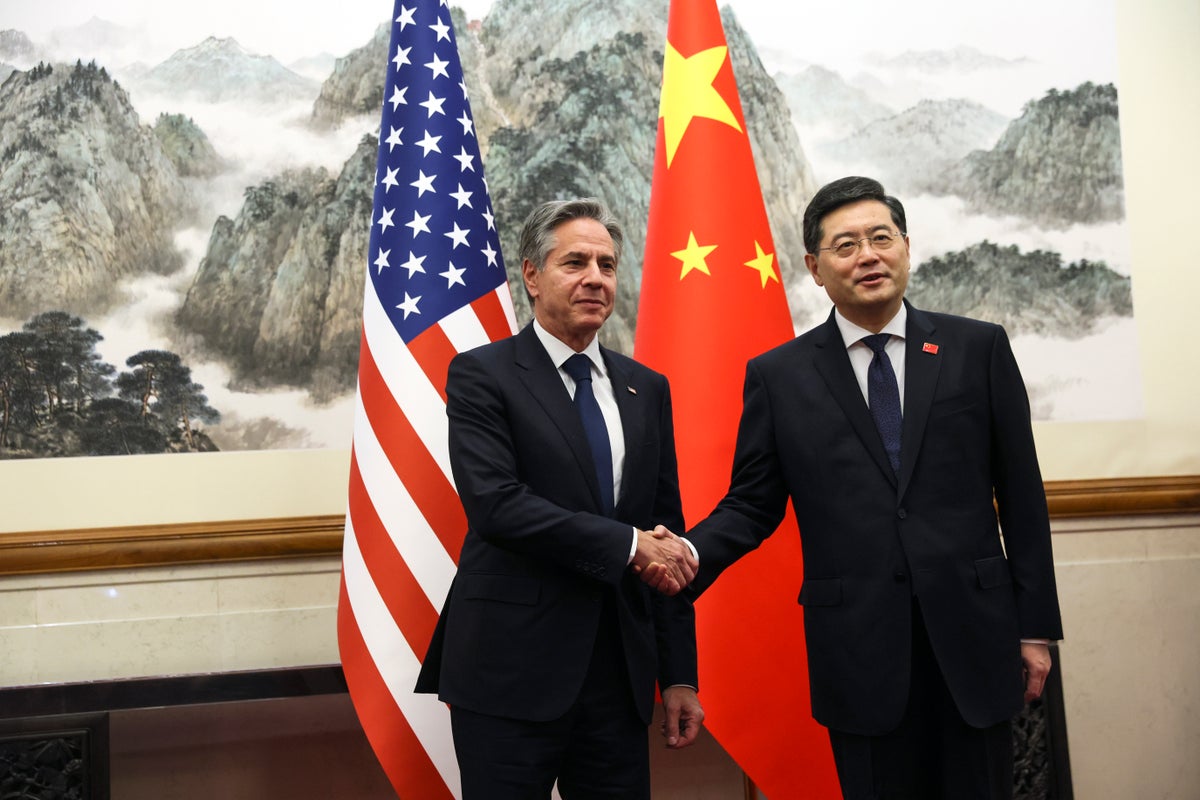 US Secretary of State Antony Blinken has arrived in Beijing for the highest-level visit between the two countries in years amid heightened tensions that have kept the world in suspense.
Mr. Blinken is the highest-ranking US official to visit China since Joe Biden took office and the first US Secretary of State to do so in five years, as he is tasked with facilitating communications with Beijing on a range of vitally important issues such as to trade with China Taiwan, Chinese surveillance and the Ukraine war.
The US Secretary of State arrived in Beijing on Sunday morning for his two-day visit, where he will meet with senior Chinese officials.
According to US officials, he will meet Chinese Foreign Minister Qin Gang, top diplomat Wang Yi and possibly President Xi Jinping on Monday.
Mr Biden and Mr Xi gave early approval of Mr Blinken's trip at a meeting in Bali last year.
The discussions are expected to cover a wide range of contentious issues that have strained bilateral relations and have significant implications for global security and stability.
Topics on the agenda include trade relations with Taiwan, human rights concerns in China, the situation in Hong Kong, China's military assertiveness in the South China Sea and Russia's actions in Ukraine.
US officials said Friday ahead of Mr Blinken's visit that it would raise every one of those concerns. However, the chances of a breakthrough remain slim as both sides have shown no flexibility in changing their positions. However, there were indications of a easing of tensions from both sides.
In a meeting with Microsoft Corporation co-founder Bill Gates on Friday, Mr Xi said the US and China could work together to "benefit both of our countries."
"I believe that the foundation of Sino-US relations lies in the people," Mr. Xi told Mr. Gates.
"Under the current world situation, we can carry out various activities that benefit our two countries, the people of our countries and the whole of humanity."
China also recently hosted Elon Musk in what was seen by China as an attempt to improve business ties with the US.
Mr Biden told White House reporters on Saturday that he "hopes to meet with Xi again in the coming months and talk about legitimate differences we have, but also how… we get along."
The two leaders are expected to attend the next G20 summit in New Delhi in September, and Mr Xi was also invited to attend the Asia-Pacific Economic Cooperation (APEC) group in San Francisco this year.
Ahead of the visit, Mr. Blinken stressed the importance of the US and China establishing and maintaining better lines of communication.
The US wants to make sure "that the competition we have with China doesn't come into conflict because of avoidable misunderstandings," he told reporters.
Mr. Biden and Mr. Xi have pledged to improve communications "precisely to ensure we communicate as clearly as possible to avoid possible misunderstandings and miscommunications," Mr. Blinken said on Friday.
The much-anticipated journey comes after a series of disruptions and delays. The trip was originally scheduled for February but was delayed due to escalating US-China tensions over surveillance balloons.
Additional reporting by agencies