Anti-monarchy protesters arrested during Charles' coronation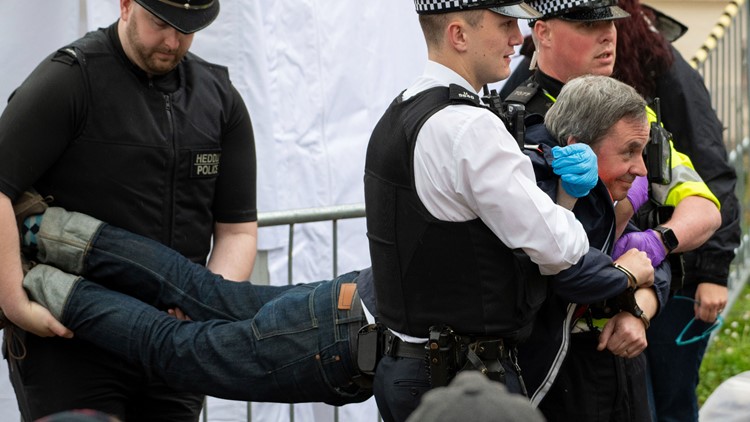 British police have said they will have a "low tolerance" for those seeking to disrupt the coronation day, sparking criticism that they are squeezing freedom of speech.
LONDON, UK – The anti-monarchy group Republic said some of its members were arrested Saturday as they prepared to protest against the coronation of King Charles III.
The group planned to hold placards and chant "Not my king" during the monarch's procession to Westminster Abbey. It said police had been informed in advance of its plans.
But on Saturday morning, several members of the group were stopped near Trafalgar Square and led to police cars.
Others attempted to protest along the route, wearing yellow outfits and waving placards with slogans including "parasite of the king" and "abolition of the monarchy".
Police said they would have a "low tolerance" for those seeking to disrupt the day, sparking criticism that they were stifling freedom of expression.
Environmental group Just Stop Oil said about 20 of its supporters were arrested for protesting during the coronation ceremony.
The group is not asking for new permits for any fossil fuel projects in the UK, saying protesters were arrested at the Shopping Center outside Buckingham Palace and outside Downing Street.
It said the activists did not commit any disruptive action and that they were only wearing "Just Stop Oil" t-shirts and holding flags with the slogan.
The group criticizes the government for banning legitimate dissidents.
Meanwhile, the crowd despite the cold rain waved flags and cheered as the gilded carriage carrying King Charles III and Queen Camilla returned to Buckingham Palace after his coronation.
The king and queen waved back from the Gold State Coach hideout. Cavalry took the lead while 4,000 armed men marched through central London.
The scarlet sleeves of the Welsh Guards and the white-gloved hands of members of the Royal Air Force swung in unison to the steady beat of the drums.
It is the largest military parade in the city since Queen Elizabeth II's coronation in 1953.
The procession passes through Trafalgar Square and through the Admiralty Arch and then borders St. James on his way to the palace.