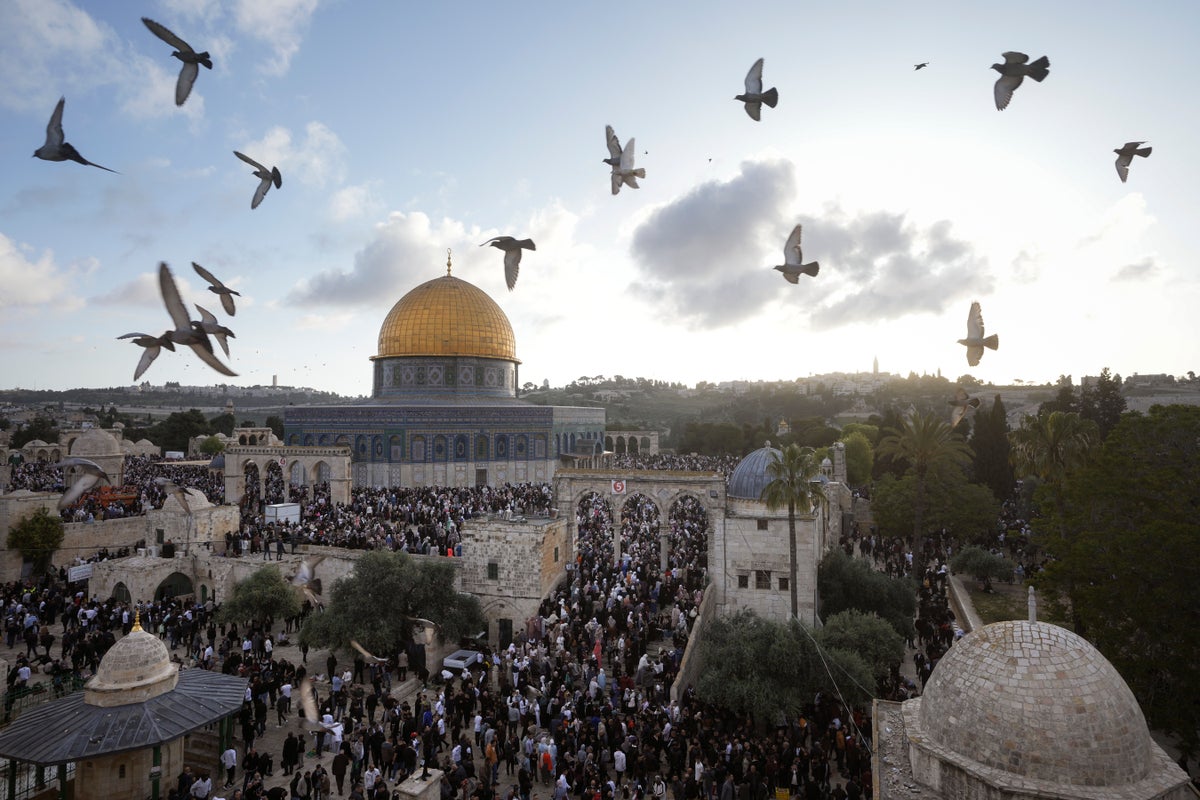 Here are the AP's latest coverage plans, top stories and promotable content. All times EDT. For up-to-the minute information on AP's coverage, visit Coverage Plan.
——————————
ONLY ON AP
——————————
AP POLL-BIDEN — Only about half of Democrats think President Joe Biden should run again in 2024, but a large majority say they'd be likely to support him if he became the nominee. A new poll by The Associated Press-NORC Center for Public Affairs Research shows that 26% of Americans overall want to see Biden run again — a slight recovery from the 22% who said that in January. By Seung Min Kim and Emily Swanson. SENT: 1,220 words, photo.
CLERGY ABUSE-JUDGE'S CONFLICT — An Associated Press investigation finds a federal judge donated tens of thousands of dollars to New Orleans' Roman Catholic archdiocese and consistently ruled in favor of the church amid a contentious bankruptcy involving nearly 500 clergy sex abuse victims. It's created an apparent conflict that could throw the case into disarray. By Jim Mustian. SENT: 1,190 words, photos.
———————————
TOP STORIES
———————————
ABORTION PILL — The Supreme Court faces a self-imposed Friday night deadline to decide whether women's access to a widely used abortion pill will stay unchanged until a legal challenge to its Food and Drug Administration approval is resolved. By Mark Sherman. SENT: 780 words, photos. UPCOMING: 990 words after decision, timing uncertain.
SUDAN — Sudan's top general says the military is committed to a transition to civilian rule, in his first speech since brutal fighting between his forces and the country's powerful paramilitary began nearly a week ago. SENT: 430 words, photos, video. With NEW-ZEALAND-BRITAIN-SUDAN — UK foreign secretary leaves Pacific early to focus on Sudan (sent).
SEVERE-WEATHER — Crews scrambled Thursday to restore power to thousands of residents after tornadoes plowed through Oklahoma during another deadly spring storm in the U.S., killing at least three people and damaging dozens of homes. By Ken Miller and Jamie Stengle. SENT: 470 words, photos, video, audio
MEXICO-MIGRANT-DEATHS — When a fire broke out at a Mexican immigration detention facility last month, dramatically different reactions by guards in the men's and women's sections appeared to make a difference in who lived and died, according to previously unreported surveillance videos and witness statements viewed by The Associated Press. By Maria Verza. SENT: 890 words, photos.
RUSSIA-UKRAINE-WAR-MARIUPOL SOCCER TEAM — A women's soccer team from Mariupol rose from the ashes last year in August when a new season started. After their city was devastated and captured by Russian forces, they formed a new team in Kyiv. With five of the original players from Mariupol, they recruited new members from across the country. Despite significant challenges, including a shortage of funding, the team decided to take a risk and continue to compete in the top league. Their goal? Not only to keep their place in the league but also to remind everyone that despite the occupation that will soon hit the one-year mark, Mariupol remains a Ukrainian city. By Hanna Arhirova. SENT: 810 words, photos.
LEARNING-TO-READ-THOMAS'- STORY — Thomas is in third grade, but he reads as if he's a few years younger. His journey has been a winding one. While third grade is considered a crucial reading year, Thomas has a learning disability, ADHD and epilepsy. As he has moved through this year, his parents and teachers have worked to increase his reading level. But Thomas still struggles. He is, however, determined. As he tells his father, "Don't ever underestimate the power of my brain." By Heather Hollingsworth. SENT: 1,870 words, photos.
——————————
MORE NEWS
——————————-
TWITTER-BLUE-CHECK — This time it's for real. Many of Twitter's high-profile users are losing the blue checks that helped verify their identity and distinguish them from impostors on the Elon Musk-owned social media platform. SENT: 980 words, photos.
CALIFORNIA-SUSPECT-STRIKES-STUDENTS — A man accused of intentionally ramming his car into a group of California high school students, killing one and injuring three others, was charged Thursday with murder and other counts in a series of alleged crimes earlier this week. SENT: 260 words.
MEDIA-FOX-BONGINO — Fox News is parting ways with weekend host Dan Bongino, after the former Secret Service agent turned conservative pundit said Thursday they couldn't agree on a new contract. SENT: 160 words, photo.
—————————————————-
RUSSIA-UKRAINE WAR
——————————————————-
RUSSIA-UKRAINE-WAR — NATO chief Jens Stoltenberg has defiantly declared that Ukraine's "rightful place" is in the military alliance and pledged more support for the country on his first visit to Kyiv since Russia's invasion just over a year ago. SENT: 850 words, photos, video.
———————————————————
WASHINGTON/ POLITICS
———————————————————-
CONGRESS-DEBT — House Speaker Kevin McCarthy is working to round up the Republican votes needed to pass his debt ceiling package. It might be easier than expected, because the bill he has drafted includes many long-sought conservative priorities to cut spending. By Congressional Correspondent Lisa Mascaro. SENT: 1,010 words, photos.
ELECTION 2024-ELDER — Conservative talk radio host Larry Elder, who sought to replace California's Democratic governor in a failed 2021 recall effort, announces he is running for the Republican presidential nomination in 2024. By Sara Burnett. SENT: 500 words, photo.
ELECTION 2024-HALEY-SCOTT — As the 2024 Republican presidential field begins to take shape, the potential of a faceoff between Nikki Haley and Tim Scott is putting some of their mutual supporters in the critical early voting state of South Carolina in a conundrum as they weigh which candidate to support. By Meg Kinnard. SENT: 1,230 words, photos.
CAPITOL RIOT-SONG — A song featuring Donald Trump and a choir of prisoners charged with crimes related to the Capitol riot briefly took the No. 1 spot on iTunes last month. It's another effort by Trump and his supporters to whitewash the events of Jan. 6, 2021, attack. By David Klepper. UPCOMING: 1,500 words, photos by 5:30 a.m.
CONGRESS-SUPREME COURT-ETHICS — The Senate Judiciary chairman invites Chief Justice John Roberts to testify next month on ethical standards at the court, a hearing that would undoubtedly focus on business transactions and travel involving Justice Clarence Thomas. By Kevin Freking and Mark Sherman. SENT: 750 words, photos.
———————
NATIONAL
———————
ALEC BALDWIN-SET SHOOTING — Prosecutors will dismiss an involuntary manslaughter charge against Alec Baldwin in the fatal 2021 shooting of a cinematographer on the set of the Western film "Rust," alluding to new revelations in the investigation while cautioning that Baldwin has not been absolved. SENT: 780 words, photos.
CAR-THEFTS-RECALL-REQUEST — Attorneys general in 17 states have urged the federal government to recall millions of Kia and Hyundai cars because they are too easy to steal, a response to a sharp increase in thefts fueled by a viral social media challenge. SENT: 820 words, photos, audio.
CALIFORNIA-INNOCENCE-LAW — Two men who served nearly 17 years in prison after being wrongly convicted of attempted murder after a 2004 shooting were declared innocent Thursday by a California judge. Under a new law, the state is required to pay them each $140 for every day they spent behind bars, or about $900,000. SENT: 640 words, photos, audio.
LAS VEGAS SHOOTING-GUNMAN'S ESTATE — Families of people killed in the Las Vegas Strip massacre in October 2017 will receive shares of almost all the $1.4 million estate of the man who unleashed the deadliest mass shooting in modern U.S. history and killed himself before police reached him, according to a probate case that ended in Nevada. SENT: 590 words, photos.
CALIFORNIA-MORE-WATER — California will provide 100% of the water requested by cities and farms for the first time in years thanks to winter storms that filled reservoirs and runoff from a record snowpack, regulators announce. SENT: 470 words, photos.
HAWAII-COCKFIGHT-SHOOTING — A shooting that killed two people and wounded three others in Hawaii last weekend began with an argument at a cockfight attended by 100 to 200 people, according to court documents. SENT: 410 words, photos.
-—————————————
INTERNATIONAL
—————————————
KOREAS-TENSION — North Korea's foreign minister has called the Group of Seven wealthy democracies a "tool for ensuring the U.S. hegemony" as she lambasted the group's recent call for the North's denuclearization. SENT: 640 words, photos.
OLY-TOKYO-BRIBERY-TRIAL — The first verdicts in the sprawling Tokyo Olympic bribery scandal have been handed down in Tokyo District Court, where defendants were found guilty but avoided jail time. SENT: 600 words, photo.
CHINA-HONG-KONG-BISHOP — Hong Kong's Roman Catholic bishop on Friday said he had invited a leader of the Communist Party-controlled group for Catholics in mainland China to visit his city, in a high-profile gesture aimed at improving strained Vatican relations with Beijing. SENT: 490 words, photo.
SRI-LANKA-EASTER-BOMBING — Thousands of Sri Lankans have held a protest in the capital, demanding justice for the victims of the 2019 Easter Sunday bomb attacks that killed nearly 270 people. SENT: 480 words.
AUSTRALIA-MURDOCH-DEFAMATION — Fox Corp. chief executive Lachlan Murdoch has dropped his defamation lawsuit against Australian news website Crikey, citing the Fox News settlement of a U.S. court case where the network agreed to pay almost $800 million over its lies involving the 2020 U.S. presidential election. SENT: 420 words, photo.
CHILE-LITHIUM-STATE-ROLE — President Gabriel Boric has announced a plan to require private companies take Chile's government on as a partner in the extration of lithium, which is in high demand around the world for use in electric batteries. SENT: 380 words, photos.
—————————————————
HEALTH & SCIENCE
—————————————————
CLIMATE-INDIA-STORMS-EARLY WARNING — Following the devastating 2017 Cyclone Ockhi that ravaged several parts of Kerala state, the India Meteorological Department as well as the state have fast tracked ramping up infrastructure for cyclone warnings. There is a cyclone warning center in Kerala, one of only seven in India, and the Kerala government has also contracted private weather companies, so they have as much data as possible before disaster strikes their climate-vulnerable region again. SENT: 1,090 words, photos.
HAWAII-MONK-SEALS-WAIKKI — The birth of an endangered seal at one of Hawaii's most popular tourism hubs is highlighting the tension between protecting the islands' fragile ecosystems and maintaining access to the pristine white-sand beaches that attract millions of visitors each year. SENT: 610 words, photos.
————————————————-
BUSINESS/ECONOMY
—————————————————-
FINANCIAL MARKETS — Shares were weaker in Asia, tracking a decline on Wall Street following mixed earnings reports from big companies and more signals the U.S. economy may be slowing. SENT: 630 words, photos.
HUNGARY-FOOD-PRICES — Food prices have risen dramatically across Europe in recent months, but Hungary has seen the biggest spike. That's hitting consumers hard, forcing them to change what kind of food they buy and how much of it they can afford. Businesses also are rethinking what they sell as food prices in Hungary have surged more than 45% over the year. SENT: 870 words, photos.
—————————
SPORTS
—————————
BKN—76ERS-NETS — Laboring throughout the game and perhaps lucky to not have been ejected for kicking a Nets player in the groin area, Joel Embiid told himself he had to stay on the floor. Even if the Nets kept hitting him or trying to make him lose his cool, he needed to be there for his Philadelphia 76ers. Thanks in part to his huge block at the end. Embiid blocked a potential tying basket with 8.8 seconds left and the 76ers beat Brooklyn 102-97 on Thursday night to take a 3-0 lead in the first-round series. SENT: 700 words, photos.
BKN—KINGS-WARRIORS — Stephen Curry scored 36 points, Kevon Looney matched his career high with 20 rebounds to go with nine assists, and the Golden State Warriors got right back in their first-round playoff series by thumping the Sacramento Kings 114-97 in Game 3 on Thursday night to pull within 2-1. SENT: 700 words, photos.
BKN—SUNS-CLIPPERS — Devin Booker scored 45 points, Kevin Durant added 26 and the Phoenix Suns defeated the Kawhi Leonard-less Los Angeles Clippers 129-124 on Thursday night to take a 2-1 lead in their Western Conference playoff series. SENT: 700 words, photos.
BRAZIL-AUTISTIC-SOCCER-FANS — Many Brazilian soccer teams are increasingly accommodating autistic fans by offering them free tickets, hearing protection or special facilities called sensory rooms, designed to have a calming effect. The Sao Paulo-based Corinthians team has become a national standard-bearer in this trend. The sensory room at their stadium has noise-proof glass walls, crayons, toys and food — all of which can keep fans busy during matches. SENT: 930 words, photos, video.
———————————————-
HOW TO REACH US
———————————————
At the Nerve Center, Vincent K. Willis can be reached at 800-845-8450 (ext. 1600). For photos, (ext. 1900). For graphics and interactives, ext. 7636. Expanded AP content can be obtained from AP Newsroom. For access to AP Newsroom and other technical issues, contact apcustomersupport@ap.org or call 844-777-2006.