Arizona Cardinals QB Colt McCoy pays off Texas Tech Red Raiders-Texas Longhorns bet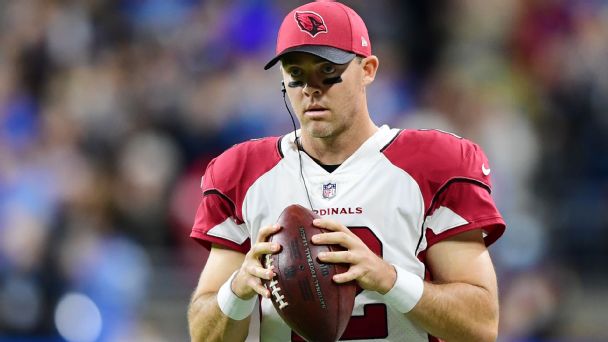 TEMPE, Ariz. — Colt McCoy paid off his debt Tuesday.
Three days after his Texas Longhorns lost to the Texas Tech Red Raiders — the alma mater of his head coach Kliff Kingsbury — the Arizona Cardinals backup quarterback was forced to wear a Texas Tech hat, shirt and shorts.
Did you know Texas Tech beat Texas on Saturday?

Former QB of the Longhorns @ColtMcCoy does.

And today is dressed in Red Raiders garb to the delight of WR Atoine Wesley, HC Kliff Kingsbury and assistant coach Kenny Bell pic.twitter.com/CEM8JtTBR7

— Mark Dalton (@CardsMarkD) September 27, 2022
But it wasn't Kingsbury's bet.
"No, no, I wouldn't do that to him," said the former Red Raiders coach. "I didn't want to make that bet because I'm not wearing that burnt orange, I can assure you."
The Red Raiders beat then-ranked 22nd Texas 37-34 in overtime on Saturday, the first time Texas Tech has beaten its state rivals at home since 2008.
McCoy, who played for Texas from 2005-2009, is the Cardinals' lone longhorn. In addition to Kingsbury, Arizona has two other Texas Tech products: wide receiver Antoine Wesley and assistant coach Kenny Bell.
But Kingsbury have not reached out to McCoy, who is currently on injured reserve with a sprained calf following the upset.
"He's hurt," Kingsbury said. "You can see his face. He looks like his dog died, man. I don't rub it in.
"He's like Mr. Texas. Like that's the guy in the state of Texas. So I wouldn't do it that way."
https://www.espn.com/nfl/story/_/id/34685609/arizona-cardinals-colt-mccoy-texas-tech-red-raiders-texas-longhorns Arizona Cardinals QB Colt McCoy pays off Texas Tech Red Raiders-Texas Longhorns bet