Arsenal give away their title advantage – now they must go to Manchester City and win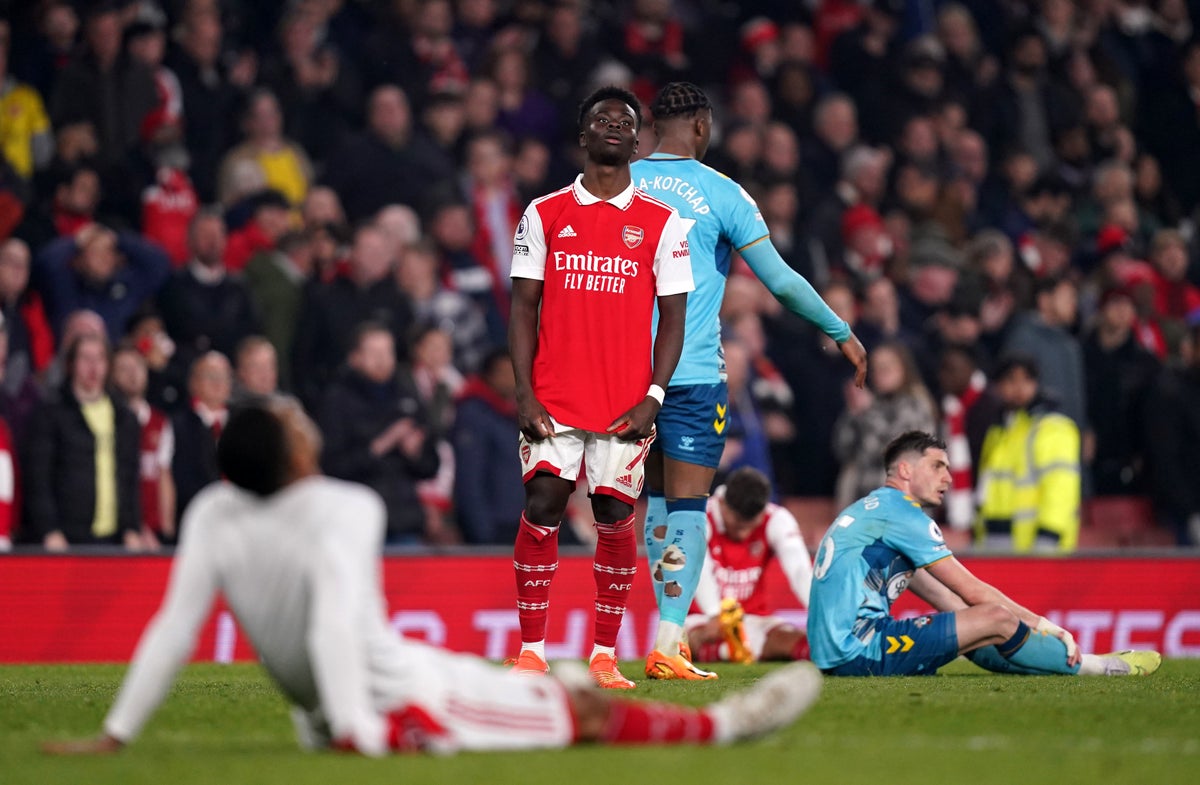 A 3-3 out of nowhere and a point that might be worth something after all. It just didn't mean everything as it could and should have been, and it certainly didn't mean three points. Arsenal have instead given away every advantage to Manchester City, from initiative and momentum. They still go there with some conviction on Wednesday after a desperately late 3-3 comeback against Southampton that could have been so much worse.
The big question is how will they beat the best team in Europe after failing to win their last three teams at all levels of the Premier League, including the bottom ones. That's what hurts so much given the crowd's pride in the comeback from 2-0 and then 3-1. The sudden silence after so much later celebration said it all. That result would be damaging enough in its own right, but comes on the back of three without a win that could see them decisively lose that league and the title itself.
You could feel that in the stadium. In the end, the players collapsed on the lawn.
There was defiance at what had happened, but an awareness of the importance. It's hard to believe this didn't escape the team's attention throughout the match as they showed their inexperience in one clash.
The aftermath was so flat, a far cry from the chaos everyone had just experienced.
Maybe that's part of the problem. Even that manic energy from previous games caught up with Arsenal. They couldn't expend this emotional energy anymore – let alone get involved in wild 2-0 swings. This was a different one.
This one eventually went their way, if not all the way, but they must hope it marks a change of direction; out of conviction – especially in view of what comes next.
It's not over yet, but Arsenal have some big roadblocks to overcome. These are the champions, and a fear that has inevitably plagued them at this key stage of the season.
It didn't go as far as killing her. But it brings them to the edge.
So much came from a beginning that was shocking, yet felt inevitable in its own way.
There were so many elements of the first 15 minutes that could almost represent the most extreme illustration of a meltdown, even in terms of the manner and nature of the little twists – not to mention some of the key characters.
Ramsdale was one of Arsenal's most accomplished figures of the season and his saves against Liverpool could yet prove crucial, but here he bounced back immediately from a panicked and fluttering performance at West Ham United. That was because he didn't pick an Arsenal shirt. With the first action of the game, Ramsdale somehow just passed the ball to the excellent Carlos Alcaraz. He took it with open arms, that was a bit like the goalkeeper for the shot. Alcaraz turned and fired through Ramsdale's hands.
If that wasn't so bad on the whole, the more important element was that Arsenal immediately had a frenetic game when the club could use some composure. Southampton obviously felt it. They were ready to seize an opportunity. You could tell by Theo Walcott of all people begging to get the ball behind Gabriel when Southampton paused again.
Alcaraz signed and the former Arsenal striker rolled in the easiest of deals.
As Southampton celebrated, Zinchenko called the entire team into a huddle. You don't always see that, but you don't usually see the leaders after just 15 minutes of a crucial warm-up game beating the bottom of the table 2-0.
This dictated everything about the performance. Arsenal spent the next 80 minutes playing as if it were their last five. There was this striking combination of hesitation, but then anxious haste in almost everything they did. The process was not trusted. It was all too manic.
Saka was one of the few to go through and it was his run through Southampton's cross that set up Gabriel Martinelli to make it 2-1. It was one of those instinctive quits that came out of sheer urgency.
That didn't really reassure Arsenal. However, it has unsettled Southampton. They were soon playing like it was the last five minutes too, wasting time at every opportunity and withdrawing more and more players.
That was a good thing for a key moment, when Alcaraz again headed a Ben White flip-on from under the bar.
As Arsenal could have done with a similar attitude in the 67th minute. It was made all the worse by the fact that Arteta's side had worked so long to reach Southampton without actually accomplishing that much, only for Ruben Selles' attack to come so easily towards Arsenal. The third goal was just as absurdly easy as the previous two. Ramsdale's backline was again hit out of conviction, just for the finishing touch no one had to be hit at all. Armel Bella-Kotchap flicked the ball and there was Duje Caleta-Car just looting a header.
That's it. Arsenal now had 20 minutes to score at least two goals but actually needed three.
Gabriel Jesus immediately missed a fine chance.
This was a summary of why they might not win the title. Of course there is greater debate about the wider context of the Premier League, but Arsenal just looked like they didn't have the experience as a team to handle the real pressure.
So many of their older players have stopped reaching the levels we've known all season. Thomas Partey couldn't hold the ball. Jesus couldn't direct it. Martin Ödegaard didn't control the ball properly – until he finally deflected a shot into the corner shortly before the end.
That was the spark. The question is if it will be the last fire of the season. Arsenal couldn't quite deliver the blast of joy the stadium demanded, needed.
When Southampton suddenly panicked like they hadn't done all game, the ball broke for Saka to turn in.
It was 3-3 but still no three points. Leandro Trossard hit the bar.
Arsenal couldn't raise the bar. They had gone as far as they could. It remains to be seen if that will be enough for their challenge itself.
That's all until Wednesday. It's a game unlike any other in modern English football history. If Arsenal win from here they will be champions unlike too many in modern English football history.