As free press withers in El Salvador, pro-government social media influencers grow in power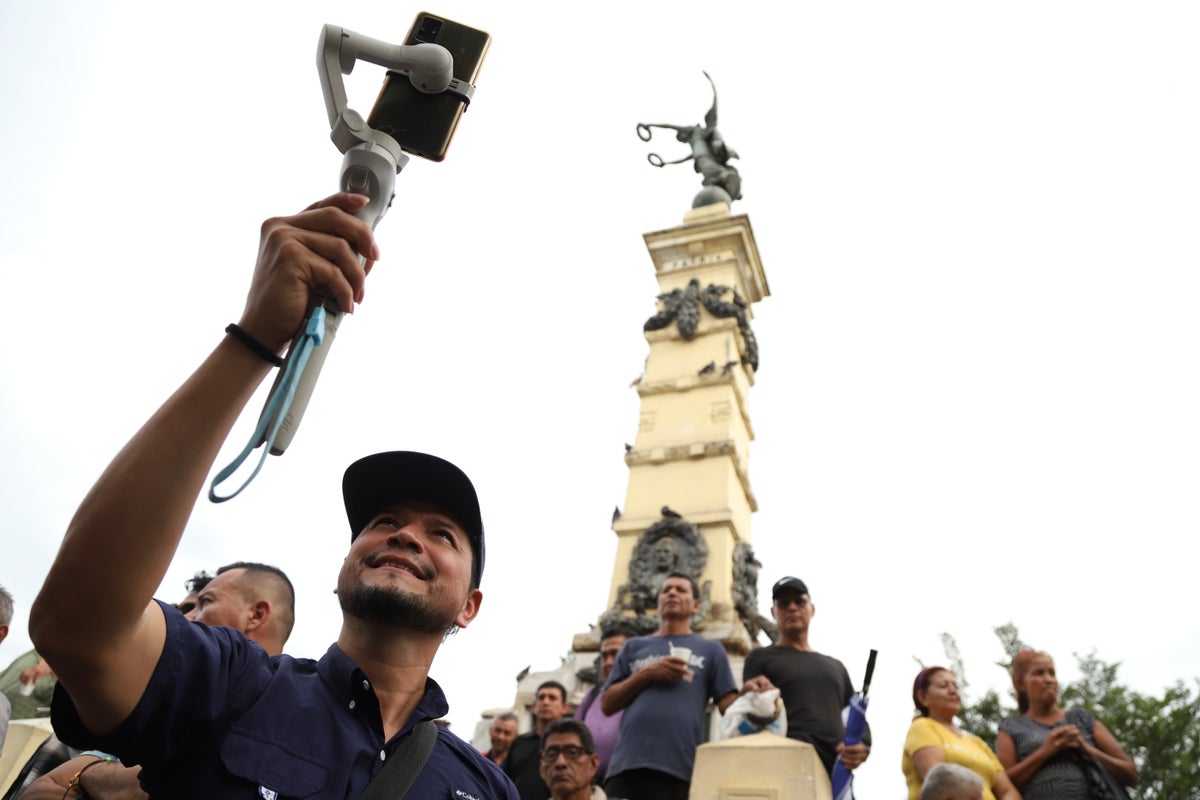 Douglas Guzmán's TikTok feed was peppered with workout routines and videos showing his favorite places in his country.
That changed about a year ago, when human rights groups, civil society and even some officials criticized El Salvador's President Nayib Bukele for violating human rights in his crackdown on criminal gangs, saying his unconstitutional bid for re-election undermined the country's democracy country would decompose.
Just days after Bukele announced his bid for a second five-year term, Guzmán's feed was littered with videos describing Bukele as "the future liberator of Latin America" ​​and slick montages of the leader's "mega-prison" for the accused Gangster.
Views of the social media influencer's videos skyrocketed. The 39-year-old member of Bukele's party said he had found a new mission: to counter the negative press from independent media about his populist president.
"(Journalists) don't know anything. They just sit at their desks and watch President Bukele make… tremendous efforts to save thousands of lives. But they don't see that because they never care about the lives of Salvadorans," Guzmán said. "That's why we're here. To show the true reality."
Guzmán is part of a growing network of social media personalities who act as a voice for the millennial leader. While Bukele is cracking down on the press, his government has welcomed these influencers. As the president seeks to stay in power, he has harnessed the tide of pro-Bukele content, slowly turning his Central American country into an information echo chamber.
"A news organization conducting an investigation can't match the sounding board of these influencers because they're flooding your social media with government narrative," said Roberto Dubon, a communications strategist and congressional candidate for Bukele's former FMLN party. "What you have is an apparatus to spread your propaganda."
Bukele, a 42-year-old leader who often wears a baseball cap backwards, worked in political advertising for years before social media became a key in his rise to power five years ago. According to a June CID Gallup poll, his approval ratings have since risen to 90%. Bukele's modern political messages, charisma and brutal crackdown on the country's gangs continue to win him fans at home and abroad even amid the controversy.
In doing so, Bukele is tapping into a playbook increasingly used by 21st-century autocrats, said Seva Gunitsky, a political scientist at the University of Toronto.
Social media was once considered the ultimate democratic tool for organizing protests and even revolutions around the world. Now governments from Russia to Uganda are using it to control the narrative.
"They're using this tool of liberation technology to actually extend and strengthen their rule," Gunitsky said. Such governments use influencers because their content "doesn't look so much like propaganda and it's more about shaping the narrative in a more subtle way."
Under Bukele, El Salvador built a sophisticated communications machinery. It blocked access to information that was inconsistent with the official news and hired teams of ex-journalists to produce blockbuster videos showing security forces cracking down on the country's gangs. The government also mimicked Russia, building an army of tech-savvy contractors — or "trolls" — to create fake social media accounts, spread falsehoods and bully critics.
At the same time, his message of a firm response to gang violence spread across the region and gained traction in other countries struggling with crime in Latin America and the Caribbean.
A "whole industry" has sprung up as influencers cling to the president's image, said Oscar Picardo, investigator at Universidad Francisco Gavidia in El Salvador.
A study by Picardo University and local investigative portal Factum examined 69 pro-Bukele YouTube accounts, which together have more followers than the population of El Salvador. They found that many accounts — which make money from views and subscriber count — can earn up to tens of thousands of dollars a month, far more than the average salary in El Salvador. This content is devoured both in El Salvador and by many of the 2.3 million Salvadorans living in the United States.
The group of accounts pumped out almost 32 hours of per-bukele content in a single day in May, the study found. 90% of the videos analyzed almost always reflected government language and contained false or misleading information.
One account, Noticias Cuscatlecas, can make up to $400,000 annually by posting videos of violent assaults by alleged gang members overlaid with spooky music, according to calculations by UFG and Factum.
The channel often concludes videos with the same message: "[Bukele]came up with a plan to eradicate this cancer from society and the incredible thing is that it's succeeding. Now people don't live in fear."
A video on TikTok says, "God elected Bukele President of El Salvador." On YouTube, figures disguised as TV presenters attack human rights groups and journalists. They show Bukele's critics bursting into flames while claiming her channel brings you "the latest news". Others sit down for an exclusive interview with the President.
In April, El Salvador Congress President Ernesto Castro announced that he would open the gathering to YouTubers and social media influencers to "inform objectively."
"The right to inform and be informed is not just in the hands of media outlets," Castro wrote on Twitter.
The AP's requests for interviews with Bukele and his cabinet during his more than four-year tenure were either turned down or ignored. Two people with knowledge of the inner workings of Bukele's media machine refused to speak to the AP for fear of the government.
For Guzmán and others, access was an asset that allowed them to expand their audience. Since then, Guzmán has been offered access to other major events such as the opening of the Central American and Caribbean Games, something experts say Bukele put on a friendly face towards the world.
Press badges hung around the TikToker's neck and he stood proudly in a government press box alongside other selfie-stick-wielding influencers.
"Because we're accredited here, I feel like I'm a part of it," said Guzmán with a big smile in his eyes.
Around him, the others took turns interviewing each other and boasting about how many people were connected to their feeds. A man in a Hawaiian shirt jumped across tiers of bleachers to get a better signal. As Bukele took the stage to deliver a speech, Guzmán and others shouted "Re-election!"
El Salvador's government isn't the first to open its doors to social media personalities, but researchers and critics say the atmosphere created in El Salvador poses a particular risk as other leaders in the region seek to emulate Bukele.
Picardo, the UFG investigator, said such accounts post a flood of content when the government is trying to publicize something, such as the leader's bitcoin experiment, his crackdown on gangs, or the games.
The researcher warned that her increasingly hostile tone was a harbinger of a further deterioration in press freedom, echoing the State Department's fears that Bukele was "scoundrelizing" journalists.
Oscar Martínez's award-winning news organization, El Faro, is among those subjected to attacks and harassment for their intensive investigation into Bukele. It also includes audio recordings showing that Bukele's government negotiated with gangs to curb the violence.
The government launched a tax evasion case against El Faro, which the news site called "completely unfounded." Dozens of journalists' phones have been hacked with Pegasus spyware, which governments regularly use to spy on opponents.
In April, El Faro announced it would move its operations center to Costa Rica due to the escalating harassment.
He fears their investigation will be drowned out by the tide of disinformation and said if Bukele stays in power in the upcoming elections, reporters in El Salvador would be "much more vulnerable".
"At that moment, Bukele will decide to remove all the obstacles that he has in the country and the biggest obstacle that he has at the moment is the free press," Martínez said.