Atlanta Braves sweep New York Mets, close on NL East title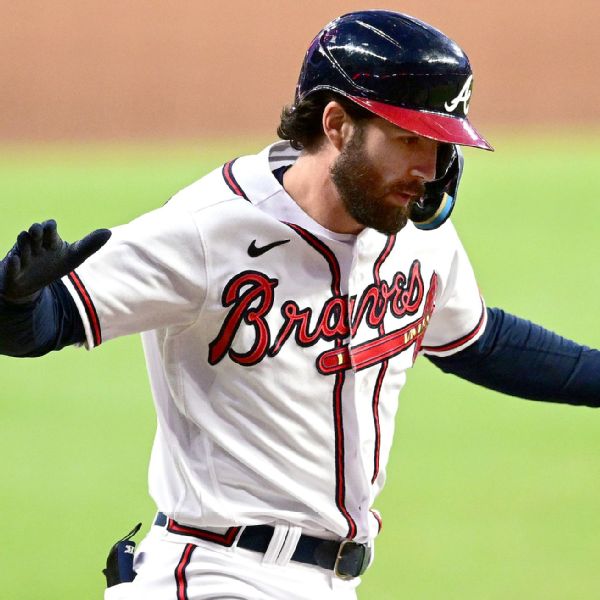 ATLANTA — Dansby Swanson and Matt Olson hit a home goal for the third straight game, Travis d'Arnaud hit a two-run go-ahead single in the third inning and the Atlanta Braves beat the New York Mets 5-3 Sunday night to win a critical tiebreaker in their season series.
The defending World Series Braves champion won the three-game series and moved two games ahead of New York in the National League East. Any combination of a win at Atlanta and a loss at the Mets would give the Braves their fifth straight championship.
"It's a clubhouse full of guys who want to win," Olson said. "It's all since I came in. It's number 1 in the program."
New York will play its final games of the season against the Washington Nationals, who are bottom of the division. Atlanta plays for the Miami Marlins. Both series start on Monday.
Should the season end in a tie on Wednesday, Atlanta would take over the NL East as they won the season series 10-9.
"We've felt that confidence since the beginning of the year," said d'Arnaud. "It just didn't go our way earlier in the year but we're pulling on the same rope, keeping each other's backs and trying not to overdo it. We're just trying to play baseball and have fun. "
The Braves won five of the last six games in the series, beating the Mets 42-19 at that stretch. New York had a 10½-game lead on June 1 but is now the lowest point in the standings this season.
It was a lost weekend for New York, who came to Atlanta hoping to clinch their Premier League title since 2015. Instead, aces Jacob deGrom and Max Scherzer lost on Friday and Saturday, respectively, before 15-game winner Chris Bassitt survived just 2⅔ innings Sunday.
These three combined for a 2.79 ERA over 377 innings that entered the series; They posted a collective 6.91 ERA over 14⅓ innings with six home runs allowed over the weekend.
"We have three games left in the regular season, we're still going into the postseason, that doesn't change; but there are many lessons to be taken from this series as we progress," said Mets slugger Pete Alonso. "I thought we played well, but the Braves played better. They played excellent baseball all weekend."
Baseball's new postseason format means that the winner of the NL East in the first round is bid farewell to the Divisional Round as the second seedling. The NL East runner-up earns fourth place and plays in a three-game wildcard series, with the winner of that series advancing to the divisional round.
Atlanta is now on the verge of a fifth straight title and also wants to repeat itself as a World Series champion.
All three games here were sold out and the atmosphere was remarkable for Braves manager Brian Snitker all weekend.
"I said Friday … to my wife, 'Well, the playoffs start today,'" he said. "This whole weekend felt like a playoff weekend. … That's about as electric as I've seen it [Truist Park] …with NFL and college football, this place was still packed."
Swanson put Bassitt deep in right center in the first with his 25th homer, and Atlanta took charge with a three-run third. Bassitt (15-9) gave Olson a base-heavy walk before d'Arnaud hit a single down the middle to give Ronald Acuna Jr. and Austin Riley a 4-3 lead. That chased Bassitt, who was charged with four runs, three hits and three walks.
Olson hit his 33rd homer to make it 5-3 and lead before the sixth, his 410-foot shot landing in the right-center seats. Olson surpassed 100 RBIs for the second straight season in his freshman year with Atlanta.
"Everyone knew we were underperforming when we were flirting around .500," Olson said. "It was one of those things that was about trusting the talent that we have and the guys in the clubhouse. Everyone was solid, head down, do your job, it will turn and you win in the end."
Charlie Morton landed first and second in the first, but he gave up on Daniel Vogelbach's 18th homer that took him to 1 in the second. The right-hander beat Francisco Lindor with first- and second-place runners to end the threat.
Jeff McNeil went deep past Morton in the third, and Vogelbach followed with an RBI single to give the Mets a 3-1 lead. Morton entered the game after conceding 28 home runs, the sixth most in the NL.
Morton tussled throughout his start, giving up three carries and nine hits in 4⅓ innings as the 38-year-old made his first start since signing a one-year, $20 million deal to join Atlanta next season stay.
Dylan Lee (5-1) replaced Morton and scored 1⅓ innings before walking to Brandon Nimmo with two outs in the sixth. Collin McHugh stepped in and knocked out Lindor.
Raisel Iglesias hit four batters in the seventh, AJ Minter hit the minimum in the eighth, and closer Kenley Jansen made his third save of the series with a clean ninth.
Jansen leads the NL with 40 saves from 47 chances.
The Braves' bullpen, which posted a 1.70 ERA last month, has gone 8⅔ scoreless innings over the past two nights.
"I'm proud of everything they've done," said Mets manager Buck Showalter. "It's not conditional. It's unconditional, the support and knowing these guys they will recover and make someone feel their pain."
ESPN's Kiley McDaniel and The Associated Press contributed to this report.
https://www.espn.com/mlb/story/_/id/34715930/atlanta-braves-complete-sweep-new-york-mets-move-closer-another-national-league-east-title Atlanta Braves sweep New York Mets, close on NL East title