Bainbridge Island man finds solace in cycling group after battling depression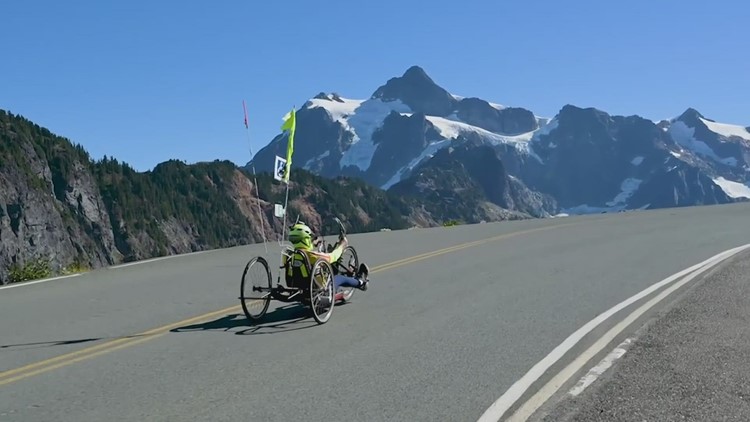 Thomas Ahearne is an adrenaline junkie who is paralyzed after a major accident. Joining an accessible bike club has allowed him to continue competing.
BAINBRIDGE ISLAND, Wash. — May is Mental Health Awareness Month and a local biker are going to inspire others to find their way out no matter how adverse the conditions.
Thomas Ahearne of Bainbridge Island admits he is an adrenaline junkie who never expected to get the thrills of the Burke-Gilman trail.
Ahearne said: "Before my accident, I was on a motorcycle racing team, hiking deep into the mountains and hunting with a bow for two weeks and living on what you earned.
He self-described his aggressive skiing abilities as what changed his life in 2014.
"I was doing a somersault and didn't quite land properly," Ahearne said.
He was paralyzed and suddenly found himself unable to do many of the things he loved. The successful lawyer and family man is suddenly plunged into a mental health spiral as he has to adjust to life without using his feet.
It was a local "football mom" who eventually encouraged Ahearne to join the local Ragnar relay.
Ahearne said: "She convinced me they were going to let me participate in a game of three. He admitted that he wasn't happy about finally buying an adaptation cycle and assumed it wouldn't be interesting enough. Soon, he discovered that the right support made all the difference.
He took part in the annual Chilly Hill race on Bainbridge although he said he admitted that he previously thought drivers were a nuisance.
"I just thought they were clogging our roads every February!" He laughs.
Joining the fun changed all that for him and since then he's increased his number of rides.
"I can't say enough good things about the Cascades," Ahearne said. Chilly Hill is one of many community games and events organized by Seattle's Cascade Bike Club. "They helped me every step of the way and I really can't say enough about Cascade."
The Cascade Bike Club is the nation's largest statewide biking nonprofit and serves cyclists of all ages, races, genders, income levels, and abilities.
"We are delighted to have Thomas Ahearne with us to Portland this year," said Paul Tolme of Cascade Bicycle Club.
This summer marks the 40th year of the icon Seattle to Portland Cycling and Ahearn is riding 50 miles on the Burke-Gilman Trail to practice on his Bicycle. "I'm not going to set a speed record when I get to Portland but I'm excited to do the famous ride," he said. The Seattle to Portland trip departs on July 15.
He says the discovery of manual cycling changed his perspective and improved his mental health.
"It's magical," says Ahearne, who is encouraging others to find an outlet that works for them. "Before the accident, I thought it was crazy to try this tricycle but it saved my life."
Cascade Bike Club was started in 1970 by two brothers. Membership is $2. More than 50 years later, Cascade Bicycle Club is a powerful bicycle event production, education and advocacy group with nearly 10,000 members, 700 volunteers and dozens of employees.