Bank of England expected to hike interest rates after record wage rise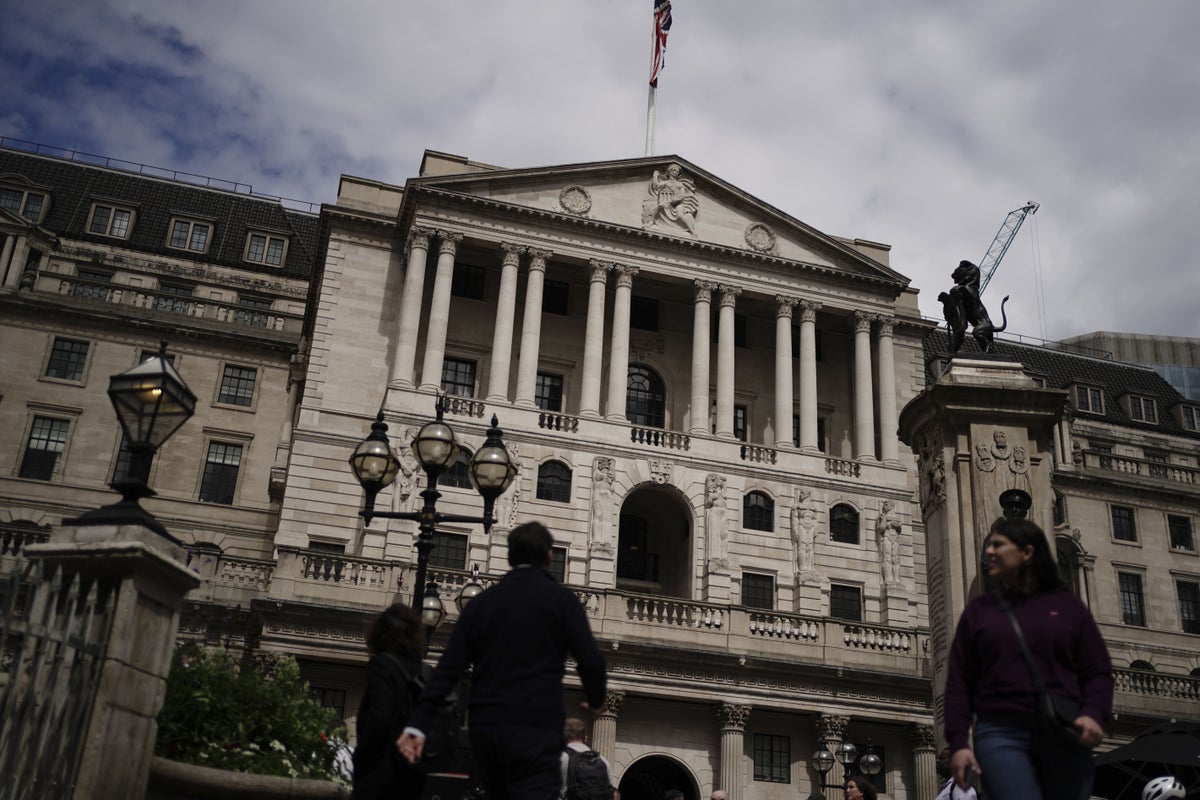 UK wage increases have hit a new record high – but are still being outpaced by stubborn inflation, figures show.
The Office for National Statistics said regular wages rose 7.8 percent between April and June, almost as high as the inflation rate of 7.9 percent.
Experts say the new numbers will give Bank of England policymakers "migraines" as they put even more pressure on them to raise interest rates further to cool inflation.
Official statisticians also said that the UK unemployment rate rose from 3.9 per cent to 4.2 per cent in the three months to June – while the number of long-term sick people rose to a record high.
This means the unemployment rate is the highest since fall 2021, taking the reading above pre-pandemic levels. Labor accused the Tories of "abandoning working people" because they had "no answers" about getting people back to work.
It comes ahead of the July inflation figure to be released later this week, with analysts optimistic the rate will fall by nearly a full percentage point. According to the data, consumer price index (CPI) inflation is expected to fall to about 7 percent from 7.9 percent.
However, The Independent expects analysis by Treasury officials to show inflation will then pick up again in August – with the unwelcome reversal reflected in figures released next month.
Wage growth means the Bank of England will face additional pressure to raise interest rates from 5.25 percent to 5.5 percent in September, said Michael Hewson, an analyst at CMC Markets. "This morning's figures are not only giving the central bank a headache, but also a migraine," said the expert.
Analysts at consultancy Capital Economics said they also now expect the Bank of England to "execute another 25 basis point rate hike before completing its tightening cycle".
dr Sushil Wadhwani, a former member of the Bank of England's monetary policy committee, said the news about wage growth was "disappointing" for the bank as it likely means a hike in interest rates from 5.25 percent to at least 5.5 percent.
He told BBC Radio 4 Today The program says wage growth is above 8 percent, which is "inconsistent" with a price inflation target, which in a "perfect world" would be set at 2 percent.
dr Wadhwani said: "As price inflation is likely to fall due to lower energy bills, for example, wage inflation will follow the fall in price inflation. What is crucial, however, is how much the bank has to encourage this process by further raising interest rates.
He added: "That's why today's numbers were disappointing because I think unfortunately that means rates will have to go higher than they might have thought yesterday." Markets have certainly revised their view – they are now forecasting a peak of closer to 6 percent."
Many top lenders have cut interest rates on fixed-rate mortgages in recent days to bring relief to distressed homeowners. However, it is not clear if there will be a price war if the central bank insists on raising interest rates next month.
ONS data released on Tuesday also showed that inactivity in the labor market due to long-term illnesses hit a new record. Vacancies also fell by 66,000, but are still just over the million mark (1.02 million).
The data also shows that the number of wage earners rose slightly in July by 97,000 to 30.2 million, although the ONS said that is a "preliminary estimate likely to be revised when more data comes out next month." enter".
Jonathan Ashworth, Labor Secretary for Shadow Work and Pensions, said the figures "confirm once again that the Tories are failing working people and businesses across the UK".
He said: "Families are struggling to make ends meet, there are record numbers of people out of work due to long-term illness and the employment rate for the over-50s is still below pre-pandemic levels – but Tory ministers don't have solutions for it." Get people back to work. The consequences are thousands of write-offs and an increasing performance bill."
Commenting on the numbers, Chancellor Jeremy Hunt said: "It's great to see a record number of employees, thanks to the actions we've taken on the labor market."
"Our ambitious reforms will make work pay and help even more people find work – including by expanding free childcare next year – helping to meet our priority of economic growth."
Liberal Democrat cabinet office spokeswoman Christine Jardine said the "figures will be a comfort to families struggling to stay afloat," adding, "Spiral mortgage bills are wiping out any progress on wage increases."
Jack Kennedy, chief economist at global hiring and placement platform Indeed, said: "There are signs the cost of living may finally be coming down after record-breaking annual wage growth pushed wages above inflation for the first time in over a year and a half." -Half a year.
"Regular wage growth jumped to a record 7.8 percent year-on-year in the second quarter of 2023, the highest since comparable data began in 2001."