BBB of Washington warns of 'imposters' posing as BBB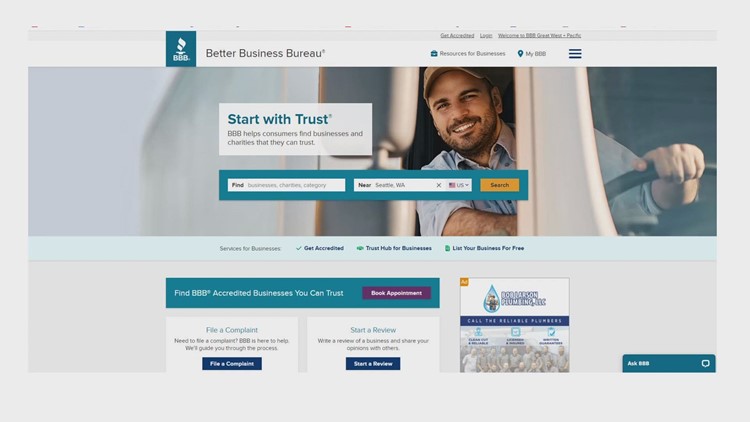 According to the nonprofit, scammers are impersonating the Better Business Bureau because of the trust in the community it has built over the past 100 years.
SEATTLE — For more than a century, the Better Business Bureau has helped consumers identify ethical businesses, avoid scams, and file complaints if needed. The organization also helps businesses achieve BBB certification and provides other resources.
While often extended warnings about "bad guys" trying to scam people or steal personal information – Washington's BBB says it wants consumers and businesses to beware of scammers pretending to be BBB.
Recently, BBB received a report that a BBB Accredited Business received a call from someone spoofing BBB's phone number, saying they were "noticing his credit card balance" high and [the caller] can help bring them down." The business called his local BBB, who informed him that BBB does not offer repair services or credit refunds.
"These bad guys are impersonating the BBB because of our trust in the community we've built over the past 100 years," said Logan Hickle, Washington's BBB director of communications and public relations. "They are posing as BBB like they do with other responsible businesses, thinking they have an automatic with name recognition and trust."
Hickle said some of the scam calls may include threats by emphasizing that the BBB is a government agency when in fact it is a nonprofit.
"We will never ask anyone in the community for a password for one of their accounts or for permission to access one of their devices," Hickle said. "We've also seen reports of people posing as BBB representatives offering loan and credit repair programs. That's not something we're involved with as an organization."
For tips on how to confirm you're talking to the BBB and not an impostor, click the video player above.