Beaver-like dams can protect communities from flooding, study finds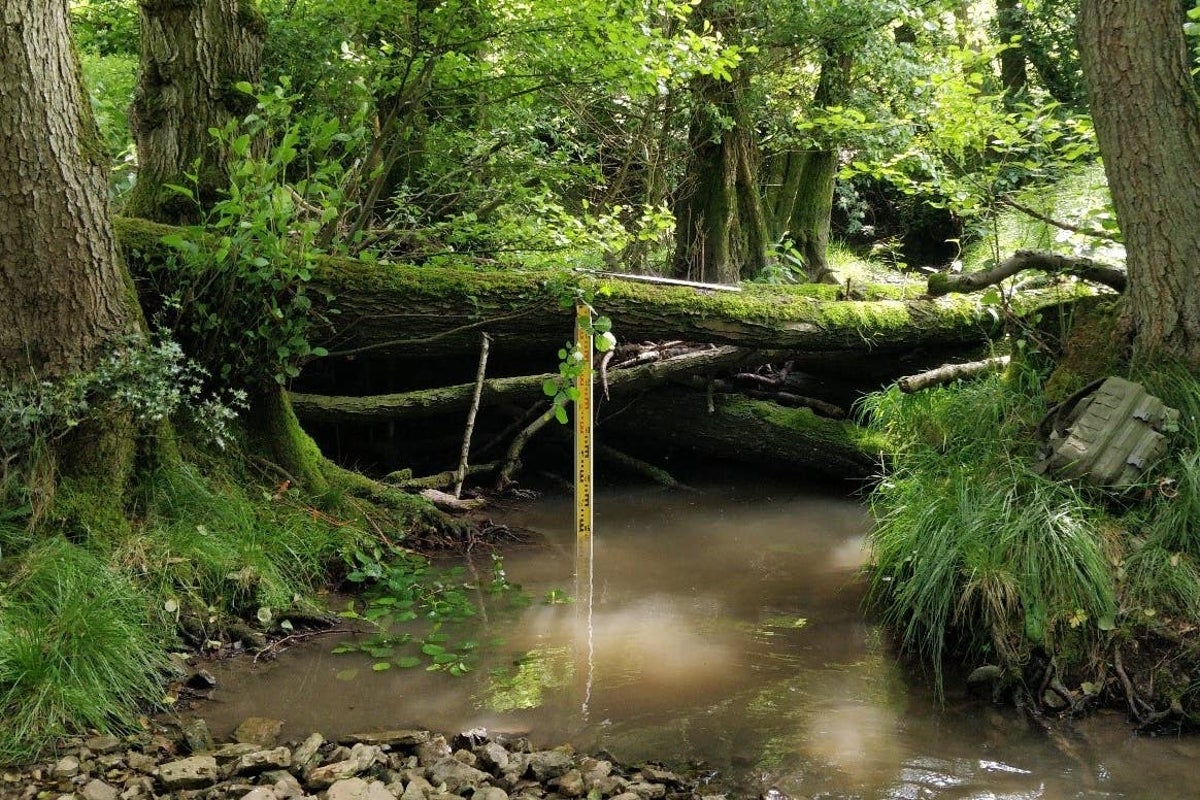 One study found that river barriers similar to those built by beavers can protect flood-prone communities by storing water upstream and then slowly releasing it.
Researchers from Cardiff University and the University of Worcester studied the effects of leaking barriers made of natural material such as trees, branches, logs and leaves on a small river in Shropshire over a two-year period.
The barriers, which mimic beaver dams, purposefully raise water levels upstream to slow river flow through storage and diversion—benefiting the river and surrounding agricultural land.
Previously, scientists used numerical models to measure their impact. However, this study involved collecting data from 105 leaky barriers over a distance of three miles.
The study, published in the Journal of Hydrology, found the site's leaky barriers could store enough water to fill at least four Olympic-size swimming pools during severe storm events like Storm Dennis.
Elevated water levels of up to 0.8 meters were measured at each barrier, which scientists say slowed river flow during storm events.
It took between seven and nine days for water levels to return to normal, with water slowly being released over a period of seven to 10 days to protect downstream communities from flooding.
dr Catherine Wilson, from Cardiff University's School of Engineering, said: "In recent years we have seen a significant increase in the risk of flooding across the UK and globally due to increased storm intensity and other climate change related factors.
"Where flooding occurs, we often see extreme human and socioeconomic costs. It is therefore important that we better understand how to combat these events as effectively as possible."
During the study, researchers placed monitoring devices on leaky barriers spanning three channels to measure their impact on upstream and downstream water levels over time.
Drone imagery of the site was used to provide accurate land elevation measurements in the tree and plant covered areas of the river.
dr Wilson added, "For the first time, our study provides quantifiable and detailed evidence for the effectiveness of nature-based solutions in managing these flooding events."
"We show that leaky barriers are effective in slowing down river flow during rainy periods and storing large volumes of water that would otherwise flow through, damaging downstream communities.
"Instead, that power is released slowly over a period of a week to 10 days.
"Leaky barriers are most effective in narrow channels with steep banks and can reduce flooding in smaller storm events better than in larger ones."
"This shows us that they are a valuable addition to existing flood management strategies.
"In addition, leaky barriers offer a cost-effective solution of between £50 and £500 and are a sustainable flood defence, increasing biodiversity in our rivers and surrounding land."
Research continues to monitor the effectiveness of leaking barriers at the Shropshire site, one of 60 identified by the Department for Environment, Food and Rural Affairs to assess natural flood management.
The scientists said the results of their study could be used by government and industry to develop flood defenses for smaller, more frequent storms and to develop an approach for modeling leaking barriers during larger storms.
Professor Ian Maddock, Professor of River Sciences at the University of Worcester, said: "The results of the study have helped support our work with local authorities in identifying new sites for natural flood management."
"It has allowed us to target locations where installing leaky barriers will have the greatest impact in reducing flood risk for communities and landowners downstream."
The article "Field-based Monitoring of Instream Leaky Barrier Backwater and Storage While Storm Events" was published in the Journal of Hydrology.