Bed Bath and Beyond store closings 2023: Full list of closures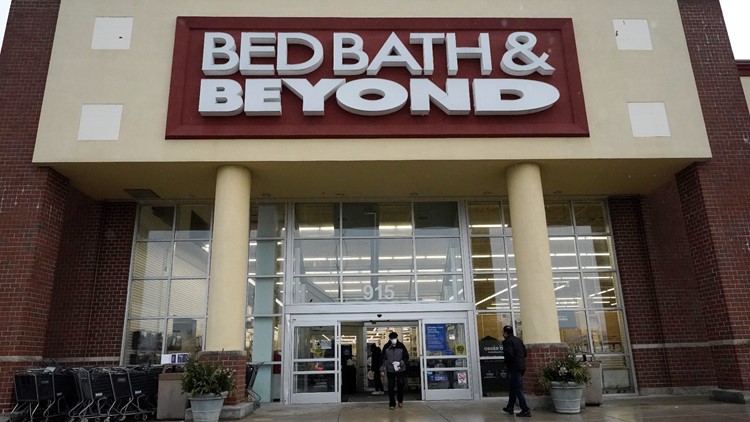 The latest store closures list includes 87 Bed, Bath & Beyond stores of the same name, 50 Harmon pharmacies and several buybuy Baby locations.
WASHINGTON — Bed, Bath & Beyond will close 87 more stores of the same name as the financial struggle continues. The household chain is also closing its entire Harmon pharmacy chain and adding five buybuy Baby stores.
The latest round of closures was made across 32 states.
The home goods chain said in a statement to Axios on Monday that the new closures expand its previous plan to close about 150 "lower production" stores. That plan, announced in August, includes layoffs that will cut the chain's workforce by 20%. It also lines up more than $500 million in new financing.
By mid-January, it had published a list of more than 120 closures.
The company revealed last week that it had defaulted on its loans, indicating in a securities filing that it may restructure its debt in bankruptcy court. It has warned that there is "substantial doubt" about its ability to continue.
Here's the latest list of Bed, Bath & Beyond store closures, including Harmon and buybuy Baby locations — over 140 in total. See more than 120 previously closed stores here.
Bed Bath & Beyond store closures in 2023: Full list of latest closures
Phoenix: 34750 N. North Valley Parkway
Tucson: 5225 South Calle Santa Cruz
Daphne: 6850 US Highway 90 Anchor D
North Little Rock: 4122 McCain Blvd
Location: 1834 South Signal Butte Rd
Palm Desert: 72459 Highway 111
Visalia: 3125 South Mooney Blvd.
Hawthorne: 14351 Hindry Avenue
Carlsbad: 1905 Calle Barcelona Suite 100
Upland: 1865 North Campus Avenue, Building 15
San Diego: 10537 4S Commons Drive, Room 170
Culver City: 10822 Jefferson Avenue
San Marcos: 165 S. Las Posas Rd
Folsom: 2385 Point Railroad
Glendora: 1405 East Gladstone Street
Pasadena: 3609 E Foothill Blvd (Harmon)
Los Angeles: 10561 West Pico Blvd (Harmon)
Thornton: 16531 Washington Street
Loveland: 1605 Fall River Drive
Southington: 835 Queen Street
Wethersfield: 1065 Silas Deane . Highway
Fairfield: 2260 Kings . Expressway
Enfield: 20 Hazard Avenue
Brandon: 320 BRANDON DRIVE Town Center
Boca Raton: 20560 STATE ROAD 7
Boynton Beach: 371 N. CONGRESS AVENUE
Orlando: 397 North Alafaya Trail
Coral Springs: 4631 NORTH UNIVERSITY DRIVE
Royal Palm Beach: 540 North State Road 7
Jacksonville: 6001 24 Argyle Forest Blvd
Jacksonville: 13221 City Station Drive, Suite 125
Delray Beach: 14824 Southern Military Trail
Apopka: 2239 East Semoran Avenue
Jupiter: 17450 N SUBSTITUTE A1A STE 101 (Harmony)
Coralville: 2515 Way Suite 5 Corridor
Boise: 3615 S. Federal Road
Wilmette: 3232 LAKE AVE, ROOM 125
Geneva: 1584 SOUTH RANDALL
Crystal Lake: 5786 NWW Expressway
Chicago Ridge: 9650 S Ridgeland Avenue
Forest Park: 215 Harlem Avenue
Address: 15335 W. 119 STREET
Louisville: 4350 Summit Plaza Drive
Burlington: 3 ABBOTT PARKs
Raynham: 600 South Street West, Room 13
North Dartmouth: 458 State Rd, Rt 6, Suite 100
Pittsfield: 665 Merrill Street
Dedham: 820 Providence Freeway
Annapolis: 200 Harker Place Suite 200
Westminster: 200 Clifton Avenue
Ocean City: 12641 Ocean Gateway Suite 240
Bloomington: 7961 SOUTHTOWN CENTER
St Louis: 10770 Sunset Hills Plaza
Bismarck: 1455 East Lasalle Drive
Bridgewater: 155 PROMENADE Blvd
Mays Landing: 190 Hamilton Commons
Mount Laurel: 8 Centerton Road
Kinnelon: 1160 Route 23 North
Matawan: 1121 Highway 34, Room A
Flemington: 276 Route 202/31
Wayne: 1595 -1 South 23rd Street (Harmon)
Wayne: 580 Valley Road (Harmon)
East Hanover: 392 West 10th Street (Harmon)
West Caldwell: 36 Clinton Street (Harmon)
Closter: 123 Ver Valen Street (Harmon)
Hackensack: 370 W. Pleasant View Avenue (Harmon)
Manalapan: 357 South 9th Street (Harmon)
Succasunna: 275 National Highway 10 E. STE 350 (Harmony)
Paramus: 145 West 4th Street (Harmon)
Totowa: 465 Route 46 West (Harmon)
Raritan: 300 US Highway 202 (Harmon)
Matawan: 359 Route 34 North (Harmon)
Franklin: 100 D Route 23 North, Franklin Mall (Harmon)
Newton: 10 B Route 206 North (Harmon)
Greenbrook: 303 Route 22 East (Harmon)
Carlstadt: 675 Paterson Avenue (Harmon)
Westfield: 335 South Avenue East (Harmon)
Short Hill: 720 Morris Turnpike (Harmony)
Shrewsbury: 550 Broad Street – 35th Street (Harmon)
Westwood: 700 Broadway, Suite 32 (Harmony)
Ocean: 2309-200 Route 66 (Harmony)
Holmdel: 2145 Highway 35 – Holmdel Plaza (Harmon)
Iselin: 675 Line 1 South, Room 2 (Harmon)
Clifton: 390 West 3rd Street (Harmon)
Brick: 479 Route 70 East (Harmon)
Morris Plain: 1711 East 10th Street (Harmon)
East Brunswick: 300 Route 18 East (Harmon)
Edgewater: 725 River Road (Harmon)
Deptford: 1765 DEPTFORD CENTRAL STREET (Harmon)
Gillette: 977 Valley Road (Harmon)
Las Vegas: 2315 Summa Drive Suite 110 (Harmony)
Brooklyn: 459 . Gate Drive
Bohemia: 5131 Sunrise Highway
Brooklyn: 850 Third Avenue
Brooklyn: 850 Third Avenue (Harmon)
Brookyln: 850 Third Avenue (buybuy Baby)
Brooklyn: 245 Atlantic Ocean
Carle Place: Carle Place Commons 167 Old Country Road (Harmon)
Commack: 8 Veterans Memorial Highway (Harmon)
East Elmhurst: 72 15 25 Avenue
Elmsford: 251 Main East Street
Hartsdale: 165-171 Central Park Avenue (Harmon)
Massapequa: 806 Hicksville Road (Harmon)
Melville: 925 Walt Whitman Street, 110th Street (Harmon)
Mineola: 530 Jericho Turnpike (Harmony)
Nanuet: 46 Rockland Plaza / Route 59 (Harmon)
New Hyde Park: 1490 Union Turnpike
New Rochelle: 77 Quaker Ridge Road (Harmon)
New York: 675 6th Avenue (Harmon)
New York: 2171 Broadway (Harmony)
Plainview: 1119 Old Country Road (Harmon)
Port of Chester: 441 Boston Post Office (buybuy Baby)
Poughkeepsie: 2600 South Road (Harmon)
Poughkeepsie: 2020 South Road, Suite 3
Rochester: 790 Jefferson Street, Room 300 (buybuy Baby)
Saratoga Stream: 3064 Route 50
Yonkers: 2131 Central Park Avenue (Harmon)
Columbus: 3750 Easton Market
Bethel Park: 1700 Oxford Drive
Monroeville: 3739 William Penn Highway
North Wales: 1261 Knapp . Road
Pittsburgh: 160 Quinn Street
North Charleston: 5930 Rivers Ave (buybuy Baby)
Spartanburg: 205 West Blackstock Road
Hixson: 5523 National Highway 153, Room 112
Memphis: 870 South Road White Station
Lewisville: 420 East FM 3040 Suite 300
Lewisville: 719 Hebron Parkway (buybuy Baby)
Plano: 6400 West Plano Parkway, Room 125
Temple: 2112 SW HK Dodgen Loop
City Park: 1678 W Redstone Center Drive
Chesapeake: Greenbrier MarketCenter, 1324 Greenbrier Pkwy
Dulles: 24670 Dulles Landing Dr Unt150
Fairfax: 12100 Fairfax Towne Center
Springfield: 6642 Loisdale Road
Winchester: 2540 S. Pleasant Valley Road
Williamsburg: 4900 Monticello Ave, Room 4
Vancouver: 7809B Vancouver Plaza Dr #102
Walla Walla: 1630 W Poplar Street
Wausau: 3575 Rib Mountain Drive
Morgantown: Target line 395
https://www.king5.com/article/news/nation-world/bed-bath-beyond-store-closings-2023-full-list-harmon-buybuy-baby/507-87e6935a-2a2b-41a7-aaff-e12a67ae4c59 Bed Bath and Beyond store closings 2023: Full list of closures