Bellevue "Save Our Schools Rally" planned for Monday evening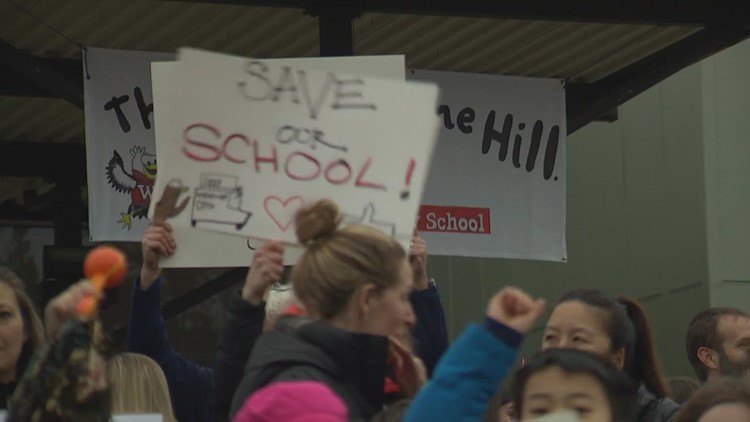 The Bellevue School District is expected to announce plans to merge the three elementary schools on February 9 at a scheduled school board meeting.
BELLEVUE, Wash. — With just a few days to go before Bellevue School District (BSD)'s tentative consolidation plan is revealed on February 9, families are planning to gather outside district headquarters.
The "Save Our Schools" rally is scheduled for 4 to 5 p.m. Monday outside the district's ESC building at 12111 NE 1st St.
According to the BSD, worried parents, students and staff have rallied over the past few weeks after learning seven elementary schools would be considered for a plan to merge the three schools due to declining enrollment.
The seven elementary schools under consideration are Ardmore, Eastgate, Enatai, Phantom Lake, Sherwood Forest, Woodridge and Wilburton.
BSD says these seven schools have the lowest enrollment and are not forecast to improve those numbers in the near future.
Declining enrollment in the district is affecting student programming, financial stability, and facility utilization. According to the school district, they currently use only 66% of the space in classrooms and other facilities.
KING 5 attended several district hearings and spoke with parents from several schools on the list for potential mergers.
Many parents said they were disappointed that the consolidation process happened so quickly. Some parents who contacted KING 5 said they moved to Bellevue specifically to send their children to "neighborhood schools".
"We bought our house because it had a neighborhood school that our kids could walk to so they could play with the kids right down the street and where they were talking about sending their kids. Ours is not… not too close," said Nicole Holley, a parent of Eastgate Elementary School.
The BSD said final plans for how the merger, consolidation and reorganization will work are yet to be finalized.
"There are several possibilities currently being explored, along with the feedback received from our community," said Janine Thorn, spokeswoman for BSD.
KING 5 requested an additional interview with BSD leadership prior to the February 9 announcement. The district responded Monday morning. An interview is in the process of being scheduled.
https://www.king5.com/article/news/education/bellevue-families-rally-school-consolidation-announcement/281-10790900-e923-4d1a-b90f-7096dcbc856a Bellevue "Save Our Schools Rally" planned for Monday evening