Bellingham teen aims to boost women, kids of color in hockey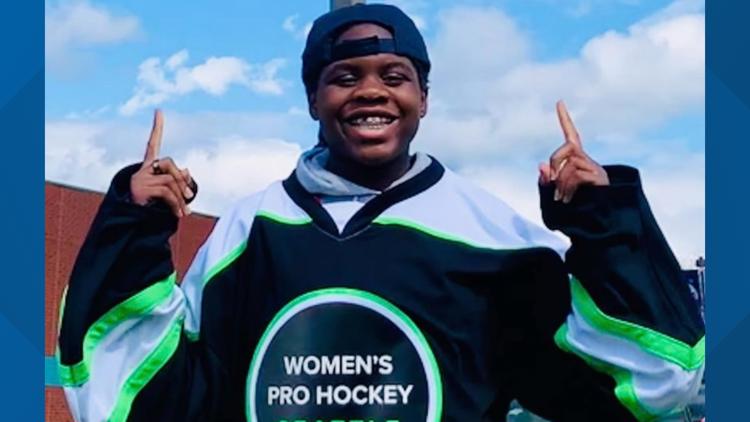 The sport of ice hockey has looked and sounded largely the same for generations. But this generation could be breaking the mold thanks to a Bellingham teenager.
BELLINGHAM, Wash – A melting pot in an ice arena may sound like a contradiction in terms. That's because the voices you hear and the faces you see are mostly the same.
But at the Bellingham Sportsplex, under one of those hockey masks is 13-year-old Maealie "Mae" Glanzer.
Mae looks different from the rest of her teammates.
"I like being different," she said.
Mae sounds different too.
"I think my experiences are different," she said.
And while Mae wants to spread the word, words have always been difficult for her.
"We could tell from the start that she was struggling with the language," said Mae's mother, Carrie Glanzer.
>> Download KING 5+, our new Roku and Amazon Fire apps, for 24/7 live coverage
"I've done speech therapy since I was three years old," Mae said. "And I just keep trying to work on getting the sounds I want to say right."
But to understand Mae's speech impediment, you have to understand her childhood.
"We adopted two little girls from Uganda and were recommended by a 2-year-old girl and a 4-year-old girl," said Carrie Glanzer. "The first time we met Mae was in a picture."
Back then, that picture spoke a lot louder than Mae's words.
"When she came home, her speech was pretty incomprehensible," Carrie Glanzer recalls. "She only knew Luganda, [she] couldn't speak english. She always struggled to produce certain consonant combinations, and some things in her vocabulary made some words all but impossible."
To fully understand Mae, one must understand what she went through.
"We found out very quickly that she had never been to a restaurant before. She had never ridden in a car until we got there. Seat belts weren't a thing. It was really fun hanging around windows and sitting at a table was a joke," added Carrie Glanzer. "It was kind of like running around this playground."
But 10 years later, Mae has found another playground. She has gone from an adoption home in Uganda to a home on the ice.
"All I remember is that I didn't want to do figure skating," Mae said. "I really wanted to do ice hockey."
Photos: Maealie "Mae" Glanzer
Mae also found her voice through hockey.
"As COVID hit, people needed voices to stand up and raise awareness about things that aren't right," Mae said. "I feel like it kind of pushed me to step out of the shadows and say, 'Hey, we have to do this,' or 'Hey, we should go and make a difference.'"
Mae's mission is to get more kids of color to play hockey.
"[I] I hope to spark a spark in them to come out and try the sport," she said.
Mae knows all too well what it's like to feel isolated on the ice.
"There aren't many girls who play boys hockey and not many African American girls who play hockey," said Mae's coach Tom Fields.
"I think we all work the same way, but as a black girl, maybe it's a little harder to prove myself," Mae said.
"When we go to tournaments across the country, it's very common for Mae to look like this and say, 'I'm the only black person here.' And I'm always like, 'OK, so you're first, but you show that girl in the stands that she can do it too,'" said Carrie Glanzer.
The motto "she can too" is a great way to describe Mae's other mission. She wants to help bring a women's professional hockey team to Seattle and see the benefits it brings to the next generation of hockey players.
"We have the Kraken; we all look up to them as idols, but if girls could look up to some women here in Seattle I think we would get more players to play, more girls to play and more people interested in women's sports," Mae explained.
In fact, Women's Pro Hockey Seattle has made Mae their organization's spokesperson alongside former Olympian Kelly Stephens-Tysland.
Mae's message has become so strong that she was honored at the Sports Star of the Year Awards in May 2022 and was recipient the Wayne Gittinger Inspirational Youth Award.
The 13-year-old Ugandan with a speech impediment gave a speech that left her parents speechless.
"My husband and I were in tears," Carrie Glanzer recalled. "This is a child who when she got home tried to communicate, neither of us understood a word. She is standing in front of a room with thousands of people who are giving a speech. You just sit there and are speechless."
Mae's journey has given her meaning.
"She just taught me how to use your voice," said Carrie Glanzer.
Make the ice a melting pot, make the faces visible and the voices audible.
CLOCK: KING 5's Facing Race playlist
https://www.king5.com/article/news/community/facing-race/bellingham-mae-glanzer-ice-hockey-melting-pot/281-48c9ceec-1216-427e-b01c-a6d25f0f946f Bellingham teen aims to boost women, kids of color in hockey