Berkshire Hathaway shareholder meeting takeaways: Warren Buffett's remarks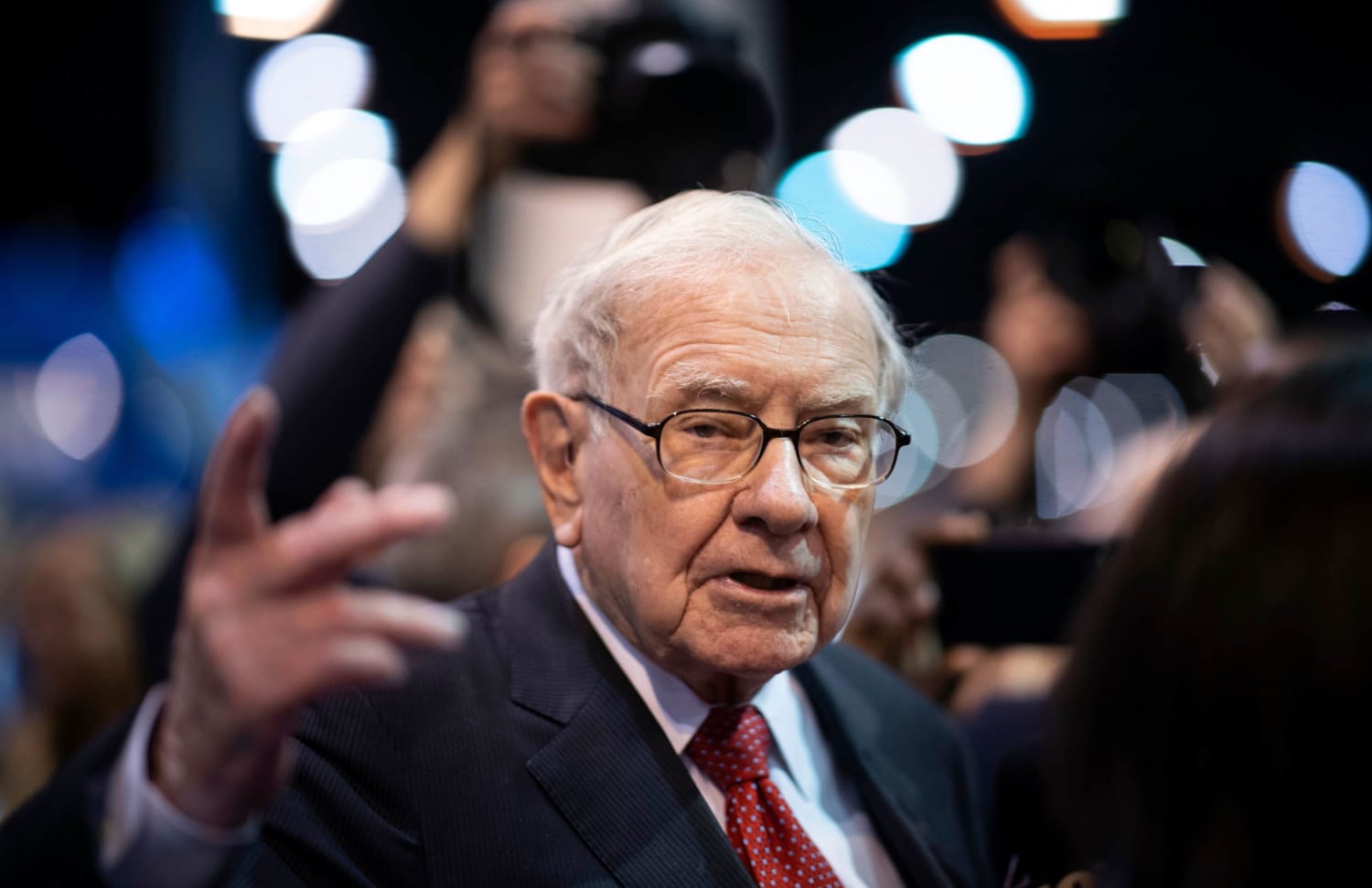 Warren Buffett, chairman and CEO of Berkshire Hathaway, praised the government's intervention in recent bank failures and said it averted an even bigger crisis.
Asked about the failure of Silicon Valley Bank at the company's annual meeting Saturday, Buffett said he thinks the government did the right thing by guaranteeing bank deposits beyond the $250,000 guarantee from the Federal Deposit Insurance Corporation .
"It would have been catastrophic," Buffett said of a situation where the government didn't act. He added that refusing to guarantee all SVB deposits risks a "run on every bank in the country" and a threat to the global financial system.
Berkshire Hathaway, the Omaha-based conglomerate that owns and invests in companies from Dairy Queen to GEICO, has significant investments in the country's largest banks. At the end of 2022, Buffett's investments included a 13% stake in Bank of America, a 3.2% stake in Bank of New York Mellon, a 2.8% stake in Citigroup, and a 0.5% stake in US bank corp.
The banking industry was rocked by higher interest rates, which put banks under pressure unprepared for the sharp fall in the value of their interest-rate-sensitive assets. The episode has prompted increased scrutiny of the commercial real estate sector, where telecommuting agreements and rising borrowing costs are raising concerns about banks lending to the sector.
"The hollowing out of inner cities in the United States and elsewhere in the world is going to be quite significant and quite unpleasant," said Berkshire vice chairman Charlie Munger, adding that Berkshire itself isn't actively invested in commercial real estate.
The Debt Limit
Buffett also spoke briefly about the debt ceiling, noting that he couldn't imagine the US government allowing "the debt ceiling to roil the world."
Congress and the White House are racing to a June 1 deadline to raise the US Treasury's borrowing limit, with the "economic and financial catastrophe" of a sovereign default at stake.
Nonetheless, Buffett expressed broad concerns about US policy developments.
"Apparently partisanship has moved toward tribalism, and tribalism just doesn't work that well."
Concerns about AI
The 90-year-olds also raised questions about the application of artificial intelligence in investing — and around the world.
As Wall Street weighs the use of technology like ChatGPT in predicting stock prices, Buffett said "the technology doesn't make a difference" when it comes to finding investment opportunities.
Buffett, whose reputation for stock picking has built Berkshire, added, "What gives you opportunities is other people doing stupid things."
Broadly speaking, Buffett expressed concern that society could not "invent" future-changing technologies, but was adamant that humans remain in the driver's seat.
"With AI, it can change everything in the world except how people think and behave," Buffett said, citing Albert Einstein's commentary on the invention of the atomic bomb voluntarily. Munger quipped that "old-fashioned intelligence works pretty well."
The Oracle of Omaha
Known as the "Oracle of Omaha," Buffett currently ranks fifth on Forbes' list of billionaires with a net worth of approximately $105 billion.
During his decades in the business, Buffett has earned a reputation as one of the smartest investors alive — while maintaining a relatively frugal lifestyle (he still lives in the house he bought in 1958 and eats at McDonald's regularly).
Buffett's strategy is commonly defined as value investing; buy cheap and only sell when absolutely necessary. Buffett advises sticking with good investments for decades and ignoring most short-term market moves.
In 2016, Buffett gave an interview and used the following example of how he feels about investing: "If you had a chance to buy into a good company in your hometown… and you knew it was a good company, and you knew that it is run by good people and you bought at a fair price, don't you want to ask for a quote every day."
Instead of regularly reviewing a stock's price, Buffett said, "You would look at earnings and dividends over the years as determining whether or not you made a good investment." And that's what people should do with stocks."
"Woodstock for Capitalists"
Dubbed the "Woodstock for capitalists" by Buffett and fans, Berkshire's annual shareholder meeting has seen up to 40,000 attendees at the largest convention center in Omaha, Nebraska. It's the 59th time Buffett has chaired Berkshire's annual shareholder meeting.
The gathering has also become known for its marathon Q&A session: Buffett, 92, and Berkshire Vice Chairman Charlie Munger, 99, are scheduled to spend at least five hours answering attendee questions Saturday.
Like most investors, Berkshire has had a bad year, at least on paper: It reported a $22.8 billion annual loss for 2022. But in its most recent annual letter to shareholders — the release of which itself is a landmark event for investors is calendar — Buffett called that number "100% misleading" because it includes losses in stock holdings whose "quarterly swings, routinely and thoughtlessly overwritten by the media, completely misinform investors."
Instead, Buffett said investors should look at the operating results of Berkshire's diverse portfolio of companies, which at year-end included American Express, Bank of America, Coca-Cola, Occidental Petroleum, and Paramount Global. Based on that, Berkshire "set a record $30.8 billion," Buffett said.
Additionally, Buffett has calculated that Berkshire's shareholders' return over its 58 years has been 3,787,464%. He attributed this success to continued savings, "the power of compounding," avoidance of "big" mistakes, and what he called "the American tailwind."
"America would have been fine without Berkshire," Buffett wrote. "It's not the other way around."
Berkshire on Saturday reported a 12.6% increase in operating profits between March 31 and the same time last year. However, Buffett said that a slowdown in the economy would likely result in a "majority of our companies" reporting lower earnings this year than last year.
"At various times over the last six months or so, companies have come through an incredible period that's about as extraordinary as I've seen in business since World War II."
In addition to discussions on business and finance, the Berkshire gathering is also known for home-made traditions like eating candy from See's and ice cream bars from Dairy Queen, both owned by Berkshire. Buffett has said of his investment in See's, "We put $25 million into it, and it's given us over $2 billion in pre-tax income, well over $2 billion."
Longtime Berkshire watchers say they plan to enjoy this year's gathering.
"Even though I've been around for 32 or 33 years, it's fun, it's uplifting, and you always learn something new," said Paul Lountzis, who makes Berkshire his largest investment at Lountzis Asset Management LLC in Wyomissing, Pennsylvania.
"Charlie is 99 and Warren will be 93 on August 30," Lountzis added, "and you just don't know how many more you're going to have."