Best looks from Los Angeles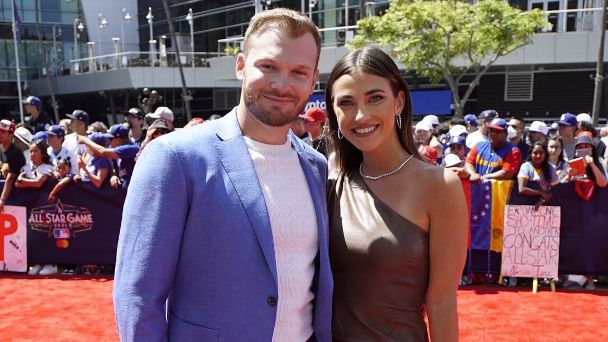 The 2022 MLB All-Star Game will be held in Los Angeles as Dodger Stadium hosts the biggest stars of baseball.
Midsummer celebrations began with Juan Soto becoming the 2022 Home Run Derby champion after beating rookie Julio Rodriguez in the finals.
One of the perks of winning the Derby is wearing the championship chain, which should go well with this year's gold-studded All-Star jerseys.
The uniforms were described by Nike as "inspired by the fame and fortune of the City of Angels", with a "club-specific chest graphic drawn from the gold luster of Hollywood awards ceremonies".
Players arrived at the All-Star Game red carpet ready with a variety of fashion statements on display.
#LaBestia has arrived 😎@ronaldacunajr24 | #AllStarGame pic.twitter.com/Iw54KcRKdA

— Atlanta Braves (@Braves) July 19, 2022
⭐️ @27vladyjris now a red carpet veteran! #AllStarGame pic.twitter.com/zqJXiAecg8

— Toronto Blue Jays (@BlueJays) July 19, 2022
Mix
Mix
Flex a hand showing the muscle@JuanSoto25_ // #AllStarGame pic.twitter.com/eQCphNyw9z

— Washington Nationals (@Nationals) July 19, 2022
A special day for the Contreras family!#AllStarGame pic.twitter.com/dAUrc16Ec7

— Chicago Cubs (@Cubs) July 19, 2022
🌟 Happ now you're an all star. 🌟 pic.twitter.com/jaAmqcw5Ey

— Chicago Cubs (@Cubs) July 19, 2022
Baby's first red carpet. 🌟@JeffMcNeil805 | #AllStarGame pic.twitter.com/E2skiOty4u

— New York Mets (@Mets) July 19, 2022
The polar bear cleans up nicely. 👀 pic.twitter.com/veAMfa2E9K

— New York Mets (@Mets) July 19, 2022
d'Addy Trav brought the bling 💍#AllStarGame pic.twitter.com/V549PEnUMS

— Atlanta Braves (@Braves) July 19, 2022
.@Starlingmart, style icon. 💫 pic.twitter.com/83MB4QQJer

— New York Mets (@Mets) July 19, 2022
The Mantiply family was born for them #AllStarGame Red carpet. 🥰 pic.twitter.com/g6GtUjZe4D

— Arizona Diamondbacks (@Dbacks) July 19, 2022
keyword 🎺, @SugarDiaz39 has come. pic.twitter.com/zekC6tinQB

— New York Mets (@Mets) July 19, 2022
Bless your timeline too @MaxFried32 #AllStarGame pic.twitter.com/0RxucO2PXK

— Atlanta Braves (@Braves) July 19, 2022
d'Addy Trav brought the bling 💍#AllStarGame pic.twitter.com/V549PEnUMS

— Atlanta Braves (@Braves) July 19, 2022
d'Addy Trav brought the bling 💍#AllStarGame pic.twitter.com/V549PEnUMS

— Atlanta Braves (@Braves) July 19, 2022
— Seattle Mariners (@Mariners) July 19, 2022
Willy and Ian break theirs #AllStarGame Red carpet looks. pic.twitter.com/xOlImazYut

— Chicago Cubs (@Cubs) July 19, 2022
https://www.espn.com/mlb/story/_/id/34266989/2022-mlb-all-star-game-best-looks-los-angeles Best looks from Los Angeles