Biden administration's power plant rules underscore reality of EPA limits
The Biden government proposed power plant regulation could drastically reduce carbon emissions while allowing some fossil fuel infrastructure to operate with no end date in sight.
This dichotomy — a result of the government's complicated alignment with carbon capture and hydrogen technologies — could mean some communities continue to face air pollution and other local impacts from some coal and natural gas plants even as the country moves closer to meeting its climate goals.
While many national environmental organizations, such as the Sierra Club, have touted regulation's potential to reduce emissions, some local environmental advocates have primarily raised concerns about what it could mean for their communities.
"It extends the life of fossil gas plants and will increase air pollution in disadvantaged communities," said Juan Jhong Chung, policy director of the Michigan Environmental Justice Coalition. "This policy will lead to victim zones. Many of the pressures are local, and the benefits are accruing to the more affluent, white communities."
The rule, which the Environmental Protection Agency announced on Thursday, could widen cleavages within the environmental community as the government seeks to stay within the limits drawn by the Supreme Court and still meet its climate goals.
The draft regulation will now go through a months-long public process before it is finalized. Once implemented, the regulations will almost certainly face legal challenges from industry bodies and states led by Republican attorneys general.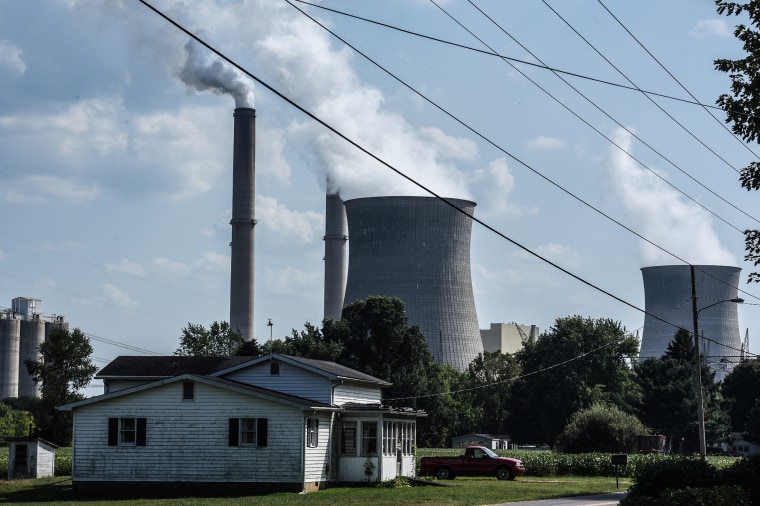 The proposed rules would require this for nearly all coal and large gas-fired power plants in the United States Reduce or capture about 90% of their carbon emissions by 2038.
The EPA designed the rule that way consistent with the June Supreme Court decision in West Virginia v. EPA. The court said the EPA could not use the Clean Air Act's provisions to induce utilities to move away from coal-fired power plants and toward generating electricity from wind, solar and other cleaner energy sources.
However, it left other options within the law intact, including requiring pollution limits like those proposed by the EPA Thursday that would force gas and coal plants to capture and store carbon pollution. Gas-fired power plants could also run on hydrogen, meaning they would use a cleaner fuel for at least some of their generation.
Environmental advocates said the EPA adjusted its new rules to reflect the Supreme Court's decision.
"What you can do is take the traditional approach: set pollution standards that reflect numerical emission limits that can be achieved by influencing individual facility pollution controls," said David Doniger, attorney and senior strategic director of the climate and clean energy program at the Natural Resources Defense Council, which supports rulemaking.
When the rules go into effect, some utilities may choose to retrofit their power plants with carbon capture and storage technologies that have not been implemented or proven effective on a large scale. Others might choose to shut down coal and gas-fired power plants and invest in renewable energies like wind and solar, a trend already seen as the costs of these technologies come down.
"It's up to companies to decide which assets to run long-term and at high speed," Doniger said. "This rule is designed to support business as usual, making sure it works and moving forward further and faster."
The Inflation Reduction Act included subsidies for carbon capture and storage technologies, as well as hydrogen technologies, which make those technologies cheaper and could help support EPA's arguments that regulating their emissions is not unduly onerous for companies to regulate.
Doniger said he believed the rule would stand up to judicial scrutiny.
The regulation does not cover all power plants equally. Some smaller power plants and those used only when demand is extremely high – known as peaking plants – would not be subject to the same strict standards. This worries some environmentalists.
"These top power plants are the ones closest to environmental justice communities, black and brown communities, and communities of color," Jhong Chung said, adding that carbon capture and hydrogen are unproven solutions. "We're going to see more cases of respiratory disease here in Detroit."
Some small gas plants could actually run more frequently as companies change their power supplies to comply with the regulations if they come into force, Doniger said. This could lead to increased local air pollution from nitrogen oxides – or NOx – from small gas plants.
Doniger said the NRDC is committed to working with communities to find solutions and said the EPA needs to pay close attention to the impact of this type of pollution.
"There are things the EPA can do to strengthen pollution controls for source categories when small gas plants are experiencing additional NOx emissions because they are running more," Doniger said.
Environmental groups that support the rule, such as the NRDC, believe the rulemaking will eventually cause utilities to steer away from coal and natural gas, giving those companies choices during the transition.
However, some environmentalists say the Biden administration is falling short, providing the fossil fuel industry with an unnecessary lifeline.
"The rule continues to provide the ability to operate fossil-fuel power plants indefinitely, at a time when we need to make a dramatic shift from fossil-fuel power plants to renewable energy plants," said Jason Rylander, a senior attorney at the Center for Biological Diversity, which would do this I would prefer that the government seek a statewide cap on carbon emissions through a separate legislative mechanism within the Clean Air Act.