Biden-McCarthy debt ceiling bill heads for House passage after clearing key test vote
WASHINGTON — The Republican-controlled House of Representatives seeks a final vote Wednesday on the debt ceiling bill negotiated by Speaker Kevin McCarthy and President Joe Biden, a sensitive moment for the bill aimed at averting a catastrophic default.
Though the McCarthy-Biden deal faced stiff criticism from Republican hardliners who argued that its spending cuts and conservative provisions were too weak, the bill passed Wednesday afternoon in a key procedural vote by a vote of 241 to 187.
While most Republicans voted yes, 29 voted no.
The "rules" vote was conducted with the help of 52 Democrats, who had a significant say in the outcome. They initially kept their powder dry and waited to see how many Republicans would vote for it before casting their ballot towards the end.
The House of Representatives will now debate the bill and vote on it later tonight. Exact timing is unclear, but if passed, the bill would go to the Democrat-led Senate, where it would need 60 votes before it could reach Biden's desk. Senate Majority Leader Chuck Schumer, DN.Y., and Minority Leader Mitch McConnell, R-Ky., have both endorsed it.
Follow us for live updates
"I am confident that we will pass the law," McCarthy, R-California, told reporters Tuesday.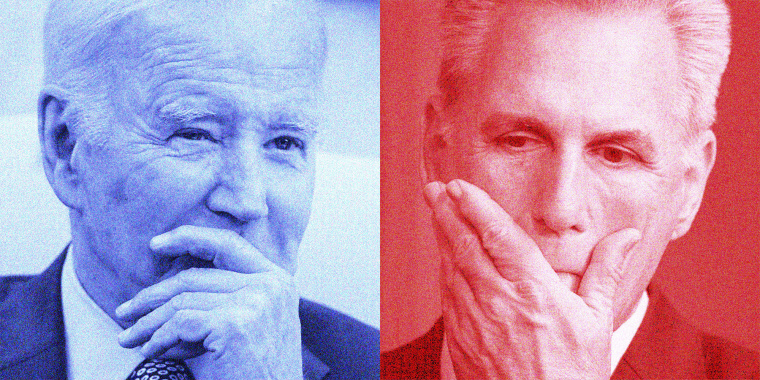 The White House is urging swift passage of the measure as the US nears its debt ceiling deadline on Monday or risks an economically catastrophic country default. The deal includes a two-year debt ceiling extension coupled with a two-year budget agreement that includes modest spending cuts.
House Republican leaders expect to lose some votes, particularly from far-right members who say the deal is not aggressive enough to impose spending cuts to win their approval. That means some Democrats will be needed to reach the finish line, though Democratic leaders say the responsibility primarily rests with Republicans.
"My expectation is that House Republicans will make good on their pledge to provide at least two-thirds of their conference, which is about 150 votes," Hakeem Jeffries, DN.Y., the House Minority Leader, told reporters Tuesday. "Democrats are committed to ensuring that we do our part and avoid defaulting on payments."
Jeffries declined to say how many Democrats would vote for the rule or the law, but said he's confident the country will extend the debt ceiling in a timely manner.
McCarthy said he hasn't spoken to Jeffries about how many Democratic votes he needs, but he expects Wednesday's final vote to be bipartisan.
"Any time there's a two-party agreement, it always ends up being voted for by two parties," McCarthy said.
Rep. Don Bacon, R-Neb., said he was "a yes vote" and predicted that "a supermajority" of House GOP members would support the bill. "It's a reasonably good bill and it's responsible," he said.
"Our only rule was majority majority," Bacon said, who would have to support any bill for McCarthy to bring it to the table. He added there will be "a lot more than half" of the conference.
The law would limit spending for the next two years. It includes conservative measures recovering about $28 billion in unspent Covid relief funds, eliminating $1.4 billion in IRS funds and about $20 billion of the $80 billion the IRS recovered through received the Inflation Reduction Act would shift to non-defence finance.
The bill also plans to resume federal student loan payments after a long pause that began at the beginning of the pandemic. And it would increase work requirements for people age 55 and younger to receive benefits under the Supplemental Nutrition Assistance Program and Temporary Assistance for Needy Families (the current threshold is 50), with exceptions for veterans and the homeless.
A Analysis by the bipartisan Congressional Budget Office noted that if the bill's spending caps and targets are met, federal discretionary spending would be reduced by $1.3 trillion over the next decade. However, only the amounts spent in the first two years are legally binding.
According to the CBO, the SNAP reforms would actually result in a $2.1 billion increase in spending. The new work requirements would save $6.5 billion, but the new exclusions for the homeless and veterans would add 78,000 new people to SNAP benefit lists and cost $8.6 billion.
Far-right members joined the measure.
MP Dan Bishop, RN.C., said the Conservative policy provisions were in fact "fictionalized proposed amendments" that were insignificant. "What they actually did" was a "clean" extension of the debt limit with no significant policy amendments, he argued, portraying it as a capitulation to Biden's demands.
"So there's nothing there," said Bishop, who also objected to the agreement's provision for extending the debt ceiling by a full two years until the next presidential election. "If you want to quietly achieve a clean debt ceiling, make it short."
If the debt limit bill goes through the House of Representatives, individual opposing senators, like Mike Lee, R-Utah, will have procedural tools they can use to try to slow it past Monday's deadline. Schumer has urged members to act quickly to avoid a default.
"Senators should be ready to move this bill forward quickly when it is the Senate's turn to act. I can't stress enough that we have no margin — no margin — for error," Schumer said Wednesday, warning, "Any unnecessary delay, every last minute risk-taking maneuver" could mean that "the federal government, for the first time ever." becomes insolvent".