Bill aimed to prevent limitations on home daycares passes state House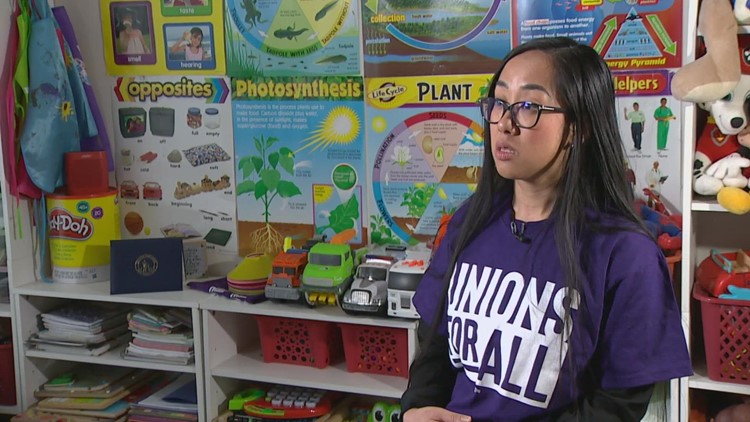 House Bill 1199 would prevent homeowners and homeowners associations from restricting child care at home.
OLYMPIA, Wash. A bill passed unanimously by the Washington House of Representatives on Wednesday that would block restrictions on home care is currently under consideration by the Senate.
HB-1199's sponsor, Representative Tana Senn, said Washington was in a crisis over child care, with not enough options for families. That's why she's nervous to talk to about 90 daycare providers in the state who are either fined by the homeowners association or threatened with eviction for operating. kindergartens in their homes.
"I always run the childcare at my home. I've been running my childcare here for almost two years now," said Laura Pavlov, who runs Alphabetz Nursery in Lake Stevens.
But shortly after moving into her home, she said her HOA told her she needed to stop caring for the children in her home. She is currently paying a fine to keep it open.
"This is their safe place and it will always be their safe place," Pavlov said of her children and family. "I welcome everyone here. I love them."
Her daycare is state-licensed, but the association cited HOA policy that doesn't allow certain commercial businesses to block or disrupt traffic or use advertising. But she doesn't believe her daycare violates that policy.
"I even went as far as to have a petition," Pavlov said of her discussion with neighbors. "I went door-to-door and asked them to sign their autographs and I showed them that I completely have the support of my community."
Pavlov currently cares for 12 children and is one of many childcare providers hoping the Senn-funded bill will pass. The bill would prevent homeowners and homeowners associations from restricting licensed daycares.
"So the idea behind this measure is to make sure we are protecting those child care providers and allowing childcare to be provided in neighborhoods," Senn said. settlements and the communities in which families live.
Senn said Washington needs more childcare options.
"There is definitely a childcare crisis," Senn said. "We need to work together to serve families and make sure parents can go to work.
If the bill doesn't pass, Pavlov said she will keep pushing.
"I will continue to fight because I love my children, my family, my community, and I will continue to fight for what is right," Pavlov said.
The bill was unanimously passed on Wednesday and is currently under consideration in the Senate. The measure would still allow HOA and landlords to make reasonable rules regarding in-home childcare.
CLOCK: KING's Top 5 Stories Playlist on YouTube
https://www.king5.com/article/news/local/bill-prevent-limitations-home-daycares/281-39939933-cf4e-4772-a4cd-1afd925fd69a Bill aimed to prevent limitations on home daycares passes state House