Blinken supports Palestinian state in meeting with Netanyahu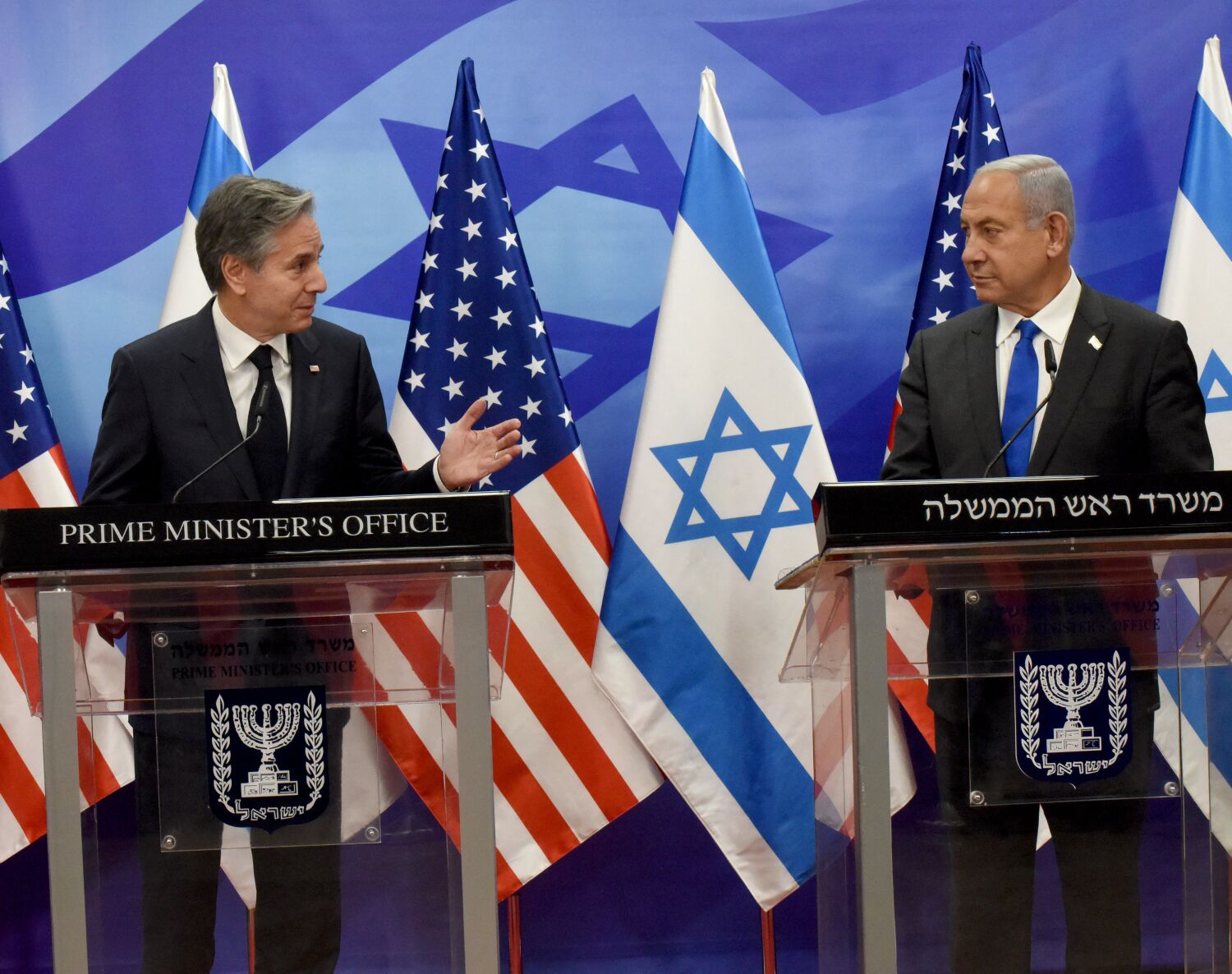 JERUSALEM —
Arriving in Israel at what he called a "defining moment," Secretary of State Antony J. Blinken Monday called on Israelis and Palestinians alike to step back from the brink of full-scale conflict and condemned terrorism and revenge killings targeting innocent civilians .
Blinken flew to Ben Gurion International Airport near Tel Aviv after a day in Cairo and will travel to Ramallah on Tuesday to meet with Palestinian officials. At each stop, security has taken on an urgency following a spate of some of the deadliest acts of violence in Israel and the West Bank in recent memory.
Blinken also held several hour-long one-on-one consultations with Prime Minister Benjamin Netanyahu, President Isaac Herzog and Secretary of State Eli Cohen, who has been in office for almost a month as part of Netanyahu's new far-right government.
At the airport, Blinken took the unusual step of reading a formal statement to the assembled press on the tarmac, harshly criticizing the killing of seven Jewish Israelis by a Palestinian gunman last Friday during Shabbat. He called it a "heinous crime," all the more shocking because it killed believers, and Blinken also punishes those who celebrate such violence, as some Palestinians have reportedly done.
But he added: "Cries for revenge against more innocent victims is not the answer, and retaliation against civilians is never justified."
"It is everyone's responsibility to take steps to ease tensions rather than fuel them," Blinken said.
Though dressed in diplomatic parlance, Blinken touched on difficult issues in Jerusalem and during his earlier stay in Cairo. He publicly reiterated to his Israeli hosts the need for "our common values" to preserve and strengthen democracy at a time when many Israelis believe democracy is threatened by the new government's policies of weakening the courts and to bring ultra-conservative religion into education and public life.
At a joint reading of press statements with Netanyahu, Blinken suggested that their discussion of protecting democracy was "open" but respectful. He reminded Netanyahu that a democracy must make people's voices heard and create consensus on new proposals. He was alluding to waves of demonstrations against the Netanyahu government's most controversial plans and widespread fears of the erosion of Israeli democracy.
"These talks continue, including with other members of the Israeli government and civil society, as part of an ongoing process to defend and strengthen the pillars of our democracy to which we are both committed," Blinken said.
Blinken also reiterated the Biden administration's position that a durable and lasting peace must include the establishment of an independent Palestinian state, which many members of Netanyahu's cabinet oppose.
In Cairo, Blinken stood side by side with Egyptian Foreign Minister Sameh Shoukry at a press conference and spoke about human rights in Egypt, a hugely sensitive issue, and announced that he had met privately with Egyptian human rights defenders.
Egypt has a miserable human rights record. Under President Abdel Fattah Sisi, thousands of people were arrested and often held without charge, including dissidents, activists, journalists and government critics. Human rights groups have documented cases of torture and death in custody.
Blinken, who also met with Sisi behind closed doors for just over an hour, said that while Egypt has made progress in religious freedom and other areas, "the concerns that we have remain." He called on Egypt to release prisoners, reform pre-trial detention, protect members of civil society and allow freedom of expression.
"Achieving tangible and lasting improvements in human rights is essential to further strengthen our bilateral relationship," said Blinken.
In Jerusalem with Netanyahu, Blinken praised the "normalization" deals between Israel and a handful of Arab countries, led by the Gulf states, which recognized Israel for the first time. Both Blinken and Netanyahu said they wanted to expand the process to include more countries.
However, Blinken warned that normalization cannot be a substitute for solving the fundamental conflict between Israel and the Palestinians.
"If we advance the integration of Israel, we can do so in a way that improves the daily lives of Palestinians in the West Bank and Gaza Strip," Blinken said.
https://www.latimes.com/politics/story/2023-01-30/blinken-urges-calm-to-israelis-palestinians-supports-palestinian-state-in-meeting-with-israeli-leader Blinken supports Palestinian state in meeting with Netanyahu