Blue Origin rocket suffers launch failure, first for the company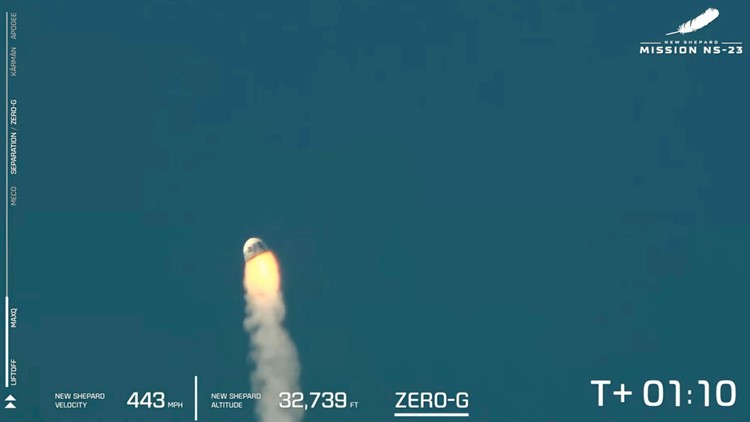 Blue Origin didn't explain the "anomaly" during launch, but the rocket's capsule was able to parachute back down to the desert floor.
CAPE CANAVERAL, Fla. — Jeff Bezos' rocket company suffered its first launch failure on Monday. Nobody was on board, only scientific experiments.
The Blue Origin rocket went off course about a minute after launch over West Texas. The capsule's launch abort system kicked in immediately and lifted the vehicle from above. A few minutes later, the capsule parachuted into the remote desert floor.
Blue Origin's launch commentary fell silent as the capsule was catapulted from the rocket, later announcing: "It appears that we experienced an anomaly in today's flight. That was not planned."
The mishap occurred as the missile was traveling nearly 700 mph (1,126 km/h) at an altitude of about 28,000 feet (8,500 meters). No video of the rocket was shown – only the capsule – after the failure occurred. The rocket typically lands upright on the desert floor and is then recycled for future flights; Of course, that didn't happen this time.
Launch commentator Erika Wagner said the pod managed to successfully escape, with the webcast showing it reaching a maximum altitude of more than 37,000 feet (11,300 meters). On board were 36 experiments, half of which were sponsored by NASA.
"Booster failure on today's unmanned flight. The escape system worked as planned," the company later tweeted.
No further information was given.
It was the 23rd flight of the New Shepard program, named for the first American in space, Mercury astronaut Alan Shepard. The same type of rocket and capsule was used to ferry fare-paying passengers to the edge of space in 10-minute trips. It was the ninth flight for this rocket.
The last passenger flight was just last month. Bezos was on the first New Shepard crew last summer. In total, Blue Origin has brought 31 people to the edge of space. The company's headquarters are in Kent, Washington.
https://www.king5.com/article/news/nation-world/bezos-rocket-fails/507-614c2c11-1f59-4ba6-8a8e-140f5c77eb4d Blue Origin rocket suffers launch failure, first for the company