Body camera footage shows pursuit of gunman in deadly New Mexico shooting
Body camera footage released Thursday by New Mexico police showed a tense but rapid pursuit of a gunman who shot indiscriminately at homes and cars in a residential neighborhood earlier this week before he was shot dead by emergency responders.
Three people were killed and six others injured, including two police officers, after the 18-year-old gunman opened fire at a nearly quarter-mile stretch in Farmington, police said.
Part of body camera video of the incident released Thursday by the Farmington Police Department showed officers responding to a "hot call," Police Chief Steve Hebbe told reporters.
"It's a very chaotic scene, as I described it," Hebbe said. "Honestly, it's emotional to watch and I've seen it a few times now and talked about it some more. It's still emotional to watch."
Body camera footage shows an officer walking down a street with a gun in pursuit of the suspect. The officer said the suspect was dressed all in black and was armed with an automatic weapon.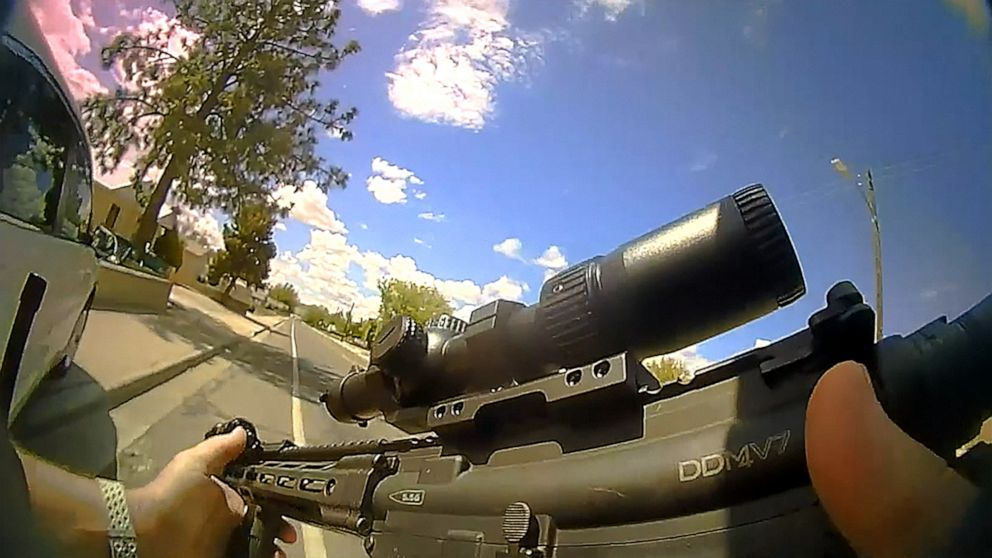 "He just took off! White House just south of the church!" The official can be heard in the footage. "More shots will be fired!"
As the police sirens wail and radio the dispatch of another unit to the crime scene, the officer continues, saying he is with a sergeant and two investigators.
"Get back in, folks!" the officer yells.
He then quickly shouts, "Let me see your hands!" as shots are fired, the footage shows.
After a firefight lasting about 10 seconds, the officer yells, "The subject is down! The subject is down! To cease fire! To cease fire!"
Officers are seen handcuffing the gunman and the officer radios that an officer – identified as Sgt. Rachel Discenza – is also on the ground, footage shows.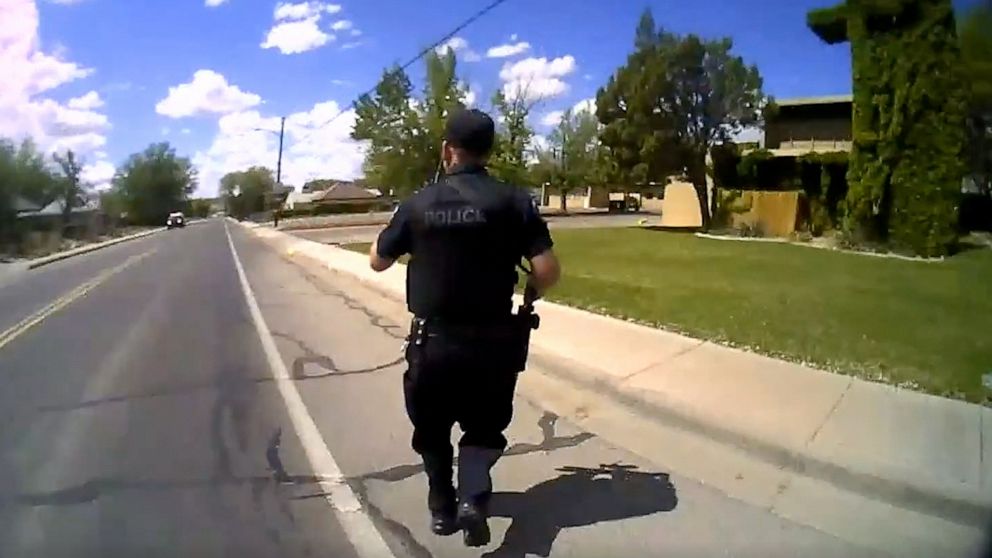 Police also shared footage from Discenza's body camera. As she and the officers headed toward the sound of the shots being fired, she fell to the ground, footage showed.
"Ugh, I'm shot," she is heard saying.
She tries to get up again and stumbles before falling again.
"My legs, I think," she replies when an officer asks where she was hit.
In the footage, an officer can be heard telling her to "just breathe" while he renders assistance. Another officer says, "Okay, I'm here, all right, I've got you."
A New Mexico state police officer was also shot while responding to the incident and drove himself to the hospital, Hebbe said. Both officers received treatment and have since been discharged from San Juan Regional Medical Center. Discenza is recovering at home, Hebbe said.
Four other people injured in the incident were treated and have since been discharged from the San Juan Regional Medical Center, a hospital spokesman said.
Three women – Shirley Voita, Melody Ivie and Gwendolyn Schofield – were killed in the shooting after they were shot at in their vehicles, police said.
According to Hebbe, police released footage from a ring surveillance camera that recorded Voita's vehicle rolling down the street with the driver's door open after she was shot, leaving the vehicle unoccupied.
Footage from a second ring surveillance camera showed Ivie and Schofield, a mother and daughter, driving in a blue van down the street to the suspect's residence when "another, frankly violent, barrage of gunfire erupted," Hebbe said. Other vehicles that subsequently approached the scene reversed and sped away while more shots were fired, footage shows.
The suspect was identified by police as Beau Wilson, a student at Farmington High School. Hebbe said he started firing an AR-15 rifle outside his home, killing the three women before officers arrived at the scene.
"It sounds like you're watching Afghanistan or Iraq, some kind of battle," Hebbe said.
According to Hebbe, Wilson, who was wearing body armor, dropped the AR-15 at his apartment before roaming the neighborhood with two handguns.
"Eventually he loses the 22-caliber handgun, he takes off the body armor he's wearing and throws it away," Hebbe said. "He stands up and engages in the final fight with the 9mm gun as our officers close in at this point."
At least 150 shots were fired by the gunman and emergency services during the incident, police said on Tuesday.
Hebbe said he believed Wilson had attempted "suicide by a police officer." He noted that in one of the Ring videos, he heard Wilson yell "come and kill me" and that he didn't take an opportunity to flee the scene.
"I think ultimately he made a decision in his mind to hold on and fight until he was killed," Hebbe said.
The boss praised the actions of the officers, who he said showed "a lot of bravery" and quickly put an end to the threat. Police said the gunman first opened fire around 10:56 a.m. local time and was shot by officers at 11:06 a.m
About six and a half minutes of footage was released on Thursday. Hebbe said they plan to release all of the raw footage once officials have made their statements.
Hebbe said he felt "so many emotions" while viewing the footage and that he was "impressed" by the efforts and determination of the officers.
Hebbe also commended the actions of other citizens who "have done a great job, some at personal risk" by blocking traffic from entering the crime scene, or providing blankets for injured victims, or showing law enforcement which way to go the suspect had left.
"There's a lot to be proud of when you live in Farmington," Hebbe said. "And there's a lot to be sad about right now."
ABC News' Matthew Fuhrman contributed to this report.