Bomb threat on plane leads to flight diversions at Spokane International Airport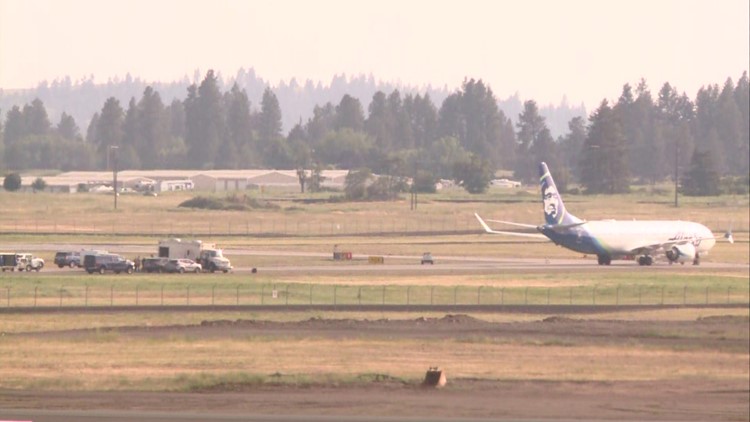 Spokane police and the FBI are dealing with this threat. A suspect is in custody.
SPOKANE, Wash. — Spokane police units and a bomb squad are responding to a bomb threat on a diverted plane at Spokane International Airport. The FBI is also on hand to deal with this threat.
The airport said a suspect is in custody at this time and airline operations have resumed.
According to Spokane police, all passengers on that plane were able to safely disembark after the plane landed at around 5:30pm. The team is currently investigating the validity of that threat.
Alaska Airlines confirmed the flight involved in the incident was Alaska Airlines Flight 334 from Atlanta to Seattle. They said a man posed a "direct threat to the safety of our aircraft" to a flight attendant. This caused the flight to be diverted to Spokane, where it landed at 5:15 p.m. PT.
Alaska Airlines went on to say:
Consistent with security procedures, local and federal law enforcement were immediately notified and picked up the aircraft upon its arrival. As this is a law enforcement matter, please contact the FBI for more details.
There were 177 passengers and 6 crew members on board. We appreciate their patience and understanding in this situation. We're working to get them to Seattle, their original destination, as quickly as possible. We are grateful for the professionalism and care of the flight attendants and pilots during this incident.
There is currently no information regarding the suspect or how many people may be involved in this threat.
The Federal Aviation Administration (FAA) also released a statement about the incident:
Alaska Airlines Flight 334 landed safely at Spokane International Airport in Washington due to security concerns. Passengers were bused to the station. The Boeing 737 departed Atlanta International Airport and was originally intended for Seattle-Tacoma International Airport.
Please contact the airline and TSA for more information.
This is a developing news story and we will provide more updates as we receive them.
HOW TO ADD KREM+ APP TO YOUR STREAMING DEVICE
ROKU:add channel fromROKU storeor by searching for KREM in the Channel Store.
Fire TV: search for "KREM" to find free apps to add to your account. Another option for Fire TV is to have the appsend directly to your Fire TVthrough Amazon.
To report typographical or grammatical errors, please email webspokane@krem.com.