Boris Johnson and Rishi Sunak clashed 'very early on', says ex-spin doctor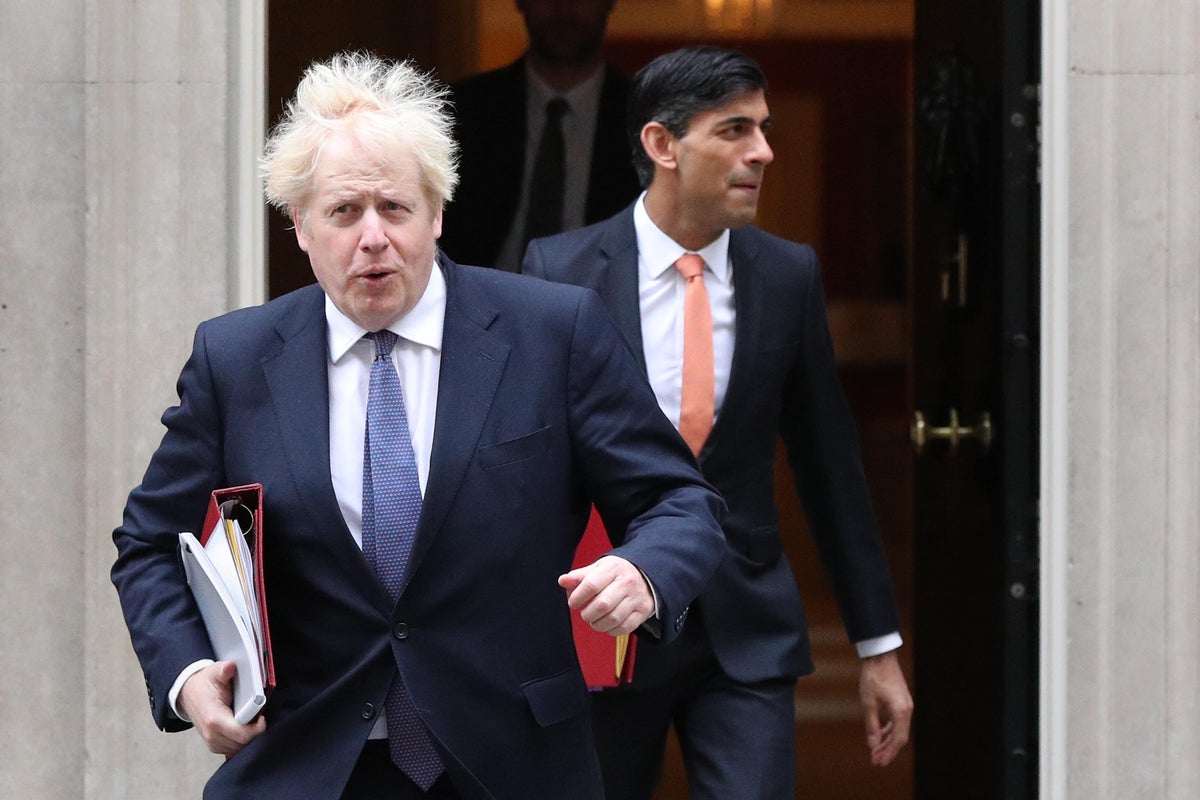 Boris Johnson and Rishi Sunak clashed "very early" during their time at Downing Street, according to the former PM's former press secretary.
Guto Harri said there was constant tension between the pair – and claimed Mr Sunak pushed through the unexpected tax on oil and gas giants against Mr Johnson's wishes.
The former No10 communications chief had previously claimed Mr Johnson had "had a fight with King Charles" over Rwanda policy and called Sue Gray a "psycho".
Mr Harri is continuing to promote his new podcast series about his time at No 10, he told the Sunday telegraph "There was tension very, very early on" between Mr Johnson and Mr Sunak over economic policy.
"In short, basically Boris wanted to give what the party was screaming for, and that explains why Liz Truss won the leadership election," said the former communications chief – implying that Mr Johnson's was more like Liz Truss' than matched those of Mr. Sunak.
"Boris didn't intend to give Liz Truss all of your Christmas holidays at once. But less regulation, some tax cuts, no corporate tax hike," he said.
"He didn't want to collect the random tax. He was actually very keen to see some VAT cuts, not just because they reduce the tax burden, but because they show the freedom you have post-Brexit."
When asked if Mr Sunak's windfall tax would force enforcement of the windfall tax, he replied: "Yes, by and large … I think that's fair," Mr Harri said, saying several senior figures in No 10 are against.
Johnson's close ally once again defended his former boss to Partygate, claiming the ex-PM has become a "loner" who rarely drinks.
"I think the most perverted thing about this whole thing is that he's the last person I know that I would consider a party animal," he said.
"He's much more of a loner, he hardly drinks. And yet this is not currently the perception around the world. A serious journalist asked me a few weeks ago, while he was still well oiled himself: 'Is it true that Boris was just pissed off and drunk the whole time?'"
He added: "I think I've only been drunk with Boris once, and that was a long, long time ago… But not once in No. 10."
Mr Harri, who joined Downing Street in February 2022, said he felt he had "jumped onto a ship that had a hole below the waterline, with a fire in the galley, a mutinous crew and a discredited captain, which was as good as nailed to the mast." ".
His latest claims come at a time when Mr Sunak has faced a barrage of criticism from his own party, as right-wing Tory MPs have expressed anger at the results of the local elections and the decision to overturn plans to abolish EU laws to go back after Brexit.
Former Home Secretary Priti Patel was among those gathering in Bournemouth for the first conference organized by Johnson allies at the Conservative Democratic Organization (CDO).
Ms Patel accused Mr Sunak of overseeing the Tories' "managed decline", adding: "If the mainstream had spent more time with us, listening and engaging, I think it would be fair to say that we hadn't seen more than 1,000 of them." our friends [at local elections]."
Former culture secretary Nadine Dorries said at the conference: "We are drifting" and "no longer have this inspirational leader and these visionary guidelines for people to go out and vote for".
writing in telegraphBrexit advocate Sir William Cash has urged the Sunak government to change course on the decision to repeal some 600 retained EU laws – instead of the 4,000 promised.
But Tobias Ellwood – Tory leader of the Defense Committee – warned that "there is a tow anchor in our ranks from a right-wing faction that has already shattered any chance of victory in 2024".
He added: "I say this: if we lose the next general election it will not be because of our politics, it will not be Boris' party goal, it will even be Truss' financial irresponsibility that will be to blame, our downfall will come ." from within."
A source close to Johnson dismissed Mr Harris' claims, saying: "These reports are simply inaccurate. Boris Johnson had nothing to do with this podcast, was unaware of it and regrets any attempt to publicly report such talks."